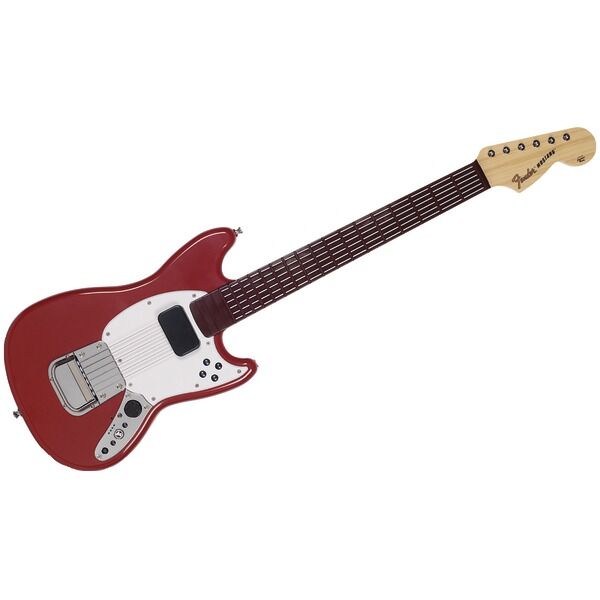 Since the advent of games like Guitar Hero and Rock Band, the use of guitar controllers has grown considerably, and these guitar controllers allow people with little or no guitar playing skills to get a feel for the real thing. These controllers, quite like games and gaming consoles, have evolved considerably over time, and while early versions connected to consoles through wires, buyers can now expect to find a number of wireless controllers quite easily. The price of a guitar controller depends largely on the features it offers, and high-end alternatives typically offer users a gamut of features.
Connectivity is one aspect that requires a buyer's attention when buying a guitar controller, and so do aspects like compatibility, design, memory, and its source of power. When it comes to buying guitar controllers, while buyers have the option to search through the offerings of regular brick-and-mortar shops, they also have the option to turn online to websites like eBay, and the latter is favoured by many buyers owing to the wider array of alternatives on offer.
1. Connectivity
A majority of the guitar controllers made available in today's world come with the ability to connect wirelessly to gaming consoles, although buyers do have the option to look for wired guitar controllers that work with new, as well as older, consoles. With wireless controllers, buyers do not require any additional kind of setup to connect their new controllers, given that these controllers tend to come with wireless receivers that are connected to the consoles in question. Each do come with their share of pros and cons, as the table below helps to illustrate.
Type

Pros

Cons

Wired guitar controllers

More affordable

Do not require batteries

Limited range

Extending range requires extension cables

Wireless guitar controllers

Longer range

Typically technologically superior

Most require batteries to be replaced, AA or inbuilt

More expensive

Require extra processing power
The distance users are required to maintain between wireless controllers and consoles can vary from controller to controller. While 10 m is a fair standard to go by, buyers should know that some controllers can be used up to 25 m away from the console, and these are controllers that make use of specialised chipsets.
2. Compatibility
Buyers looking for guitar controllers should know that certain guitar controllers are made to be used especially with certain games or consoles, and in such instances, they cannot really be used when playing seemingly similar games on other consoles. For example, a number of guitar controllers designed to be used with Wii do not work with PS2s or PS3s. In addition, while certain controllers can be used with multiple games, not all offer this feature. For instance, certain guitar controllers designed for Rock Band do not work with Guitar Hero, and the reverse is true as well.
Examples of how specific controllers are created for varied purposes are illustrated by Hyperkin's Xtreme 2, which is meant to be used only with Wii, and while it is compatible with all Guitar Hero versions, the same is not the case when it is used with all Rock Band versions; and Activision's Guitar Hero 5 Standalone Guitar, designed for the PS3 and PS2, not only works with all Guitar Hero versions, but Rock Band, Band Hero, and DJ Hero as well.
The prominent platforms from which buyers have to choose when it comes to compatibility include: Xbox and Xbox 360, Playstation 2 and 3, Wii and Wii U, and Nintendo DS.
3. Design
The design of a guitar controller extends way beyond how it looks and can involve intricate aspects. While most initial designs came with analogue strum bars and whammy bars along with colour-coded buttons, newer controllers come with touch sensitive panels and fret sections that carry multiple buttons. With as many as six buttons per fret, users can expect to produce 102 different finger positions in a typical 17 fret neck, and buyers are also presented with 22 fret neck alternatives. Some guitar controllers come with detachable necks, which make for easy storage and portability.
The designs of some guitar controllers now incorporate strings, and better alternatives are known to offer low latency strings to provide users with an authentic note-strumming feeling. These guitar controllers typically come with the ability to connect with various MIDI sequencers, and consequently, can be used with amplifiers and mixers to serve as standalone digital guitars. The design of some MIDI guitar controllers also includes auxiliary inputs, allowing users to connect them to audio devices, like iPods and MP3 players.
Specialised Designs
Buyers who are not on tight budgets have the option to look through various specialised designs. The All-in-One AXE controller manufactured by the Interactive Game Group saw active involvement of Gene Simmons, the vocalist and bassist for KISS, during the designing and development stage, and this controller looks just like the bass guitar he used in the past. This All-in-One AXE controller can be used with PS2, PS3 and Wii. Another example of a specially designed guitar controller is the Rock Band 3 Fender Squier Stratocaster. This guitar controller doubles up as a full-sized, completely functional electric guitar, and is one that comes with real strings. The special limited edition Hofner Bass Guitar Controller is another fine example of a specialised controller; sought by many looking for bass guitar controllers, this replica of Paul's bass guitar works with all Rock Band, and most Guitar Hero, versions.
4. Memory
A number of new guitar controllers, by combining technologies, allow users to record samples directly onto the instruments, which is done by using internal memory. Various models offer 128 MB of internal storage that allows users to record short samples, and buyers can look for variants that come with even more internal memory.
5. Power Source
Guitar controllers need some source of power in order to function, and this source of power can vary from model to model. While a majority work using two to four regular or rechargeable AA batteries, some can draw power through the use of USB cables. Some, especially those designed to be used with Wii remotes, are meant to be used without batteries because they draw power directly through the Wii remote.
Added Features
Buyers should know that in addition to the aforementioned features, certain models of guitar controllers offer users a bunch of other features as well. While some models can be used with equally good effect by both right-handed and left-handed people alike, some offer user-friendly operation through the use of keypads and LED panels. Some guitar controllers offer a range of inbuilt synthesiser sounds, open tunes and tunings, learning programmes, and programmable presets; and features like elongated strum bars, touch sensitive slide bars, and improved battery life are not hard to find.
Buying Guitar Controllers on eBay
People who are thinking about buying guitar controllers are presented with various options when shopping on eBay. These options include controllers meant to be used with consoles, like PlayStation 2 , PlayStation 3, Wii, Xbox, Xbox 360 , Nintendo DS , and even with consoles made by some of the lesser known brands. Buyers can expect to find controllers that can be used with different games and consoles, which include those made by prominent makers, like Sony and Microsoft, as well as those made by various third-party manufacturers.
Since guitar controllers can be bulky, buyers should pay particular attention to what is being charged in the form of postage and packaging costs. For instance, while a guitar controller may be priced at 20 pounds, it could also include a 10 pound postage and packaging cost. Some eBay sellers, however, are known to charge very nominal postage and packaging costs, some offer free delivery, and some even give buyers the option to pick up their purchases in person.
Buyers who wish to save some money have the option to search through used and seller refurbished guitar controllers, and when buying used guitar controllers, paying attention to just how old they are and their existing condition is highly recommended.
Conclusion
With the video gaming world evolving at a rapid pace, the use of guitar controllers to serve as real guitars should not really come as a surprise. Now, gaming consoles offer users Internet connectivity and the ability to play with other players from just about anywhere in the world; and the game playing experience continues to be bettered. Taking game playing to a whole new level where players sitting in opposite parts of the world can match their guitar playing skills with each other, guitar controllers can also work as effective tools when it comes to learning the guitar, as has been validated by scores of users.
Just what to expect of a guitar controller depends on various factors, and the budget can play a significant role in this. After all, while buyers can expect to find a simple wired guitar controller, like the X-Plorer, for around 20 to 30 pounds, something like the MIDI Rock Band Guitar Hero Game Controller should cost around the 200 pounds mark. In any case, price alone cannot be used as a decisive factor because factors like design, inbuilt memory, the source of power, and most importantly, compatibility, need to be taken into account as well.