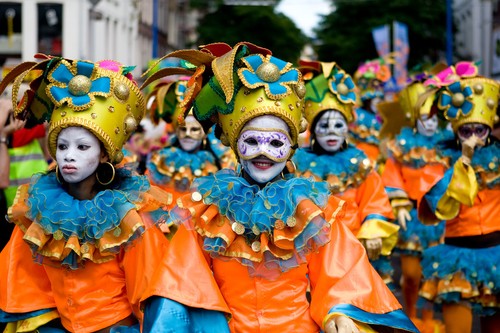 Festivals occur across the world, in different seasons and for different reasons; their traditions express the uniqueness of the culture from which they developed, making them a perfect opportunity for visitors to gain insight and appreciation for a place and its people. Certain festivals have been created as temporary experiments in communities or even utopias, with a spirit of openness, engagement, and expression. In general, festivals are participatory in nature, so visitors should be prepared not only to take in the entertainment, but also to be part of the celebration themselves, whether through music, dancing, art, or simply interaction with others present.
Some festivals stand out as favourites for local and international visitors. They combine opportunities for exploration and discovery, and also a good deal of food, drink, and fun. The settings and attractions are incredibly diverse, from the Sahara desert to the streets of Rio. With such a range of options, travellers are spoilt for choice; but no matter what they choose, they are likely to leave the festival with a new perspective.
Festival 1: Glastonbury Festival of Contemporary Performing Arts, England
Held every June in celebration of the summer solstice, the Glastonbury Festival of Contemporary Performing Arts is one of the world's largest and best-known music festivals. Founder Michael Eavis conceived the festival as a peaceful celebration of music and harmony. The festival has been held on his farm in Pilton since 1970, featuring major headliners like Neil Young, The Rolling Stones, David Bowie, Radiohead, Stevie Wonder, and more. While many people come for the diverse and extensive music lineup, there is much more to Glastonbury.
The large festival grounds are divided into different areas, each with its own character and range of attractions and happenings. A significant portion of the festival is devoted to other performing arts, including theatre, dance, circus, and cabaret performances, as well as poetry readings and visual installations. Glastonbury continues its commitment to the idea of a festival as an opportunity for discovery with a space for information and discussions about complementary medicine, sustainable living, politics, and more.
Self-expression is encouraged, and people of all ages and interests are encouraged to interact. Families are welcome; children have an enormous area to themselves, with special programming including entertainment, extensive play areas, workshops, and activities. The sheer size and range of offerings at Glastonbury, combined with the spirit of openness and peace, make it a festival that many return to, year after year.
Festival 2: Burning Man, USA
Burning Man is an annual event held on an ancient lakebed in Black Rock Desert, Nevada. Less a festival than an ad hoc city that springs up for six days in late August and then disappears completely until the next year, Burning Man is an experience that is hard to describe. The festival is meant as an experiment in community, and actively encourages the participation of its members: each year there is a certain theme, which can be brought to life through performance, installation, workshop, or another form. The festival culminates in the ritual burning of a wooden effigy of a man.
Burning Man is also an experiment in self-reliance: visitors are required to bring their own shelter, and a six-day supply of food, water, and anything else they may need. Not for the faint of heart, Burning Man is nevertheless a one-of-a-kind happening that has many devoted followers.
Festival 3: Festival au Désert, Mali
The journey to the Festival au Désert alone is an unforgettable experience. Touted as the most remote music festival in the world, Festival au Désert (Festival in the Desert) requires a three-day journey by camel, or half-day journey by car, to reach the event. The festival has its roots in the Takoubelt, a centuries-old tradition of the Touareg, the nomads of the south Sahara. During the Takoubelt, the Touareg communities would gather for decision-making and the exchange of information; music, poetry, dances, camel rides, and games traditionally opened the Takoubelt.
The Festival au Désert draws performers from Mali and the rest of Africa, as well as international artists, including Ali Farka Toure,Manu Chao,Robert Plant, and Tinariwen. With its dedication to the role of music as a common ground between different cultures, Festival au Désert works to preserve traditional Malian music as well as promote peace throughout the region and the world.
Regional political unrest has sometimes caused the festival to change its location and dates; travellers should consult the festival website for updates and the latest information.
Festival 4: Rio Carnival, Brazil
Adapted from pagan festivals celebrating spring, Carnival is a saturnalian festival full of dance, music, costumes, and debauchery before Catholic observation of Lent. While Carnival is held in numerous locations in Brazil and other Catholic countries, Rio de Janeiro's celebration is perhaps the world's most famous party, drawing over half a million tourists alone per year.
The concept of Carnival, first brought to Brazil by the Portuguese around 1850, was a time in which social class and gender roles were completely reversed, and even slaves were free for the festival's short duration. In the twentieth century, the Rio Carnival developed its own unique character, influenced by African and Amerindian traditions, as well as Roma and Jewish musical styles. Poorer communities make some of the largest contributions to Carnival, with performances by individual samba schools, costumes, and more. The festival remains one in which social boundaries disappear and people come together in a spirit of toleration and celebration.
The Carnival euphoria is infectious, and visitors are quickly folded into the festivities. The city transforms with elegant balls, street parties, street bands, and samba school night rehearsals, all culminating in the Samba Parade. The vibrancy, colour, and diversity of Rio Carnival have earned it the reputation of the Carnival Capital. Those planning to go should book their tickets and accommodation well in advance, as they sell out early.
Festival 5: Día de los Muertos, Mexico
The two days of remembrance and festivities in honour of the dead, Día de los Muertos (Day of the Dead) is Mexico's most important holiday. The festival is comprised of numerous small and large rituals and events: visiting cemeteries, cleaning and decorating graves of loved ones, making altars in the home and public spaces, and local ceremonies that vary from town to town. Day of the Dead most likely has its origins in ancient Aztec culture, during which an entire month was dedicated to the goddess Mictecacihuatl, also known as "The Lady of the Dead". The festival now coincides with the Catholic holidays of All Saints' Day and All Souls' Day.
Visitors can experience Day of the Dead in towns and cities throughout Mexico. Among the events are altar competitions, community-wide commemorations in the streets and churches, theatre and music performances, cemetery vigils, and more. The festival has its own traditional foods, consumed in abundance: pan de muerto, a sweet egg bread formed into different shapes, tamales, and sugar and chocolate skulls. Skulls and skeletons are, indeed, an integral part of Day of the Dead: the often-humorous overtone of festival represents them dancing, drinking, and making merry. This combination of reverence and celebration give the festival its unique atmosphere, which has captured imaginations worldwide.
Important Festival Facts
When planning to attend a festival, there are many logistics to work out in advance. The following table outlines some basic information about when and where the festivals are, as well as how to get there and where to stay.
| | | | |
| --- | --- | --- | --- |
| Festival and Location | Dates and Duration | Travel Information | Accommodation |
| | Weekend in June closest to summer solstice; five days | Site accessible by coach, train, and public transport; some come by bike; car parking pass needed for those that drive; closest airport is Bristol International | |
| Burning Man, Black Rock Desert, Nevada | August; six days | Closest airport is Reno International; Bay Area airports another option; visitors responsible for arranging transport to and from site | Camping and campervans |
| Festival au Désert, Mali | January; three days | Nearest airport is Bamako; Visa required for non-residents; yellow-fever vaccination required; festival strongly recommends booking customised transport through one of their partner travel agencies | Full board pass includes meals and accommodation for all three days; purchased separately from festival pass |
| Rio Carnival, Rio de Janeiro, Brazil | Dates vary according to Catholic calendar; Friday through Tuesday before Ash Wednesday (beginning of Lent) | Flights to Rio de Janeiro; shuttle service available to Samba Parade venue | Hotel and hostel accommodation in Southern Rio recommended |
| Día de los Muertos, various locations in Mexico | 1-2 November | Depends on destination; flights to Mexico and local travel | Depends on location |
Because festivals can change from year to year, it is important to verify information well in advance. This can usually be done by looking at the festival's official website, which has updates on everything attendees need to know.
Planning Your Next Festival with eBay
As you are getting ready to travel to a festival, let eBay help you with one-stop shopping for everything from tents to train tickets and accommodation. Festival tickets are sometimes available on the website, but buyers should be aware that some festivals have a strict policy about reselling tickets, so it is advisable to check in advance. To get started, go to the eBay home page and type keywords, such as "rain jacket" or " carnival costume" into the search bar.
Once you have found an item you are interested in, be sure to read the full listing carefully. Note details about the product, such as size and condition for clothing, or date restrictions for travel tickets or accommodation. If you need to ask the seller a question, it is easy to do so through eBay. Finally, be sure to read a bit more about the seller themselves. Look at their feedback score, and browse comments left by previous buyers. Top-rated sellers complete a large volume of transactions with a high level of customer satisfaction.
Conclusion
Festivals can be a time of revelry and discovery, as well as an opportunity to develop one's understanding and appreciation for other cultures. Throughout the year, there are countless festivals worldwide. Some of them have a particularly strong reputation for their energy, vibrancy, and cultural significance, drawing thousands each year from near and far.
The Glastonbury Festival of Contemporary Performing Arts has developed into one of the world's largest festivals of its kind, with all sorts of music and performances, as well as areas dedicated to sustainable living, health, politics, and an extensive children's programme. Burning Man is an annual experiment in community and self-reliance in the sands of the Nevada desert. For a very different desert festival, travellers can attend Festival in the Desert, celebrating Malian music and the traditions of Mali's Touareg nomads, as well as international artists. Carnival in Rio de Janeiro is one of the world's best-known parties, and Day of the Dead in Mexico is rich in cultural tradition, symbolism, with a combination of reverence and festivity. Attending one of these festivals is likely to be an unforgettable experience.