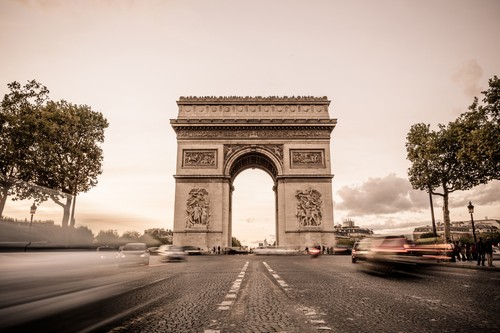 Travellers who are interested in history and are looking for something to do during a short break should explore one of the many historic sites that the U.K. has to offer. Depending on the amount of time that travellers have to spend on their short breaks and whether or not they are travelling with children, they can spend most of their time at one site or spread their time visiting several sites located close to one another. Most historic attractions boast a variety of options for accommodation . This allows visitors to stay nearby, making access to these site more convenient. When planning a historic short break, visitors should research what historic sites to include on their itineraries. Because travellers do not have much time on a short break, it is important to make plans and preparations well in advance. Travellers can find everything they need from admission tickets to historic sites to train and plane tickets on eBay, as well as a variety of travel items, including walking shoes and digital cameras.
1. Windsor Castle
Windsor Castle has a long history, dating back to the 11th century, and is associated with the British Royal Family. Settled in Berkshire County and just 44-minute drive from London, the castle has more than 500 people living and working there, with Her Majesty the Queen taking up residence during the summer months. Windsor Castle is one of the most important historical sites in Britain, and is a definite must-see.
Visiting Windsor Castle: What to Expect
Windsor Castle is open to the public, though visitors cannot roam through all parts of the castle. Guided tours take visitors through certain parts of the castle while explaining the history of the castle itself, as well as that of the Royal Family. Visitors should expect to spend between 90 minutes and two hours exploring the castle.
On a visit to Windsor Castle, visitors should try to time their visit to coincide with the changing of the guard ceremony. This occurs at 11:00 a.m. Visitors can watch the new guard march down High Street at approximately 10:50 a.m. and see the old guard march off at 11:25 a.m. This ceremony is definitely something that visitors do not want to miss.
Tickets to Tour Windsor Castle
Tickets are required to tour Windsor Castle. These can be purchased upon arrival, but visitors should expect to wait in line, especially if they time their visit for the changing of the guard ceremony. There are several discount and advance ticket options available. These types of tickets are listed and described in the table below.
| | |
| --- | --- |
| Ticket Types | Description |
| Skip the Line | Advance tickets sold for visitors who do not want to wait in line at the ticket window; visitors can skip the line and gain admittance |
| London Pass | Flat-rate pass that allows visitors to enter several historic sites in London for a single price; available in 1, 2, 3, or 6 day tickets |
| Railways 2 for 1 | Visitors with a return railway ticket or Travelcard can gain admittance for two adults to Windsor Castle for the price of one |
Windsor Castle is a popular destination for visitors from all over the world. Because of this, the attraction can be crowded at times. To ensure that visitors get the most out of the experience and do not have to worry about the hassle of long lines and wait times, they should purchase their tickets in advance. Additionally, people who want to see more attractions in London or want discount tickets to these attractions should look into a London Pass or railway discounts.
2. Roman Baths
For the visitor spending a short break in South West England, he or she should take the time to visit the historic Roman Baths. Though the baths have been around for centuries and are no longer used, they are still filled with hot spring water. The baths were built by the Romans centuries ago, and during Roman Times the baths were considered to be the finest religious spa in all of Northern Europe. Today, the Roman Baths are considered to be historically significant and so attract visitors from all over Europe and around the world..
Visiting the Roman Baths: What to Expect
As a major British attraction, the Roman Baths receive more than one million visitors each year. Visitors taking short breaks over the summer can enjoy extended evening hours during these months. The baths are illuminated by torches, giving the attraction an Old World appearance and feel. If visitors are not planning to visit during the summer months, the baths and museum are open every day except for Christmas Day and Boxing Day. Most tours of the baths are self-guided tours, and maps and audio-guides are available in several languages. Those who are visiting with large groups can pay an additional fee for a tour guide.
3. Buckingham Palace
Though Windsor Castle has a longer history, Buckingham Palace is used as the primary residence and headquarters for the day-to-day tasks of the Queen and Duke of Edinburgh. Buckingham Palace is perhaps the most well-known historic attraction in Britain, and definitely a must-visit for anyone interested in the British Royal Family.
Visiting Buckingham Palace: What to Expect
Visitors should be sure to check the calendar of events before visiting Buckingham Palace. Several events take place at the Palace throughout the year, and many of them sell out quickly. Additionally, several types of tickets are available, offering visitors the option of seeing different section of the Palace. Various tickets offer admittance to the State Rooms,, the gardens, Royal Mews, Queen's Gallery, and even an after-hours tour. As with Windsor Castle, visitors can also see the changing of the guard ceremony every day at 11:00 a.m., and 10:00 a.m. on Sundays.
4. Beaumaris Castle
Beaumaris Castle, in Wales, has a history that dates back as far as 1284. The castle was built during the reign of King Edward I, and at the time of its construction was meant to the largest of the castles that surrounded Wales. However, due to war and lack of funding the castle was still not complete more than 100 years after the start of its construction. Beaumaris Castle has seen many wars and fell to ruin in the 1600s. Today, it is a popular tourist attraction in Wales, and tours are offered so that people can learn about the history of King Edward I, Wales itself, and all of the wars that took place over the last several centuries.
Visiting Beaumaris Castle: What to Expect
Beaumaris Castle is open year-round, but the hours vary depending on the season. Visitors should take the time to check the schedule for opening and closing times prior to visiting. The only days that the castle is closed are Christmas Day and New Year's Day. Because of the size and unique appearance of the castle, children are amongst the biggest fans of this attraction. Many events are held throughout the year centred around children, especially during the holidays.
5. Jorvik Viking Centre
Located in the city of York, North Yorkshire, the Jorvik Viking Centre is one of the largest attractions outside of London. The history of this attraction dates back 1,000 years, and visitors can view a reconstructed Viking village as it would have appeared during that time. All of the artefacts and buildings in the attraction were excavated and recovered from the city of York. New exhibits are added all the time, so the Jorvik Viking Centre is a great place for a short break even for those who have been there before.
Visiting the Jorvik Viking Centre: What to Expect
Attractions at the Jorvik Viking Centre change frequently, so it is likely that a return visitor gets to experience an entirely different tour than the last time they visited. Visitors can view the museum's artefacts, tour the thousand-year-old buildings, and even participate in their own dig for artefacts. Whether touring as an individual, family, or with a group, the Jorvik Viking Centre offers a unique look at the history of Vikings in the British Isles.
Tickets
The Jorvik Viking Centre is open every day, except Christmas Day. The centre has shortened operating hours around the New Year. With hundreds of thousands of visitors each year, it is not uncommon for lines to be long and the attraction to be crowded. To get the most out of the time there, it is recommended that visitors purchase tickets in advance so that they can skip the queues. Best of all, any admission ticket to the centre allows the ticket holders unlimited free admission for one year.
How to Buy Tickets for Short Breaks on eBay
When planning a historic short break visit in the U.K., it is important to plan ahead to ensure that you have everything that you need and are not stuck wasting precious time looking for something to do. Additionally, it is important to have all of your maps, cameras, and other travel equipment before embarking on your historic journey. You can find travel tickets, admission tickets, and all the other necessities for a short break on eBay. Because the online marketplace offers a wide range of items, you can prepare for your entire trip on eBay and even find lower prices than anywhere else.
Searching for Admission Tickets on eBay
When shopping for the items that you need on eBay, start with a basic search. If you are looking for something specific, then use specific keywords, such as 'jorvik viking voucher.' If you want to browse a larger selection, perform a broad search, such as ' museum tickets.' You can then narrow down the selections based on the area in which you are taking your short break and sort the listings based on the attraction you wish to visit or the prices you wish to pay.
Conclusion
Whether a traveller is fascinated by history or not, Britain offers a plethora of unique historical sites that one can visit on a short break.. Britain is filled with attractions that tell the history of the country. People who are intrigued by the Royal Family enjoy visiting Windsor Castle and Buckingham Palace. Those with a fascination for ancient history should travel to see the the Roman Baths and the Jorvik Viking Centre. Whatever a person's interests are, many amazing historic sites can be found throughout Britain for a short break getaway. When planning a short trip, it is important for people to make preparations in advance. Having tickets to attractions before arriving means that visitors do not have to wait in queues with hundreds of other people. Train and coach tickets to get to the attractions make it easier to find the attractions without getting lost. No matter what travellers require to prepare for a historic short break, they can find everything on eBay.