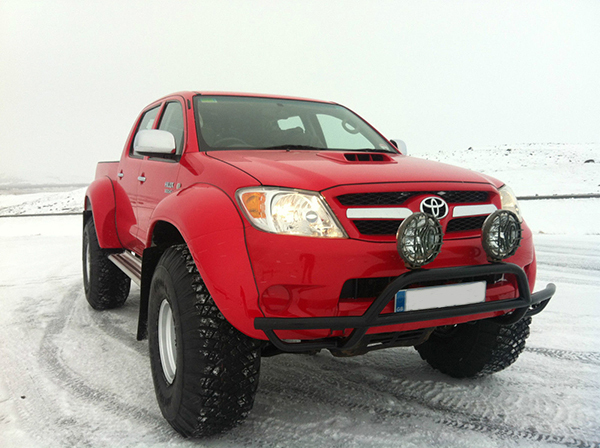 Japanese trucks and lorries are well-known for being affordable, and often small-sized, which is why many people choose to purchase them in favour of larger British or European makes and models. Buyers interested in Japanese trucks may also want a vehicle with good fuel mileage, or that can be more easily stored inside of a building due to its small size. Whatever the reason, there are five major Japanese brands of trucks that are popular in the U.K., although there are others to consider as well.
Buyers can look into any of these five brands as a purchase choice. A quick amount of research on the brand combined with research on the model of vehicle should be enough to make a purchasing decision. Buyers can also decide between purchasing the vehicle from a dealer or going to a site like eBay that offers used models at a much lower price. Whatever the decision, the following five brands are perfect for anyone who would like a Japanese truck.
1. Toyota
The Toyota Motor Corporation was originally founded in 1937 and has had a long, illustrious history of building all sorts of motor vehicles including SUVs, trucks, and even dirt bikes. The company has also created a number of hybrid and electric vehicles, although none of these are either lorry or truck models. Toyota mostly builds mini vehicles, so anyone looking for a small, but reliable, truck can definitely choose Toyota as a great option. The two most produced Toyota truck models in the U.K. include the Dyna, which is a small lorry, and the Hilux, which is actually a pickup truck but can be used for small commercial work as well as a passenger vehicle.
Models
Toyota also produces the Toyota Tundra and the T100, although neither are extremely popular in the U.K. The Hilux has been produced since 1968 and is produced as a two-wheel drive and a four-wheel drive, as well as with a standard and double cab, which makes it perfect for carrying a number of passengers or for work. Buyers can also look for the Toyota Dyna as the Daihatsu Delta or Hino Dutra. The Dyna has been in production since 1959, so any buyers looking for a used model should definitely check the age, as any vehicle that is over 15 years old may require an updated emissions system before being driven on the road.
2. Isuzu
Isuzu is a less well-known Japanese brand, but still a very popular maker of trucks in the U.K. The company is known as Isuzu Motors LTD and is based out of Tokyo, Japan, but like Toyota, sells its vehicles worldwide. Also like Toyota, Isuzu manufactures a range of different vehicles including passenger cars, commercial vehicles, race cars, and buses. Buyers who are looking for an Isuzu truck can choose from any of the three international commercial trucks sold by the company. Importantly, while there are only three models of their trucks including the Elf, Forward, and Giga, many Isuzu trucks come with different capabilities, such as a refrigeration unit or car transportation, or even winches and loaders.
Considerations
Buyers can compare the different models, choose between new and used purchases, and decide which, if any, amenities they would like to be included with the vehicle. If purchasing used Isuzu trucks, buyers should keep the age of the vehicle in mind. Isuzu also makes both diesel and petrol vehicles, although most of their commercial trucks are actually diesel. The Elf is a standard or crew cab commercial truck, the Forward is a medium duty truck, and the Giga is a heavy duty model that is larger than the other two options.
3. Mitsubishi
Another popular Japanese truck manufacturer is Mitsubishi. The company is well-known for its passenger vehicles but is also engaged in a range of other investments, such as transportation and shipping as well as mining, oil and gas, real estate, and more. Buyers who are interested in purchasing a Mitsubishi truck can choose from a variety of different models including commercial lorries and pickup trucks. The Canter is the most popular commercial model and is a mid-size lorry that is usually used for either car or product transport.
Consider Buying Used
Mitsubishi pulled production out of Europe in 2012, meaning that it is significantly easier to find a used model of a truck than a new one. However, some new Mitsubishi trucks may still be available, as the company gradually pulled out and left vehicles up for sale rather than removing them. Buyers should consider checking an online site like eBay when looking for a secondhand Mitsubishi truck. Once again, it is important to remember to check the year of production on the truck before buying it.
4. Nissan
Nissan, or the Nissan Motor Company, is a Japanese automotive corporation that produces trucks as well as other vehicles. Nissan has also produced vehicles under the Datsun brand, and some trucks may still be available with this name if purchased secondhand. Nissan is most popular for their pickup trucks, although they also produce cargo trucks. The Navara, Primaster, Cabstar, Titan, and Armada are the most popular trucks produced by Nissan . However, the Navara, Primastar, and Cabstar are the most common models in the U.K.
Pickup Trucks
Nissan is very well-known for its pickup trucks, with the Nissan Titan even being nominated for truck of the year in 2004 in the United States. Its trucks can be purchased with either diesel or petrol engines and can also be purchased with single cab or crew cab designs. Buyers who are looking for a pickup truck can also look on eBay for a used model that may be more affordable. The Nissan Navara is the most popular option in the U.K., although other bodies have their merits as well.
Lorries
The Primastar and Cabstar are both Nissan lorries that can be purchased in the U.K. Both are on the smaller size and were also sold under a variety of different names. For example, the Cabstar is most well-known in the U.K. by Cabstar, but was sold in other countries as the Nissan Atlas, Renault Maxity, and Samsung SV110. Typically, buyers can find Nissans under the British name, but it may sometimes also be possible to look under a European specific name as well.
5. Suzuki
Suzuki was originally established in 1909 as Suzuki Loom Works where silk weaving looms were built. Today, the company is almost entirely automotive centric and produces a range of motors, vehicles, and bikes including ATVs, SUVs, and of course, lorries and trucks. Buyers who are interested in a Suzuki can consider many of their models, although not all of them are popular in the U.K. Suzuki trucks include some models of the Suzuki Every, the Carry, some models of the Every Landy, the Equator, and some other styles produced under different brands.
The Suzuki Carry
For anyone looking for a standard lorry, the Carry is the only choice available from Suzuki. This is a very small lorry suitable for light commercial work. Other trucks produced by Suzuki tend to be pickup or mini pickup trucks for passenger use. The Carry is similar to the limited truck edition of the Every Landy, except with a shorter bonnet, which means that it is a good alternative for anyone looking for the Landy. The Carry has also been produced under a variety of different names including both Ford and Chevrolet.
Buying a Japanese Truck on eBay
eBay is a great place to look for a Japanese truck because there are a range of models available on the site including each of the five vehicle models listed here. Anyone who is interested in purchasing a used Japanese truck is most likely to benefit from eBay because the vehicles can be purchased cheaply and easily right from the home. Buyers can use eBay to quickly find and compare different models of trucks including the same, or different, brands right from their computer.
If you are planning to make your purchase on eBay, consider which type of truck you are looking for and then search for it on eBay. You can specify the brand, model, colour, and even year of production depending on your personal preferences. You should read the full description, check the vehicle location, and then possibly ask any questions you may have of the seller before making your purchase.
Conclusion
There are many Japanese trucks to choose from but the most popular and common in the U.K. include Toyota, Suzuki, Mitsubishi, Isuzu and Nissan, all of which can be purchased new or used from either a dealer or website, like eBay. Buyers should start out their search by deciding which type of truck they intend to purchase, and then base future searches on that type of truck. For example, not every Japanese manufacturer produces lorries as well as pickup trucks, so there may be fewer options depending on which type of truck the buyer needs.
If purchasing a used vehicle, checking the age is always a very good consideration. Most Japanese brands have been in business since the early 1900s or sooner, meaning that the trucks could be very old. Typically, a used car purchase should not be more than 15 years old unless it is intended for collection or the owner understands that they may have to upgrade the emissions system. Buyers should also consider from where they would like to purchase, such as a car dealer, eBay, or a friend or person selling the vehicle.