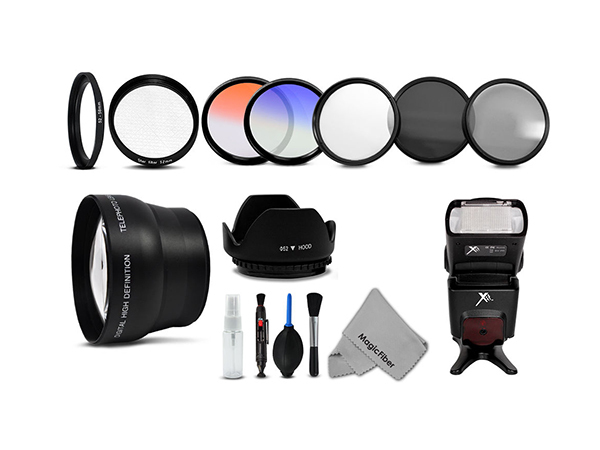 Every photographer, whether they use a small 'point-and-shoot' (P&S) camera or a top-of-the-range DSLR, wants to take the best possible photos. On its own, a camera may not always produce the best results, but with the help of a few accessories, photos can be transformed.
Here are 5 must-have accessories for every camera owner.
Neck Strap
Most cameras are sold with a basic strap, so the camera is less likely to be dropped during use. Small P&S cameras usually come with a bootlace-style wrist strap. DSLR cameras generally have a sturdier but basic neck strap, which can act as a carrying strap, but also may help to stabilise the camera when shooting. Upgrading the strap is relatively inexpensive, although the kind of strap required will depend on the camera.
| | |
| --- | --- |
| Straps for small cameras | 'Bootlace' or narrow band straps, only suitable for lightweight cameras. |
| Wrist strap | Can be bought in a side variety of colours and designs. Inexpensive, so several spares could be kept in case of emergency. |
| Neck strap | Similar materials to the wrist strap, but extended to the neck. |
| Straps for mid-sized cameras | Usually wider and thicker to allow for extra camera weight. |
| Wider neck strap | 2 to 3 cm wide. Synthetic materials allow a wide range of colours and styles, including logos or patterns. Leather-effect also available. Sometimes adjustable. |
| Straps for larger DSLR cameras | Wider and more robust to support heavy cameras. |
| Padded strap | Extra padding included due to extra weight, often non-slip for added security. Adjustable. Some varieties have extra pockets for accessories e.g. memory cards |
| Shoulder harness | Harness with integral camera strap at the front, ergonomically designed to reduce neck strain when using telephoto lens. Very secure, and camera is always ready to be used. |
Filters
Filters add a whole new dimension to photographs, enabling the user to take advantage of a variety of effects. They are generally used on DSLR cameras; individual filters can be bought and fitted directly onto the camera, but take care to ensure the correct fitting as they vary between camera brands.
| | |
| --- | --- |
| UV protection filter | Reduces UV light by up to 75 per cent. Eliminates blue tinge, especially in landscape shots or over water. Can be left on the camera permanently - gives protection from dust etc. |
| Polarising filter | Reduces the amount of reflected light. Skies become deeper blue, reduced glare, and reflections e.g. over water, reflecting glass. Reduced contrast between land and water in landscape shots. Linear and circular versions available. |
| Neutral density | Reduces amount of light let into camera. Useful for long exposures. Smooths water movement. Blurs moving objects e.g. sports players. |
| Graduated neutral density | Gradually reduces amount of light across image. Can be reduced from top to bottom or radial blend (edge to middle). Hard or soft edge to the light reduction. Useful for landscape shots, e.g. sunsets. |
An alternative to individual filters, universal filter systems such as the Cokin range, allow an adaptor to be fitted to the camera, and then a wide variety of filters can be purchased. This kind of system is considerably cheaper than buying separate filters.
Camera Support and Tripods
An accessory to hold a camera steady for longer exposures, or when using a heavy telephoto lens, can be invaluable to taking images without 'camera shake'. There is a wide range of solutions available, catering for everything from small P&S cameras to DSLRs with a long lens. Traditionally tripods were used, but increasingly there are other options available.
| | |
| --- | --- |
| Basic 'beanbag' | A small 'beanbag'. The camera rests on the beanbag, which can be placed on any largely horizontal surface. |
| Mini-tripod | Small tripod (about 8-10cm high). Fixed to the camera by screwing it into a screw-hole on the base. Placed on horizontal surface. |
| Keyring with legs | Small device which acts as a key ring. Retractable legs can be deployed to support camera on a horizontal surface. |
| Bottle-top adaptor | Can be fixed to the top of a plastic bottle. |
| Mid-sized and large cameras | |
| 'Monster Pod' | Synthetic flexible disc which can be moulded and fixed to variety of surfaces e.g. wood, plastic, metal. Can be used wet or dry. Camera can be fixed at almost any angle. Attaches with a strap. Unsuitable for large cameras or those carrying a telephoto lens. |
| Shaped beanbag | Larger shaped beanbag e.g. designed to rest on open car window. |
| 'Gorillapod' | Adjustable tripod system - legs can be bent and wrapped around to fix camera to different objects e.g. tree branch, metal rail. Almost any angle possible. Magnetic version available - feet attach to metal magnetically. Size ranges from small cameras to DSLR with telephoto lens. Adaptor fits into screw hole on base of camera. |
| Standard tripod | 3 adjustable legs, sometimes with central leg for extra support. Height can be altered, levers for quick release or adjustment. Very stable so suitable for all cameras. Attaches to camera screw hole. |
Interchangeable lenses
Owning several interchangeable lenses allows photos to be transformed from simple close-up or portrait-style shots to a vast range of possibilities. This could include wildlife photography, sports photography, panoramic landscapes, or detailed macro-shots. DSLR cameras have had this option for many years, but some smaller cameras now have interchangeable lenses, sometimes with magnetic fitting for speedy changing. Always ensure a lens has the correct camera fitting for the camera in question.
| | |
| --- | --- |
| 50mm standard lens | Usually comes with the camera. Good for portraits and relatively close-up shots |
| Standard zoom | Allows zooming in on distant objects within a limited range. Typical ranges include: 35 to 85 mm, 24 to 70 mm, 28 to 75 mm. Some lenses have image stabilisation to reduce camera shake. |
| Telephoto zoom | Allow zooming in over a wider range. Versatile lenses can take shots relatively close up as well as at a distance. Excellent for wildlife or sports photography. Typical ranges include: 70 to 200 mm, 28 to 300 mm. Some have a macro option and/or image stabilisation. |
| Wide-angle | Enable a wider angle to the shot - especially useful for landscape photos. Typical range: 12 to 24 mm. |
| Macro lens | Enable finely-detailed close-ups e.g. insects, flowers. e.g. 105 mm. |
Further flexibility can be offered by using a converter ring (e.g. 2X converter), to change the focal length of a lens, offering a greater range.
Camera bag
Cameras and accessories needs to be protected when bring transported. For small P&S cameras, a simple pouch or bag may be all that is needed, but a serious photographer will need much more. There are many different kinds of camera bags to be found.
| | |
| --- | --- |
| Camera pouch | Often plastic or neoprene with a zip, and perhaps a carrying strap. |
| 'Handbag' style | Larger 'handbag' design, sometimes with integral pockets for limited range of accessories. Carry handles or adjustable shoulder straps. Variety of colours and patterns available. Aimed especially at women. |
| Mid-sized cameras & accessories | |
| Larger bags | Padded larger bags for protection. Variety of pockets for accessories. Adjustable shoulder straps. |
| Smaller rucksack | Rucksack design, with shoulder straps or one-strap cross-body design. Padded compartments for cameras, lenses etc, and pockets for other accessories. |
| Larger DSLR cameras & accessories | |
| Shaped and moulded backpacks | Sturdier construction. Padded compartments, many pockets for accessories. May be waterproof, have additional lining, tamper-proof concealed zips. May also have space for laptops and other devices. Variety of opening styles. Heavy-duty padded straps. |
| Large carry bags | Similar features to the larger backpacks, but designed as a carry-bag. |
How to buy camera accessories
Naturally the accessories needed will depend on the kind of camera and the nature of the photographer.
New or used
Buying new accessories ensures they will be in mint condition, and there are likely to be assured guarantees and refunds in case of problems. Always check the returns policy to ensure that return postage is included. For more expensive items, reputable retailers should include insurance to cover loss or damage during delivery.
Buying a used accessory such as an interchangeable lens or high-end camera bag could allow a buyer to purchase an accessory for considerably less than the cost of a new one. Check all the details provided by the seller before making a purchase, especially if the item could be faulty (e.g. a lens). Some sellers offer limited guarantees and returns policies for used items.
Buying Camera Accessories on eBay
To buy camera accessories on eBay, start at the home page and navigate to All Categories. Under Cameras & Photography,, select the desired accessory, such as Lenses & Filters or Tripods & Supports,, or for other accessories, click on Camera & Photo Accessories.. The Category menu then has further options, such as Cases, Bags & Covers and Straps & Hand Grips.. The search can be further refined by using key words.
Conclusion
A few well-chosen accessories can open up a vast range of photo opportunities to the photographer, whatever the photography style. Owners of pocket cameras can enjoy their photography, whilst more serious users can extend the range and style of their images and gain great satisfaction from shooting excellent photos.