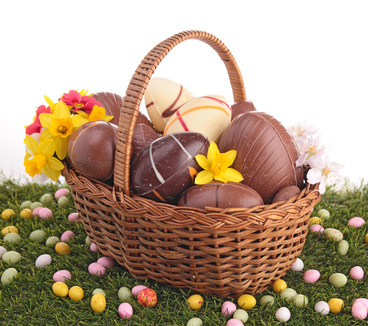 The deliciously decadent confection known as chocolate has its origins in South and Central America, but Europe adopted it as a favourite food long ago. Whether chocolate lovers crave a molten cake that oozes luxury or delicate sweets, such as pralines flavoured with exotic ingredients, there is a form of chocolate to satisfy their cravings. Although shoppers can stock up on chocolate from all around the world simply by shopping online through sites such as eBay, they can also indulge in a short break to visit some of Europe's top destinations for all things chocolate. eBay even lets shoppers book their travel arrangements online.
For a relatively local trip, spend a weekend in London, touring the bakeries and chocolate shops. Those who are willing to venture a little further can explore all that Paris has to offer. Every chocolate lover should visit the world capital of chocolate, Brussels, at least once. Not far away is Cologne, home to a chocolate landmark, and finally Zurich, the birthplace of milk chocolate.
Short Break 1: Take a Chocolate Tour of London, England
London is one of the best known cities in the world with attractions such as Buckingham Palace, the Tower of London, the London Eye, and a whole host of museums. It is also a great destination for chocolate lovers. Book a short break in London and spend your time exploring the many chocolate shops and bakeries. Travellers can stay in a range of accommodation that include dinner or evening entertainment. Make sure that the hotel is near to the areas containing chocolate shops to make the best use of time on a short break.
For anyone interested in being with other chocolate lovers, consider booking a chocolate walking tour. These guided tours typically take small groups to several chocolate shops for tastings; some may even let the members of the tour party go behind the scenes to see how the chocolate is made. Of course, it is just as easy to take a self-guided tour. Do some research and map out a route that visits a range of chocolatiers around London.
Prestat
One of the oldest chocolatiers in the city is Prestat, which was founded more than a century ago. It was a favourite of children's author Roald Dahl and even secured a Royal Warrant as purveyors of chocolates to Her Majesty the Queen in 1975.
Paul A. Young Fine Chocolates
Paul A. Young Fine Chocolates has multiple locations in London. It has won several awards for innovative flavors. In addition, its founder authored a cookbook.
Montezuma's Chocolates
Montezuma's Chocolates is another innovative luxury chocolate company with multiple locations. The shops even host Indulgence Nights, which are private tastings.
Short Break 2: Take Train or Plane to Paris, France
The City of Lights, Paris, is no stranger to beauty, and certainly not to the beauty of chocolate. There are more than 300 chocolate shops in France's capital, along with museums, landmarks, and the Luxembourg gardens. You can travel to Paris by rail or aeroplane and book great accommodation in the city, even along the historic Left Bank. For a short break, take only some stylish carry-on luggage containing the essentials, plus a guidebook and walking shoes. Prepare to indulge in some of the world's greatest culinary confections.
Chocolate Destinations in Paris
As with London, Paris offers guided tours of various chocolate shops so that connoisseurs can experience the variety that the city offers. For anyone who wants to taste a piece of history or indulge in some rich dark chocolate, visit Debauve and Gallais, a historical chocolate company more than 200 years old. Another choice is Jacques Genin, which is known for its chocolates and caramels. Jean-Paul Hévin serves chocolate lovers from several locations in the city, including a chocolate bar with drinks.
Short Break 3: Travel to the Heart of Chocolate in Brussels, Belgium
Brussels is the seat of NATO and the European Union, but apart from its political and cultural heritage, visitors can find museums and historical architecture. Travellers can stay in the Grand Place area so that they are close to all of the major attractions. Belgium is perhaps the best known European country for chocolate, and Brussels is at the heart of it. Pack comfortable shoes to cover great distances on the cobblestoned streets, as well as an umbrella to ensure the unpredictable weather does not dampen the short break. Visit one of the many chocolate shops. Mary is a favourite of the Belgian royal family, but the city is also home to chocolate legends Godiva, Leonidas, and Wittamer.
Museum of Cocoa and Chocolate
Start a short break in Brussels with a trip to the Museum of Cocoa and Chocolate, where patrons can learn about the history of chocolate, how it is made, and view a range of exhibits. The museum also sponsors a walking tour of the city to cover major destinations related to chocolate.
Neuhaus Chocolate Shop
Brussels is the birthplace of the praline, which was created by Jean Neuhaus in 1912. Make time to try some at the Neuhaus chocolate shop.
Short Break 4: Visit the Chocolate Museum in Cologne, Germany
Cologne is the chocolate capital of Germany. The city is famous for its beer, Kolsch, and its medieval architecture, including Cologne Cathedral. Visitors can travel outside of the city to the river Mosel to see one of the world's best wine regions. There are plenty of places to stay; the Old City is home to historic buildings as well as many restaurants and Neustadt-Nord is great for nightlife. Pack walking shoes, an umbrella, and a good jacket for chilly evenings in the summer, and bring warm clothes in the winter.
Imhoff-Stollwerck Chocolate Museum
The Stollwerck Chocolate Company was founded in 1839. In addition to the shop itself, Stollwerck is the force behind one of the major attractions of the city: the chocolate museum. There are plenty of displays covering the history of chocolate, plus demonstrations, samples, and a gift shop stocked with chocolate goodies. Other chocolate shops in the city to add to the itinerary include Toertchen Toertchen and Weibler Confiserie.
Short Break 5: Taste Milk Chocolate in Zurich, Switzerland
Switzerland is the birthplace of milk chocolate and Zurich is at the centre of the country's chocolate production. Apart from architectural landmarks, museums, and a zoo, visitors can enjoy scenic views. One of the most popular areas to stay is the Old City, where the Limmat River flows out of Lake Zurich. Pack warm clothes if the weather has already turned cold, and do not forget to bring a digital camera to capture the views.
Chocolate Destinations in Zurich
Zurich is home to many premium chocolate companies. Visitors can book walking chocolate tours and even a boat tour that includes a visit to the Lindt and Sprüngli factory shop. Travellers can even venture out of Zurich to nearby Flawil, home to the Chocolate Factory Maestrani, which offers tours of its facilities. Other stops to make include Teuscher and Laderach. For smaller boutiques, try Café Conditorei Schober, which dates back to the mid nineteenth century, and Truffe, a more modern confectioner.
How to Book Short Breaks for Chocolate Lovers on eBay
eBay is a great place to arrange your short break. You can start by searching for a general term such as " short breaks" or be more specific with a keyword such as "Paris short breaks". For the most relevant results, filter the listings by product category. While searching through the listings, pay close attention to the specific details of the offer. If you have any queries you can contact the seller via eBay's "Ask a question" feature.
Tips for New eBay Shoppers
If you have never shopped on eBay before, take the time to register for an account, which is essential for the checkout process. Registration also provides a range of other benefits, including the ability to monitor items you are interested in buying, creating wish lists, and communicating with other eBay members. eBay has a Help Centre devoted to answering user questions about how the site works. It provides guidance to walk you through the registration process and helps you to decide on a payment method. When buying on eBay, you should also pay attention to the seller's feedback rating. This is provided by previous buyers and is a good way to identify reputable sellers. eBay also recognises sellers who perform well consistently with the Top-rated seller badge.
Conclusion
Short breaks are a great way to have a holiday without spending too much time away. Europe offers great destinations with plenty to do. Chocolate lovers can indulge their passion in some of the world's best known cities. They can take in plenty of local culture while they tour historic chocolate shops, and uncover hidden gems and modern takes on this sweet confection.
For a local short break, try visiting London. Paris is another nearby stop for chocolate-lovers, and there is plenty to see in the City of Lights. Brussels, the capital of Belgium, is widely regarded as the chocolate capital of Europe, and Cologne is the chocolate capital of Germany. Both are home to well known chocolate shops as well as their own chocolate museums. Finally, visit Zurich, Switzerland, the birthplace of milk chocolate and home to premier chocolate makers such as Lindt.
When it is time to book a short break, check eBay for convenient travel options and low prices. There are many places for chocolate lovers to visit, so indulge in range of short breaks throughout the year.