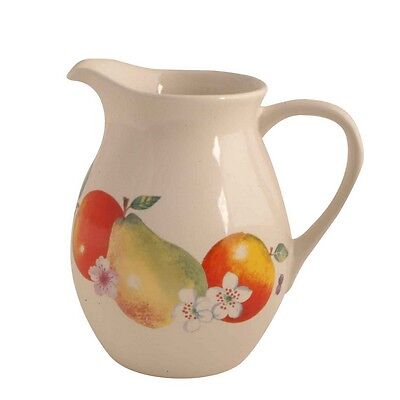 Moorcroft pottery has a long history of creating beautiful pieces of porcelain, china, and pottery. From the first William Moorcroft designs for James MacIntyre and Company to those designed under the independent Moorcroft label, the patterns of these pieces are a beautiful addition to home decor and household use. Moorcroft jugs are a foundational element of the design's legacy. When considering a purchase of a Moorcroft jug, there are several elements to take into consideration, including the history, identifying marks, condition, artist, and age of each piece.
Whether one's interest is in one of the earliest pieces at over 100 years old or a more modern production, potential purchasers of Moorcroft jugs should take the time to learn about the history of the company and its patterns; learning about the pottery stamps and signature markings of Moorcroft pottery helps the buyer determine the timeframe of the jug's production, which ties directly into its value. Educating oneself about the history of the Moorcroft Pottery Company, as well as the design elements one should consider when buying a Moorcroft jug, enables buyers seeking a Moorcroft jug to purchase the best jug to fit their wants and needs.
A History of the Moorcroft Company
At the turn of the 20th century, a young designer called William Moorcroft showed great promise in his work for James MacIntyre & Company, producers of Staffordshire pottery. His first original line, known as Florian Ware, was an award-winning success. Although not the custom at the time, Moorcroft signed most of his pottery. Eventually his success threatened his employers; MacIntyre shut down the studio and Moorcroft struck out on his own with the help of a London brand, Liberty, which financed the move in exchange for some level of control. He opened his own pottery studio and produced the same art pottery, as well as a line of tableware.
The success of Moorcroft's company led to a royal warrant from Queen Mary. Not long before William Moorcroft's death, his son Walter took over the family business and continued its success, including buying back the controlling interests of Liberty of London. Several business dealings and some missteps later, the Moorcroft Pottery Company celebrated its one hundredth year in business. One year later, the Moorcroft Design Studio was established, branching out into new designs and products with more designers.
Pottery Stamps on Moorcroft Jugs
The marks found on the underside of pottery pieces, known as pottery stamps, reveal a great deal of information about the piece, including the manufacturer, the artist who made it, the pattern, the country where it was made, and the year of its creation.
Pottery stamps can be applied by mark, impression, or paint. In the case of Moorcroft jugs, the marks changed drastically when Moorcroft became independent of James MacIntyre, and several iterations of the mark have evolved over time, including a modern inclusion of individual artists' markings. Below are some details related to the markings of Moorcroft pieces.
| | |
| --- | --- |
| Dates of Moorcroft Manufacture | Description of Markings |
| 1898-1905 | Florian ware mark in brown with William Moorcroft's hand-painted signature in green; pattern number sometimes included |
| 1928-1949 | Stamp mark impressed with a copied signature applied, not signed by Moorcroft himself; also includes information that Moorcroft is potter to the Queen; 'Made in England' now included as well |
| 1950-1986 | 'Moorcroft' and 'Made in England' impressed in all uppercase letters; there are pieces both with and without the Moorcroft monogramme |
| 1987-present | 'J. Moorcroft' noted on large, expensive pieces; John Moorcroft is director with Walter marked as a consultant |
| 2004 | Rachel Bishop's signature on her original designs; markings are complex and contain copyright mark, year, and cypher with 'Moorcroft - Made in Stoke on Trent - England' in all uppercase letters |
In 1990, Moorcroft began putting a different cypher, or monogramme symbol, for each year of manufacture. These cyphers helped further identify the year of origin. The cyphers include an arrow, a flag, and for the centennial celebration, an HC monogramme.
Those looking to purchase Moorcroft jugs should also be aware that a silver strike through the marking indicates that the piece is not first quality and does not meet the strict standards of the Moorcroft company. These pieces are sold as factory seconds and are not as valuable as the high-quality pieces.
Condition of Moorcroft Jugs
As is the case with all antiques, when considering the purchase of a Moorcroft jug the condition of the jug is an important factor. Any cracks, chips, or evidence of wear and tear detract from its appearance and integrity and thus devalue the jug. Additionally, potential buyers should check for the presence of a silver stripe through the pottery stamp, as this is a clear indication that the jug is not first quality but rather a factory second.
Artists of Moorcroft Jugs
Because Moorcroft has been creating jugs for over one hundred years, several different artists are responsible for the beautiful artwork. Beginning with William Moorcroft himself, each artist has different unique qualities that can be identified by Moorcroft enthusiasts. William Moorcroft's patterns Pomegranate and Pansy are two of his most well-known designs; both are the result of years spent perfecting his thin glazing technique and use of brilliant colours, particularly in nature motifs. When Walter Moorcroft assumed the role of head of the company from his father, his first creation was purchased by the Duchess of Gloucester. Walter Moorcroft's signature designs were the Bermuda Lily,Hibiscus, and Magnolia patterns, which he promoted throughout the world during his tenure with the company.
Designers Outside the Moorcroft Family
For decades, the only designers for Moorcroft's company bore the name Moorcroft themselves. After this was no longer possible, other designers were sought out to fill the role of designing Moorcroft's patterns for jugs and other pieces.
Sally Tuffin (Dennis)
The first designer to take over for Moorcroft was Sally Tuffin Dennis, who was one half of a successful fashion partnership, Tuffin and Maule, during the 1960s. Her designs were viewed as a breath of fresh air for the then-struggling Moorcroft business. She and her husband worked at Moorcroft, but left after just a few years to start their own pottery business, The Dennis Chinaworks.
Rachel Bishop
Rachel Bishop was first interviewed by the Moorcroft company for a painting job. Although the company was impressed with her designs, they were not looking for a designer. A year later, however, Moorcroft hired Bishop as a new designer. When her line, Tigris, was introduced, sales of Moorcroft pottery doubled. Bishop is inspired by dramatic scenes of nature and is only the fourth designer for Moorcroft in one hundred years.
Other designers now work for Moorcroft pottery creating new designs that stay true to the aesthetic of William Moorcroft. These designers also continue the dedication to quality and craftsmanship that was begun over a hundred years ago.
Age of Moorcroft Jugs
The age of Moorcroft jugs is important as it directly relates to the value of the jug. Older jugs, for example, are often rarer and thus more valuable. Obtaining the details of each jug is important when determining its age and therefore value. There are a number of ways to determine the age of a Moorcroft jug, including the pottery stamp and the artist. Certain pottery stamps and artists correlate only with specific dates; for example, a jug manufactured in 2003 would certainly not have been painted by William Moorcroft himself.
How to Buy Moorcroft Jugs on eBay
To find and purchase Moorcroft jugs on eBay, use the general search bar found on most eBay pages and type a simple keyword such as 'Moorcroft jug'. You may wish to narrow the search results by utilising the provided categories, including those for pottery and porcelain/china; you can also restrict your search based on other criteria including the manufacturer, material, date, and condition, and price range, by setting minimum and maximum amounts.
Once you have limited your search to one or a few listings, take the time to read the details of each listing carefully and thoroughly. Examine photos closely and compare them with any written descriptions for accuracy. Note any requirements regarding payment and shipping, especially concerning turnaround times. Click on the name of the seller of the item to be redirected to the eBay feedback page where you can read comments left by past buyers involved in transactions with the seller, as well as learn the eBay feedback rating system. You may also contact the seller securely through this page with any questions or concerns about the listing. Using eBay to locate Moorcroft jugs for purchase is an excellent way to find what you are looking for online at a variety of price points without having to search through stores and resale shops.
Condition of Moorcroft Jugs
The buyer must take condition into consideration, especially when looking to purchase older Moorcroft jugs. In addition to the Moorcroft-specific criteria, such as the pottery stamp and the specific artist, anyone looking to purchase a Moorcroft jug should consider its condition. Chips or cracks in the jug reduce its value as well as its usefulness. The presence of a silver stripe painted through the pottery stamp means the value is decreased because it is a second-rate item.
Conclusion
There are a number of important things to consider when buying Moorcroft jugs, and buyers must spend time learning these before embarking on a purchase of these valuable pieces. Knowing the history and background of the Moorcroft Pottery Company assists buyers in making educated decisions when seeking to purchase the jugs. Potential purchasers should also familiarise themselves with the William Moorcroft signature as well as the meaning of each pottery stamp. The age and the condition of the jug, including the integrity of the paint and glaze and whether or not there are chips or stains, are also factors in the value of the Moorcroft jug. Whether the potential buyer is considering the purchase of a Staffordshire-produced Moorcroft jug from 1930 or a Florian Cream Jug from the MacIntyre line of 1897, education on the topic assists in the decision-making process in purchasing Moorcroft jugs.
Time invested in researching Moorcroft jugs pays off in the successful purchase of a sought-after piece. Regardless of whether one ultimately finds a Moorcroft jug in a resale shop or at an online marketplace website such as eBay, information gathered ahead of time allows collectors to confidently complete their purchases.