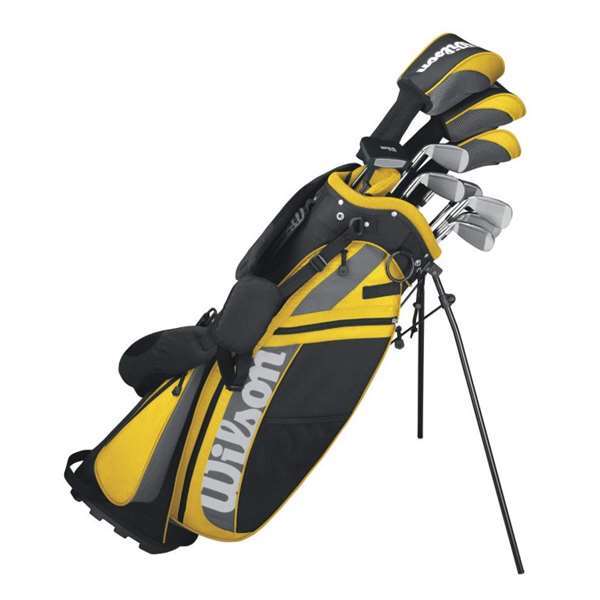 Whilst the likes of golf balls, tees and golf clubs are important pieces of equipment for those who wish to play golf, a golf bag is a necessity for those who want to transport all these pieces of equipment around the course.
There are wide ranges of golf bags available. With differing styles, colours, materials and accessories all available for purchase, the range is vast. Auction sites, much like eBay, offer the opportunity for potential buyers to find a golf bag that suits their specific requirements.
What with there being so many options open to those who wish to acquire a golf bag, it is best to understand all the things to look for before settling for a purchase.
The following guide aims to take prospective buyers through the options available so as to ensure that an honest and efficient transaction occurs that represents their particular needs.
Golf Bag Functions and Accessories
A golf bag is not merely used for the carrying of clubs. Whilst this is an important function of a golf bag, there are a wide variety of accessories and components that make up a golf bag as a whole. The following is a table designed to explain the varying accessories and functions that come with the purchase of a golf bag:
| | |
| --- | --- |
| Golf Bag Feature | Function |
| Golf Bag Pockets | The majority of golf bags are manufactured with a varying number of pockets . These are designed to carry the likes of golf balls and tees. They can also be useful for carrying scorecards and other such accessories. When buying a golf bag, the number of pockets should be something to look out for. |
| Club Holders and Dividers | With the fundamental function of a golf bag being to carry golf clubs, the club compartment takes up the majority of the golf bag design. Some golf bags have the capacity to carry a large number of clubs, whereas others are designed for those who wish to limit the amount of clubs they take around the course. |
| Golf Bag Legs | In order to keep golf bags upright, golf bag manufacturers have designed golf bags with legs so golfers can stand their golf bags upright. This allows for golfers to gain easy access to their clubs if they wish to change clubs quickly and efficiently. Bags with stands also protect the bag from the stains and wear that would occur if a golfer was to lay it on the ground whilst taking a shot. |
| Golf Bag Strap | There are a variety of different straps available for golf bags. Some are removable and can be customised, whereas others are permanent. |
| Miscellaneous Accessories | There are also other miscellaneous accessories available that can either be added separately to golf bags or come as part of the original design. These include items such as umbrella chutes or holders that allow for the owner to carry an umbrella around the course efficiently. Other accessories include drinks holders , club covers and bag covers , all of which are available on the likes of eBay for affordable prices. |
Golf Bag Considerations
Once one is knowledgeable of the various components that make up a golf bag, there are a number of things that should be taken into consideration regarding each section. Whilst some components are easily chosen, others may only be useful for golfers with certain requirements, or may only be necessary for golfers of a certain playing level. Below are a number of concerns that should be factored into the buying process of those wishing to purchase a men's golf bag:
- Number of Club Dividers: the number of club dividers and compartments in a golf bag is entirely subjective. Whilst some golfers prefer to have a separate compartment for each club, others tend to separate their clubs into their different types. For example, it is common for golfers to have separate compartments for their drivers, putters, woods and iron clubs. There are also a number of extremely affordable golf bags that have no club dividers whatsoever. However, this is not recommended if one wishes to keep clubs in good condition.
- Club Divider Lining: if a golfer wishes to preserve the condition of their clubs they can purchase individual plastic tubes so as to avoid any contact between clubs. Golf bags are also available with plastic lining for the same purpose. These golf bags may, however, be of a higher price than those without a specially designed lining or plastic tubes.
- Strap Size: the size of the strap should depend on the size of the bag. A larger golf bag will have a larger strap, and sometimes it will contain more cushioning to allow for an easier carrying of the bag. Smaller bags tend to have smaller straps but there may also be a high level of cushioning. The choice of strap for a golf bag may also depend on the size of the golfer. Most straps can be altered to allow for taller golfers and some may be able to be removed to allow for a customised or more comfortable strap to be used.
- Number of Pockets: the number of pockets may determine the price of the golf bag. For example, a golf bag with a large number of pockets may be more expensive, as it allows for the carrying of a larger number of items round the course. On the other hand, a golf bag with a large number of pockets may be more bulky in design and less easy to transport. Take into consideration how many pockets are needed before making on a purchase.
- Pocket Function: whilst some golf bags are designed with certain pocket functions in mind, there are others that may have pockets that do not allow for the efficient storage of certain items. Be wary of the specific function of certain pockets so as to allow for the purchase of a golf bag that is well organised.
- Golf Bag Stand: the decision to purchase a golf bag with a stand can affect its price. The majority of golf bags with a built-in stand will be higher on the price scale than those without. It may also be an idea to find out the material that the stand is made of. Metal stands tend to be more durable and more reliable than the likes of plastic stands, although developments in golf bag technology mean that plastic stands have become a lot sturdier and able to support larger weights.
- Bag Colour: whilst some golfers do not concern themselves with the aesthetic nature of their golf bags, some may be purchased as fashion items alongside the choice of clothing for the course. There are a number of colours and designs available for purchase from sites such as eBay that cater for all tastes and colour requirements.
- Bag Material: as well as their being a multitude of golf bag colours and designs available for purchase, a number of materials are used by golf bag manufacturers. For example, the most common types of material used in the manufacturing of golf bags are canvas, leather, nylon or a combination of the three. Nylon golf bags are popularly used amongst those who tend to play in all conditions.
Buying a Golf Bag for Men Online
The marketplace for men's golf bags is huge. There are many different ways of purchasing them online, all of which can be a useful comparison tool for finding a bargain elsewhere. For example, popular brands of golf equipment sell their own versions of golf bags on their websites and via other online retailers. The prices offered on these sites can be a useful indication as to the range of values of certain brands or styles of golf bag. There are also other brands that are dedicated solely to the production of golf bags and may offer the opportunity for customisation. Again, use the prices given on these websites as a comparative tool to help you in finding a bargain elsewhere.
There are also a number of blogs and forums run by golfing enthusiasts of all levels that offer brand and style recommendations for men's golf bags. Browse these to comprehend the more commonly used types of golf bag.
Buying a Golf Bag for Men on eBay
Once a brand or style has been decided upon, it may be best to visit an auction site akin to eBay in order to try and find the same product at a more affordable price. Whether it is a brand new or used golf bag one is looking for, the likes of eBay provide the chance for potential buyers of golf bags to buy their desired product for less than market value. For example, if a seller is looking to make a quick sale, one may be able to use the Buy It Now or Best Offer option. There is usually also the opportunity the make a bid on the product of choice, and this can also lead to a finding a good deal, especially if the buyer is familiar with the standard prices paid for said product.
By visiting the Sporting Goods section of eBay and browsing the Golf listings, one can find a vast array of golfing products. By clicking the Golf Bags filter tab, it is also possible to find a set of listings that is dedicated solely to the selling of golf bags. Use the filter tabs again, as well as the keyword search bar, to narrow down a search and to make it more accurate to certain needs.
After a product has been meticulously looked at, for example, a browsing of the product description and the seller's transaction history, as well as a studying of the images provided, one can visit the Buying Tips page to ensure that a secure and straightforward transaction is taking place.
Conclusion
With the market for golf bags being so vast, choosing the right golf bag and paying a reasonable price at the same time can be hard. However, with sites such as eBay this need not be the case.
If an understanding of the advantages and disadvantages of certain golf bags is gained, then the process can be made a lot easier. Also, if specific needs are understood regarding accessories and modifications of a golf bag, a good deal is sure to be found.
Whether it is a carry bag, a bag with a stand or a bag with 14 club dividers, the purchase of a golf bag can be affordable and trustworthy when using a site such as eBay.