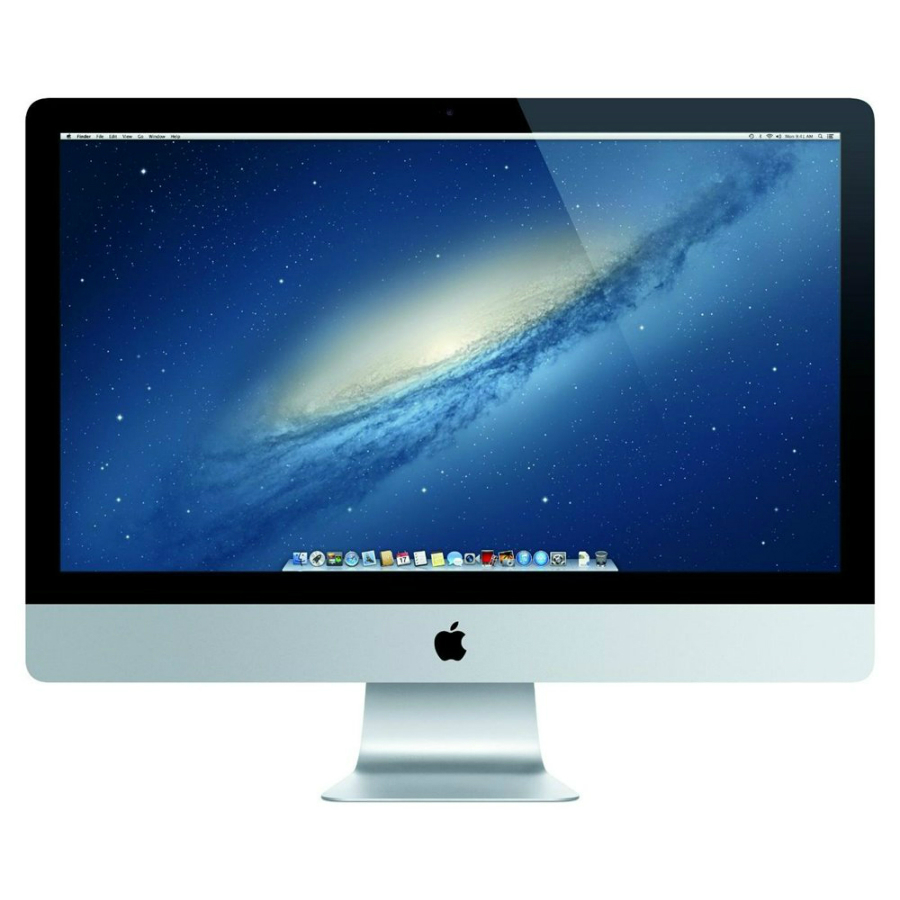 Purchasing an Apple desktop or all-in-one is a big investment that can affect buyer's quality of life or work for multiple years. In general, many Apple computers run for longer than Windows computers, and one computer can stay around for five years or more. Choosing a computer that suits buyer's lifestyle, needs, and available space at home or office are each important. Apple sells a couple of different models of desktops and all-in-ones including the iMac, Mac Pro, Mac Mini, Power Mac, and eMac, each of which might suit a different person.
Buyers should decide on their Apple desktop or all-in-one based on computer's price and specifications, the user's needs, and more. Other choices include deciding between a new and used Mac, choosing whether to purchase from an Apple store or from an auction website, and choosing a warranty. Finally, buyers should always research everything about the Mac before making a purchase.
1. The Right Screen Size
Screen size can make a lot of difference to many people, especially to those who intend to use a Mac for viewing television or playing games. Anyone with eye problems should also consider investing in a larger screen, which usually means that all-in-ones are out, and Mac desktops such as the Mac mini or Mac Pro are in. Desktops can be connected to any size of screen, including a TV screen, so a thirty inch or 76 centimetres screen is not out of reach. However, it is important to consider that the larger a screen is, the further away viewers should sit in order to avoid damaging their eyes. On average, viewers should also sit with their eyes about seven to eight centimetres above the computer screen, which is difficult with anything over twenty seven inches or 68.5 centimetres. Because iMac computers come as 27 inches, they are still great options. Anyone who is very tall or actually stands at their desk should not have a problem with this.
2. A Spacious Hard Drive
The next step to choosing a good all-in-one or desktop is to decide how much hard drive space is good. While hard drive space is always a good thing, it is not as necessary as it would have been years ago. It is also easy to purchase external drives or even take advantage of services such as iCloud, which come with any Apple computer. This allows owners to store most of their data off their computer. However, a certain amount of storage is always a good thing, especially for anyone who likes to play games, load a lot of data, or does not like to store data off their computer. Usually, most consumers are happy with anything over 250 gigabytes of hard drive space, although some might want more. Most Macs have at least 500 gigabytes of hard drive space but anyone purchasing a used Mac might have to go with less space.
Usually, it is a good idea to calculate how much hard drive space might be necessary for the applications the computer is being used for. Gamers, anyone who works on their computer, video editors, photographers, and writers need more space, while anyone just using their computer to surf the web, check their e-mail and social network accounts might be better off paying less money for less space. Usually, the distinction is pretty easy to figure out, although most people should have at least the 250 gigabytes.
3. Enough Computing Power
Computing power includes RAM or DDR3 memory, chip power, graphics, cores, and more. For most buyers, a reasonable amount of RAM is anything over two gigabytes. RAM or DDR3 or the random access memory controls the amount of data that can be processed at once. Some games actually require four gigabytes of RAM or more, and anyone who uses a lot of processes at once can greatly benefit from having more RAM.
Anything above two gigabytes is useful for average consumer use. Gamers should check for upgradable or four to eight gigabytes of built-in memory. For the most part, anyone who plans on multitasking should look for higher RAM levels. In general, higher RAM or DDR3 is more expensive, meaning that it might be important to consider specific factors such as how much is actually necessary. Most Apple desktops and all-in-ones come with four gigabytes of RAM but can be upgraded with compatible chips.
4. Game Compatibility
Another consideration is that anyone who plans on using the computer to play specific games should check the compatibility. Many games require specific graphics cards or even specific amounts of CPU. For example, the very popular game World of Warcraft requires a Mac to have a minimum of two gigabytes of RAM, a CPU or core of i2 or higher, and a video card of Radeon HD 2600 or NVIDIA GeForce 8600M GT duo. For this game, the preferred specifications for optimum performance include at least four gigabytes of RAM, an i3 core, and a video chip of ATI Radeon HD 5670 or better. By using this example, buyers can see that not all Macs, especially not older ones, are suitable for gamers. However, it is always possible to upgrade chips and video cards, and usually at a much cheaper price than purchasing the Mac with the higher specifications. Importantly, upgrades should always be done by a professional in order to avoid breaking the computer.
5. Budget Friendly Price
Last but not least, every buyer should consider their budget. Some Mac desktops and all-in-ones are cheaper than others, and anyone on a very low budget might have to opt for the cheaper version. Considering a used model might also be helpful, and when the estimate that more than twenty per cent of all Macs are refurbished is applied, purchasing a used Mac might not be such a bad thing. Buyers can set a budget by focusing on truly necessary features. For example, purchasing a Mac with 8 gigabytes of RAM might seem nice, but the average user does not use this much memory. The same ideas can be applied to hard drive storage, screen size, and even the age of the computer.
Comparing Mac Models
Choosing a Mac should always involve comparing the models to see which one is right for a user, so most buyers should read up and research first. Different Macs are suitable for different applications so choosing the right one means finding something inside of budget that does what it has to do. The following chart compares all current Mac models but does not include those that are out of production but might be available used or online.
| Computer | 21.5-Inch iMac | 27-Inch iMac | Mac Mini | Mac Pro with Single Processor | Mac Pro with Dual Processor |
| --- | --- | --- | --- | --- | --- |
| Processor | Quad Core Intel i5 or i7 with 3.1 GHz | Quad Core Intel i5 or i7 with 3.5 GHz | Dual Core Intel i5 or Quad Core Intel i7 with 2.6 GHz | Quad Core or 6 Core Intel Xeon | 2 x 6 Core Intel Xeon |
| Screen | 21.5-Inch LED Backlit | 27.5-Inch LED Backlit | - | - | - |
| RAM/DDR3 | Up to 16 Mb | Up to 32 Mb | Up to 16 Mb | Up to 16 Mb | Up to 64 Mb |
| Hard Drive | 1 TB | 1 TB or 3 TB | 500 GB or 1TB | Up to 8 TB | Up to 8 TB |
| Graphics | NVIDIA GeForce GT 640M or 650M | NVIDIA GeForce GTX 660M or GTX 675 MX or GTZ 680 MX | Intel HD Graphics 4000 | ATI Radeon HD 5770 or ATI Radeon HD 5870 | ATI Radeon HD 5770 or ATI Radeon HD 5870 |
| USB Ports | Four USB3.0 | Four USB3.0 | Four USB3.0 | Five USB 2.0 | Five USB 2.0 |
| SDX Card Slot | Yes | Yes | Yes | No | No |
Newer Apple desktops and all-in-ones are incredibly powerful and capable of being easily expanded for any use. Prices do tend to vary although the MacBook mini is usually an affordable option whether purchased new or used. Buyers should decide on a model based on budget, specifications, size, and availability of the product.
Buying Apple Desktops and All-in-One's on eBay
There are hundreds to thousand options on eBay at any given time for any buyer who would like to purchase an Apple desktop or all-in-one. Importantly, some of the options are years old as collectors and computer specialists looking for very old or antique Apple computers also purchase from eBay. Choosing a model should include searching for a specific type of Mac, choosing a hard drive size and memory size, and then setting a budget. Buyers can also compare multiple listings to find the best price for the specifications that they would like.
Consider checking the exact age of the Mac, asking the seller any unanswered questions, and paying attention to the location. Some larger all-in-ones might not be able to be shipped, so it might be necessary to drive and pick them up. Finally, check to make sure that the computer is exactly what you are looking for and then purchase it.
Conclusion
Purchasing an Apple desktop or all-in-one should involve considering factors including budget, value, size of screen, hard drive space, condition, and computer capabilities including RAM, video or graphics card, and processor. For most casual users anything over two gigabytes of RAM and 250 gigabytes of hard drive space is more than sufficient. For gamers and heavy users, four or more gigabytes of RAM and at least 500 gigabytes of hard drive space are better options. Buyers should also look at the graphics card specifications, especially if they plan on using the computer to play games.
Apple desktops and all-in-ones can be purchased new from the Apple store, used from previous owners, or from an online site like eBay where it is possible to purchase both new and used models. Researching and considering available options before making a purchase can help buyers to find the Mac that suits their needs.