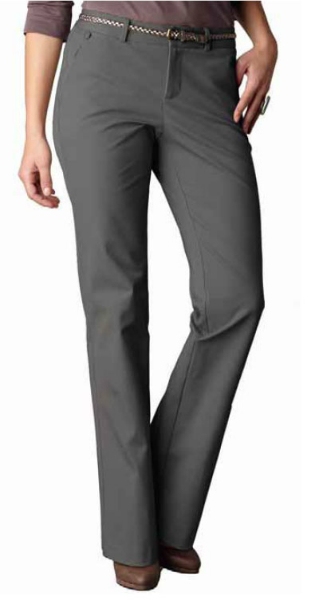 In order to appear professional in the workplace, women need to have a stylish and flattering pair of trousers. These long trousers come in many styles, designs, and colours to match any woman's personal taste. There is more to finding the right pair of trousers than grabbing something off of the rack. Women should be careful with their selections in order to find the best looking trousers for the job. To make the shopping process simple, women need to follow four simple steps or tips while making a selection. These steps start with choosing the right style of trousers for a body type and end with knowing how to select the right size. Choosing the wrong pair of trousers could cause a woman to look heavier, shorter, or otherwise unflattering. Following a few simple tips to find the right pair can make a woman look stylish and feel comfortable. No matter what kind of trousers a woman is looking for, there is a variety of new and used pairs available on eBay.
1. Choose the Right Style for Body Type and Function
When it comes to buying a pair of women's trousers for work, the style of trousers is the most important characteristic to consider. Not all styles work with all body types, and not all styles are appropriate for all business purposes. Some styles, like the straight leg, are versatile enough to flatter any body type, while other styles, like skinny trousers, only work for specific figures. Regardless of what body type a woman has, there is a pair of trousers out there that will flatter her figure and allow her to appear both stylish and professional. Check out Massimo Dutti for a wide range of women's trousers.
Straight Leg
Straight leg trousers are a type that work well with just about any body type. Additionally, this cut can be found in several different designs, so they can be worn for business meetings or in the casual workplace. Straight leg trousers have a uniform width from the thighs all the way to the hem. This creates a flattering straight line to help balance out any body type. Women like straight leg trousers because they have the ability to hide wide thighs. Women who have heavier thighs should avoid trousers that taper at the bottom because they can make the thighs and hips appear wider. For this reason, straight leg trousers are ideal for women with larger thighs. Women who have straight figures also do well with straight leg trousers because they help women maintain their slender figures.
Gaucho trousers
Gaucho trousers are similar to capri pants except that they have wider legs with a flare at the bottom. These trousers are ideal for warm weather because the short breathable legs keep the woman cool. Although they are trousers, the wide and flowing legs can have a similar appearance to a skirt, depending on the type of fabric used and the amount of flare. Gaucho trousers can be found in several fabrics from casual denims to dressier silk blends. Women should be careful when shopping for gaucho trousers, because they can be tricky to wear on certain body types. Women who have long legs can wear any style or colour gaucho trousers. Women who have shorter or heavier legs should stick to longer gaucho trousers in a light colour. Opting for a dark colour could cause the body to appear uneven.
Boot Cut Trousers
Boot cut trousers have a similar design to straight leg trousers except that they have a slight flare at the bottom. This design is so that the trouser legs can easily fit over a pair of boots. As with straight legs, boot cut trousers work well with any body type. Women who are looking for a versatile pair of trousers that can be worn with their favourite pair of boots should consider trousers with boot cut legs.
Skinny Trousers
Trousers with skinny legs are a trendy type of trousers that are only suited for one body type. Women who have straight and slim figures can wear this kind of trousers, and all other body types should stay away. Skinny trousers hug the legs and the hips very closely. Because this type of trousers make the lower half of the body look small, it is important that the top half of the body is in proportion. Women with straight figures can add slight curves by wearing skinny jeans while maintaining the slim figure.
Cropped Trousers
Cropped trousers are another type of trousers that can keep women cool in the summer time. These are not as short as capri pants, and instead have a hem that falls between the ankle and the calf. Cropped trousers usually have straight legs so that they don't hug the legs too closely. Women with all body types can pull off cropped trousers, but women with a shorter stature should avoid cropped trousers that have a cuff. This can actually make women appear shorter than they already are. Cropped trousers are found in all fabric types, colours, and designs. Usually these trousers are better suited for casual or business casual occasions. For a professional look in the workplace, women may wish to stay away from cropped trousers.
Wide Leg Trousers
Wide leg trousers have straight legs that are wider and more flowing than straight leg trousers. Tall, slender women might have trouble pulling these kind of trousers off because they can make the bottom half of the body appear larger than the top half. Women who wish to downplay their curves can do so with wide leg trousers. When paired with the right shoes, wide leg trousers can help elongate the legs and slim her figure down. These types of trousers are available as part of a women's suit or as a casual pair of trousers for any occasion.
2. Find the Right Material
The type of material that women choose for their trousers plays a big role in how they look on a woman's body. Depending on the type of job that a woman has also dictates the type of fabric that she'll need in a pair of work trousers. Fine cotton and polyester trousers have an elegant appearance for women who want to look their best. Women with jobs that require a lot of activity should avoid these fabrics because they snag easily and are hard to clean and care for when they get dirty.
Synthetic fabrics and natural fibres are a good material to use for just about any purpose. Both fabrics are easy to care for and are very durable. Additionally, synthetic materials are usually wrinkle-free, which means that women can maintain a professional appearance without having to break out the iron. Unless women have a very casual job, they should avoid wearing denim. Although comfortable, this fabric won't work for business attire. When shopping for a pair of work trousers, women should be sure to choose a fabric that is comfortable, attractive, and easy to care for.
3. Pick a Colour
Some employers have a strict dress code that dictates what can and cannot be worn in terms of fabric choices and colours. Additionally, some colours work best with certain body types and trouser styles than others. For a professional look, women should stick to dark colours like black or blue. When selecting cropped or gaucho trousers, lighter colours can often help to balance a woman's figure to help her look taller and more proportional. To maintain a professional look in the workplace, women should avoid trousers with bright colours or intricate designs. Solid colours or pinstripes are the best when it comes to choosing trousers for the workplace.
4. Determine the Proper Size
More important than finding the right style, material, or colour is finding the proper size trousers. Trousers that are too small can be uncomfortable and extremely unflattering. Trousers that are too large can add bulk to the figure in a similarly unattractive way. Women can try on several pairs of trousers to see which ones fit the best, or they can measure their waist and hips to determine the proper size. The table below shows the UK sizes that correspond with the waist and hip measurements.
| | | | | | | | | | | |
| --- | --- | --- | --- | --- | --- | --- | --- | --- | --- | --- |
| UK Size | 2 | 4 | 6 | 8 | 10 | 12 | 14 | 16 | 18 | 20 |
| Size | XXS | S | S | M | M | L | L | XL | XL | XXL |
| Waist (cm) | 59.5 | 62 | 64.5 | 67 | 69.5 | 71 | 74.75 | 77.75 | 81 | 85.5 |
| Hips (cm) | 87.5 | 90 | 92.5 | 95 | 97.5 | 100 | 102.5 | 106 | 109 | 113 |
Trousers that have an elastic waistband can stretch to accommodate several different sizes. These don't usually have number sizes and instead designate sizes such as small, medium, and large. Even though these trousers have an elastic waistband, it is important for that women still choose the proper size. Trousers that are too tight can cause the unattractive 'muffin top' in women of any size.
How to Measure
When measuring the waist and hips for a pair of trousers, women need a soft tape measure and will measure their bodies. The inseam for a pair of trousers can be measured on a pair of trousers that the woman already owns. To measure the waist, the tape measure should be wrapped around the part of the waist where the top of the trousers are usually worn. There should be at least two fingers worth of wiggle room added to this measurement. To measure the hips, women need to stand with their legs together and wrap the tape measure around the widest part of the hips. This measurement also needs two fingers worth of wiggle room. These measurements can then be used to determine the proper pant size.
5. Choose Trousers to Hide Problem Areas
Sometimes even trousers that are the proper size don't hide a woman's trouble areas. Because women's bodies can have many different shapes, it is hard to manufacture a pair of trousers that look flattering on everyone. Measuring for proper size as mentioned in the above section is the best way to find trousers that offer the best fit. The way in which the trousers are manufactured will determine how well they are able to hide problem areas.
Hide Problem Areas in the Rear and Thighs
Heavier fabrics like wool and cotton twill are able to conceal unflattering characteristics on the rear and thighs. Women who are trying to hide lumps, bumps, or other trouble spots need to avoid any fabrics that contain Lycra. While they can be more comfortable because of the little bit of stretch they provide, they aren't forgiving in how they cling to the body. Pants that are manufactured with two layers also do a great job in hiding problem areas. The inner lining prevents the outer layer of fabric from clinging to the thighs and provides a smooth and even appearance.
Hide Problem Areas in the Waist
Choosing trousers with the proper waistline also help to hide trouble areas. This is especially true for women who have a thick waist. A waist that sits too high on the body will emphasise the waist rather than toning it down. Alternately, if the waist sits too low, then it results in an unattractive overhang. To hide problem areas around the midsection and have a comfortable and attractive fit, women should opt for trousers that have a waist that sits just below the belly button. This downplays a thick waist by creating smoother lines from the torso to the hips.
Shop for Women's Work Trousers
Women's clothing shops carry many different selections of trousers that are suitable for work. Vintage clothing shops and thrift shops carry a large selection of trousers with unique styles and trends. Shopping in local stores gives you the opportunity to try on several different pairs of trousers to see which ones look and feel the best. To find a wider selection of styles and designs at more competitive prices, you can shop online with various retailers or look for new and used items on eBay.
Find Women's Work Trousers on eBay
When looking for a pair of women's trousers on eBay, begin the search by typing a short description of the women's trousers you are looking for into the search bar on the eBay home page. For example, if you type in the keywords 'cotton cropped trousers' into the search bar, only listings for that type of trousers will appear on the results page. Since there are likely hundreds of thousands of listings for trousers at any given time, you can narrow down the selection by size, style, colour, brand, and several other options. Seeing as how both men and women wear trousers, you should first sort the listings on the results page by gender. You can choose to search for listings for trousers that originate outside of the UK, but if you do, you should consult a size conversion chart. If the size is not mentioned in the item description, you should contact the seller by going into their profile, and clicking on the contact link.
Conclusion
Women need a few pairs of trousers to add to their wardrobe and wear in the workplace. Instead of just shopping for the latest styles off the rack, women need to take time to find the styles that work best with their body types. There are as many styles and designs to choose from as there are body types. With a little bit of research, women can easily find the styles of trousers that look the most flattering on their body shapes. By following four tips every time they go shopping, women can quickly find trouser selections to show off in the workplace. The process starts by choosing the right style of trousers for the woman's body then moving on to selecting fabric, colour, and finding the right size. With so many different options to choose from, the styles and choices are endless. Whether looking for a casual pair of cropped trousers or some straight leg trousers to wear in the boardroom, eBay has a large selection of new and used options to choose from.