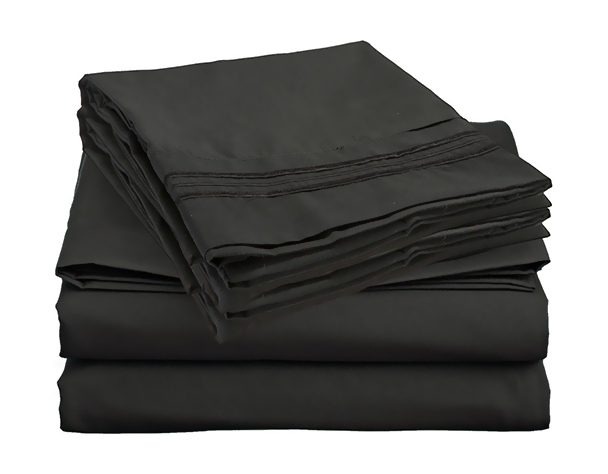 Finding and purchasing the right bed sheets is a process that involves both aesthetic and pragmatic elements to help consumers get a good night's sleep. Consumers looking for new sets of bed sheets for bedrooms or guest rooms may want to learn a few tips for finding the best sheets for their needs. Issues such as fit, material, and weave all factor into the selection of sheets. With a few tips in mind, consumers can explore their best retail options, including shopping in traditional brick-and-mortar department stores and learning about the purchasing process on eBay.
Get to Know the Materials Used in Sheets
The material used to make a sheet is perhaps its most defining characteristic. Cotton is the most common material used by manufacturers of bed sheets. Cotton bedding comes in several varieties, including Egyptian cotton and Pima cotton, two durable cottons known for their softness and sheen. Knitted jersey cotton gives consumers a very soft feel similar to a well-worn cotton T-shirt. Consumers also encounter choices such as silk, linen, and Tencel, a synthesised fabric known for its resistance to bacteria and moisture.
The benefits of cotton include its hypoallergenic qualities and the coolness of the fabric on the skin. Tightly woven cottons, such as Egyptian cotton and Pima cotton, are also highly breathable. Synthesised fabrics, such as Tencel and polyester blends, maintain their original shape well and do not pill. Manufacturers often use Tencel in infant bedding.
Consider Thread Count in Cotton Sheets
Manufacturers of cotton bed sheets use thread count to let consumers know how many individual threads are in a sheet. Thread count literally means the number of threads in the cloth on both the horizontal and vertical axes. Bed sheets with higher thread counts typically have softer and more durable designs. The average set of bed sheets falls into the 200-count range, while higher end options run as high as 800 or more. Sheets with higher thread counts pill less and feature denser weaves.
Understand the Weave Used in Bed Sheets
In addition to the material used in a sheet and its thread count, the fabric weave also defines the feel and quality. Many consumers do not realise that weave is actually a distinction of a material. Flannel, for example, is not actually its own type of material. It is a cotton weave with a napped finish that creates texture and volume on one or both sides of the sheet. Flannel weaves are good choices for cold and wet weather conditions.
For warm weather months, consumers often turn to percale. A percale weave is a cotton weave that combines carded and combed cotton threads to create sheets with very crisp finishes. Manufacturers also use something known as a sateen finish on various synthetic blend sheets. A sateen weave uses more yarn surface on the face of the fabric to create a very shiny surface similar to satin. A microfibre weave uses very fine, synthetic yarn in a dense pattern to create a very soft finish. Additional benefits of microfibre weave include resistance to moisture and allergens.
Consider Durability and Maintenance
When selecting sets of bed sheets, consumers should consider the durability of the fabrics as well as the amount of effort they can put into maintaining sets of sheets. Consumers who have children or who want the longest wear out of sheets may want to turn to more durable options such as high thread count cotton or polyester sheets that are easy to clean and last for many years. Silk sheets, although luxurious and soft on the skin, require a good deal of maintenance. Consumers may need to dry clean silk sheets or wash them in separate delicate cycles in washing machines with special detergents. Silk sheets also show wear quickly compared to other options.
Get the Size Right
UK consumers need to ensure they purchase the right size sheets for their mattresses. UK sizes includeSingle,Double,King, and Super King. Consumers may encounter European sizes in the marketplace, which vary by 5 to 10 centimetres from UK sizes in width or height. Confirming the size standard used for a set of sheets is essential to ensuring a good fit.
How to Buy Bed Sheets on eBay
Various types of bed sheets, including percale sheets, cotton sheets, and satin sheets are available for purchase on eBay. Consumers can look for the products they want by utilising the search bar on any page of the site. Running a search with a keyword term such as "cotton super king sheets" pulls up all the products on the site related to that term. Consumers can then review products in detail by clicking on individual titles and visiting product detail pages. The selection for bed sheets and other types of bedding on eBay is usually extensive, and consumers can quickly and easily find many suitable choices.