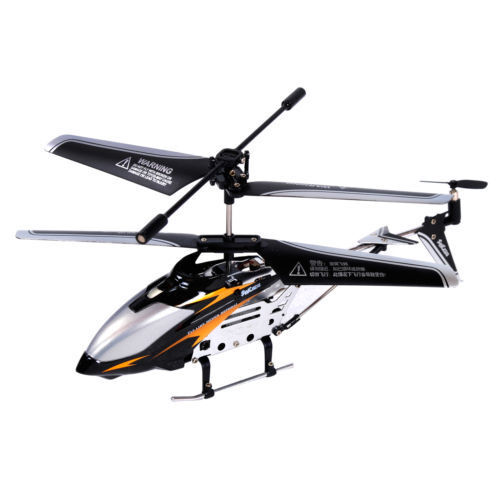 Owning a radio control vehicle is very popular 21st century hobby. It involves racing radio control vehicles such as cars, helicopters and boats in a straight-race or obstacle course format. As radio control as a hobby continues to increase in popularity, there is a healthy demand for the products and an equally healthy supply of radio control vehicles.
Buying a radio control helicopter is easy with the aid of modern-day ecommerce websites like eBay but there are five essential tips or factors to consider to aid anyone buying a radio control helicopter:
1. Which type of radio control helicopter do you want?
2. Which power type radio control helicopter do you want?
3. What size radio control helicopter?
4. Which type of gyro do you want for your radio control helicopter?
5. How will you be using the radio control helicopter?
Asking yourself these questions should help outline what you wish to achieve from your radio control helicopter which will be very useful when shopping for one.
Decide Which Type of Radio Control Helicopter you Want
Radio control (or R/C as they are commonly known) helicopters first came into production in the late 1990s following the success of remote control toys earlier in the decade.
Just like all radio control toys there are different types of R/C helicopters so the first tip to buying one is to find the right type that suits your needs and skill level.
Micro Coaxial
This type of R/C helicopter is often the novice's favourite as they are great fun for all ages, easy to master and affordable. Unlike single rotor helicopters, micro coaxial helicopters have two main rotors on top of each other which improve the aircraft's stability greatly.
Micro Single Rotor Fixed Pitch
These R/C helicopter types bridge the gap between the lower spec micro coaxial and the higher spec single rotor collective pitch. They possess a 45 degree fly bar which aids in stabilising the aircraft. As such they are a perfect balance between the two model types for anyone new to the R/C helicopter arena.
Single Rotor Collective Pitch
This R/C helicopter type works by a single set of rotor blades rotating on their longitudinal axis to vary or reverse lift and is often deemed as the hardest to master controlling. This R/C helicopter type also has many parts so it involves a lot of mechanical knowledge to run efficiently.
Multi-Rotor
Multi-rotor R/C helicopters or 'Quardrocopters' as they have been coined possess four rotors which form a cross-like formation which takes most of the difficult controlling out of flying. These R/C helicopters are very high-tech as they possess sophisticated electronic stabilisation system and as such can be quite expensive. They are the choice of the true R/C helicopter hobbyists and professionals.
The first step to buying any radio control helicopter is to ascertain which type suits your needs as well as your skill level and mechanical knowledge as some low spec helicopters are more suitable for novices and some of the higher spec helicopters are better suited for R/C enthusiasts who have prior knowledge and experience.
Which Power Type Radio Control Helicopter do you Want?
All radio control vehicles are available in different power types. R/C helicopters are predominantly electric or nitro-powered these days however there are also petrol-powered models on the market as well.
As the power method of a radio control helicopter will affect the way you use it (i.e. for indoor use petrol or nitro-powered is no good because of the fumes) the second essential tip for buying a radio control helicopter is to establish which power type R/C helicopter you want.
Each R/C power type has its own benefits and drawbacks highlighted in the table below:
Electric Powered

Petrol/Nitrous Powered

Pros

Quiet

Cleaner and safer (no exhaust fumes) so can be used inside or outside

Easiest to set up

Less likely to endure problems when flying due to no reliance upon fuel

Lower long-term maintenance costs

Best power to weight ratio

Noisy (pro or con depending on operators preference)

Proven longevity

Generally more affordable as Lithium batteries can be quite expensive

Can be used on long runs with only a little amount of fuel

More durable

Cons

Less durable

Limited run time (even with multiple batteries)

Longer waiting time (electronic speed controller may need time to cool down in between changing batteries)

Not ready to run whenever like fuel-powered R/Cs (batteries must be charged in advance)

More difficult to set up

Messy due to containing fuel tank (especially nitro R/Cs as Nitro methane is volatile)

Higher long-term operational costs due to fuel and associated components

Noisy

Exhaust fumes prohibit indoor use

More difficult to start (with glow plugs/engine starter)
What Size Radio Control Helicopter?
Like all radio controlled vehicles, R/C helicopters come in all different sizes so that is the next factor to consider when buying one. The size (or class as it is known in the R/C helicopter arena) is based on the engine size rather than the scale of the vehicle like R/C cars. The classes are as follows:
* 1/2A class (smallest)
* 15 class
* 30 class
* 50 class
* 60 class
* 90 class (largest)
The sizes are based on the engine sizes and are measured in cubic inches so a 90 class R/C helicopter is the largest with an engine size of 0.90 cubic inches. It is unlikely that a novice with no R/C flying experience will require a 90 class helicopter as these are the professional models for true R/C enthusiasts with experience in the field.
Which Type of Gyro do you Want for Your Radio Control Helicopter
A gyro is an important component for any radio control helicopter as it detects any yaw movement (the swinging of the R/C left or right) of the helicopter and automatically sends a command to the tail rotor servo to stop or limit the yaw movement.
These days there are two main types of radio control helicopter gyro that do different things which is why gyro type is another important factor to consider when buying a R/C helicopter.
Yaw Rate Gyro
This gyro type is like a dampener and acts by reducing the amount of yaw movement of the R/C helicopter. It does not stop the R/C from turning; it simply dampens the amount of turning to a reasonable level that can be easily controlled. In harsh winds for example, a yaw rate gyro will dampen the movement so much that the helicopter can easily control it even in harsh conditions.
Heading Hold Gyro
A heading hold gyro is a lot more sophisticated than yaw rate gyros. This gyro type possesses high-tech software that allows specific degree directions to be given to the helicopter. This means that the helicopter will not yaw in any direction unless the operator gives it a command to do so. The high-spec nature of this gyro type means that it is often more costly than its counterpart so for a novice buying a R/C helicopter it is recommendable to buy one with a yaw rate gyro unless specifically desired.
How Will You be Using the Radio Control Helicopter?
* The final piece of advice for anyone looking to buy a radio control helicopter is to think about how they will be using it as this will impact upon which R/C model is chosen. Just like R/C cars have different uses (track or off-road racing for example); R/C helicopters can be used for racing and for dog fighting as well as leisurely flying of course.
* Dog fighting R/C helicopters are usually more agile, durable and smaller than other R/C models as they are modified for a specific purpose. Whereas R/C models intended for racing are usually faster and are more versatile.
* The intended use of an R/C helicopter is an important consideration for anyone thinking of purchasing one because there's no point buying a dog fighting R/C helicopter if you have no intention using it as one.
How to Buy a Radio Control Helicopter on eBay
eBay is a great place to buy a radio control helicopter or any r/c helicopter spare parts or new components. Regardless of the buyer's level of experience, mechanical knowledge or budget, eBay is a fantastic resource for all radio control helicopters and associated products.
Auction-based websites like eBay sell a wealth of radio control products including all vehicle types (cars, trucks, 4x4s, tanks, boats, airplanes and helicopters) and all the relevant associated products (remotes, batteries, fuel, spare parts, customisable components etc.).
eBay is a truly fantastic resource for anyone buying a radio control helicopter as the website offers a choice over purchase; to buy immediately (with the 'Buy Now' option) or to bid in an auction format ('Place a Bid').
Finding the sought-after product is easy with the aid of eBay's search and advanced search functions. Simply type in the name, model or manufacturer of the R/C helicopter and hit enter. From there a results page will be generated so click on the appropriate result to be taken to that products page.
The product's individual page will be full of information about the product including: a detailed specification, a product analysis, location and reputation of the seller, comments about the items condition as well as photographs of the product.
eBay is one of the safest ecommerce websites on the internet thanks to the safe and secure third party payment authority PayPal.
Conclusion
There are many different factors to consider when purchasing a radio control helicopter. However with the aid of the tips and suggestions highlighted in this guide coupled with the wealth of information and friendly shopping nature that eBay provides, buying a radio control helicopter has never been easier.