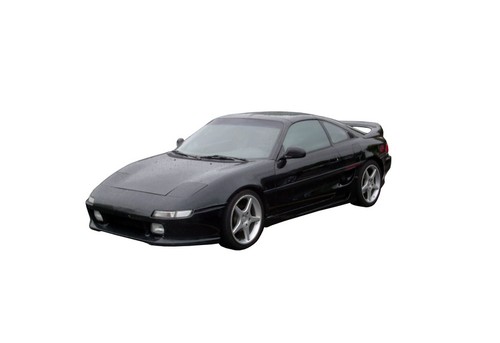 The original Toyota MR2 is a two-seat, mid-engine, rear-wheel drive sports car that began being put into production in 1976. The "MR2" name reflects these specifications. There are three generations of Toyota MR2, with the third generation morphing the original MR2 into the MR2 Roadster in 1999. The original Toyota MR2 is designed to be small but powerful with sporty handling and manoeuvrability. While the Toyota MR2 resembled a more affordable Ferrari sports car during the second generation, by the third generation the Toyota MR2 had more similarities to the luxury Porsche Boxster.. All three generations have the same basic design elements including, MacPherson rear and front struts, and transverse-mounted inline four-engines.
While the Toyota MR2 and the MR2 Roadster are no longer produced, they are available at select Toyota dealerships, used car dealerships and online at websites like eBay. Regardless of what year Toyota MR2 a consumer is interested in, the following are five tips to help buyers make the most informed Toyota MR2 purchase while using eBay.
Tip 1: Research the First Generation Toyota MR2
The first generation Toyota MR2 refers to the models produced between 1984 and 1989.. This generation features an angular design philosophy intended to imitate traditional origami paper sculptures. The first generation MR2 has a light body, excellent handling, and a small displacement-engine. The first generation MR2 weighs between 950 and 1066 kilogrammes, depending on what country it is originally produced in. The first generation offers a 1.6-litre A-engine, with DENSO electronic port fuel injection and a variable intake geometry. This engine gives the first generation MR2 128 horsepower in the United Kingdom.
The first generation comes standard with a five-speed manual transmission, but also offers the option of a four-speed automatic. The first generation goes from 0 to 96.6 kilometres per hour in the mid to high eight second range. This MR2 measures 3950 millimetres in length and 1,234 millimetres in height.
Tip 2: Research the Second Generation Toyota MR2
The second generation MR2 was manufactured between 1989 and 1999.. The second generation MR2 took on a complete transformation from the first generation, including weighing 160-180 kilogrammes more than its predecessor. Because of its affordability and similar outer appearance to the Ferrari sports vehicles available during this time frame, the second generation MR2 is often referred to as the "poor man's Ferrari".
There are three different European market trim levels available for the second generation MR2 including, the coupe, GT coupe, and GT T-Bar. The second generation MR2 offers two different engines including, the 2.0-litre 3S-FE engine producing 138 horsepower and the 2.0-litre 3S-GE engine producing 152 horsepower. The second generation MR2 is 4,171 millimetres in length and 1,234 millimetres in height. Similar to the first generation, the second generation comes equipped with either five-speed manual transmission or four-speed automatic transmission.
Tip 3: Research the Third Generation Toyota MR2 Roadster
The third generation Toyota MR2, spanning 1999 to 2007, takes a completely different approach on the MR2 model as part of the Toyota Project Genesis. The third generation MR2 was designed to attract younger buyers by changing out the hard-top for a soft-top convertible design. The third generation MR2 or the MR2 Roadster, has a more rigid and angled appearance, often compared to the Porsche Boxster..
The Roadster has a 1.8-litre ZZW30 aluminium engine with dual overhead camshafts and 16 valves. Differentiating itself from earlier generations, the MR2 Roadster places the exhaust manifold towards the rear of the car, instead of towards the front. The power of the engine is also drastically decreased to 138 horsepower because of the lighter engine. However, the Roadster still goes from 0 to 96.6 kilometres per hour in 6.8 to 8.7 seconds, depending on whether a consumer opts for automatic or manual transmission. The Roadster weighs in at 996 kilogrammes. In addition to the standard automatic and manual transmission options, the Roadster also offers a six-speed sequential manual transmission option. The Roadster also has a heated rear glass window.
Although the MR2 officially ended production in 2007, Toyota released 1000 limited-production V-Editions and 300 limited-production TF300 that same year in the United Kingdom, as a farewell to the Toyota MR2.
Tip 4: Consider Significant MR2 Changes by Year
There have been several significant changes made to the MR2 over the period of its lifespan and into MR2 Roadster model. Some of these changes took place within a specific generation line of the MR2. Familiarising oneself with these changes helps narrow down buying interest to a specific year or years. The following chart maps out these significant changes by year and generation.
Year

Generation

Significant Change(s)

First

Revised transmission

Optional leather interior

Colour-keyed bumpers, side skirts, and side stripes available

First

Introduction of 1.6-litre 4A-GZE supercharged engine

T-bar roof available

Air filter relocated to boot

Revised front lip, centre console, steering wheel, gauge cluster markings, and seat colours

First

LED strip integrated into rear spoiler

Second

Revised rear suspension

Introduction of 38.1 centimetre wheels

Second

3S-GE engine increased to 180 horsepower

Round tail lights introduced

Passenger airbag added

Three-piece rear wing replaced with revised one-piece

Second

Fender mounted turn signals

3S-GE engine decreased to 170 horsepower

Second

Five-spoke wheels added

Adjustable rear spoiler implemented

Third

Changeover to Roadster design

Third

Five-speed sequential manual transmission introduced

40.6 centimetre wheels

Introduction of six-speed sequential manual transmission

New seats, springs, dampers, and underbody brace

Third

Ten kilogramme greater curb weight

Ride height increased 2.5 centimetres

Third

Six-disc in dash CD player becomes standard

2007

Third

Limited edition TF300 and V-Edition released
This chart does not cover every single change made to the MR2 over the past decade. However, it covers the significant changes made to the MR2 in the United Kingdom. Individuals should still do their own research into a specific year's MR2 model to see a comprehensive list of changes.
Tip 5: Calculate a Budget
As with any vehicle purchase, it is important for consumers to calculate a budget before shopping for a Toyota MR2. Since the Toyota MR2 stopped production 2007, it is likely that a consumer can find a used Toyota MR2 easier than a new Toyota MR2. That being said, it is especially important for buyers to factor in, not only the sticker price, but also the estimated cost of maintaining and repairing the MR2 over its lifetime.
Because the MR2 is no longer produced, consumers should keep in mind that it might be harder to get replacement parts over the course of the car's life. Additionally, for consumers interested in purchasing a used Toyota MR2, buyers should aim to purchase a vehicle with under 16,000 kilometres on it. Regardless of what year MR2 a consumer is interested in, a buyer should set a budget for the sticker price, as well as the long-term maintenance price before shopping.
How to Buy a Toyota MR2 on eBay
Although the Toyota MR2 is no longer found on the production line at Toyota plants, it still holds a place in the vehicle market, particularly in the used car market. Additionally, because of their limited-edition status, the V-Edition and TF300 edition models have become collector cars. eBay has a range of Toyota MR2 and MR2 Roadsters available spanning on a range of years. Maybe you have decided on a 2006 Toyota MR2 Roadster and want to see what options are available. Once you navigate to the eBay website portal, simply type 2006 Toyota MR2 Roadster into the keyword search box located on any eBay web page. A quick click of the search button brings up all of vehicles matching your description from various sellers.
Because purchasing a vehicle is a significant investment, you should take advantage of eBay's Top-rated seller feature to ensure you are purchasing from a reliable and reputable seller. Sellers earn this identification after completing 100 trouble-free transactions over the course of a year and receiving at least 98 per cent positive feedback. Top-rated sellers provide accurate descriptions, deliver consistently, and charge fair postage. This is just one way eBay helps put your mind at ease when purchasing the Toyota MR2.
Conclusion
Although the MR2 was discontinued in 2007 due to lack of sales and increased competition, the MR2 made a lasting impact on the vehicle market. As three generations of this line of vehicles came to a close, its lasting popularity throughout the 20th century became evident by its farewell production of a limited number of special edition MR2s in the United Kingdom market.
Consumers interested in a Toyota MR2 should consider taking a close look into the three generations of MR2s available to gauge each generation's unique contribution to the sports car market. Additionally, consumers can narrow their choices down by year by looking at what features were changed or modified during a specific production time frame. Finally, regardless of what year Toyota MR2 a buyer is interested in, the ultimate deciding factor should take into account what the consumer is able to afford upfront and also in maintenance over the vehicle's life.