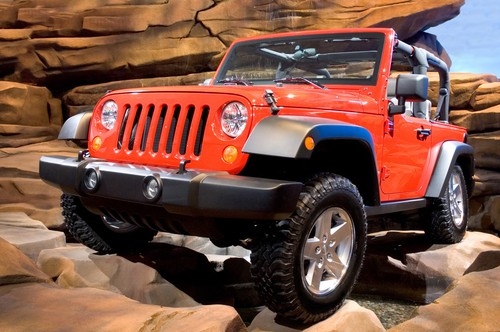 The Jeep Wrangler was first introduced by Chrysler to the public in 1986. Strongly influenced by its World War II Jeep predecessor, the Wrangler is a compact sports utility vehicle (SUV) that features four-wheel drive. The Jeep Wrangler is a favourite for buyers who like to go off-road but prefer the convenience of a smaller vehicle when driving in urban settings. One distinct advantage of the Jeep Wrangler over other SUVs is the ability for owners to remove its top. This is made possible by the Wrangler's design, which incorporates a standard soft top that can be easily removed to convert the Wrangler into an open-air vehicle. If buyers prefer the weather protection and quiet driving afforded by a hardtop, they can purchase an optional modular hardtop that is easy to install.
Buyers can find used Jeep Wrangler models conventionally at local car dealers and through private sellers. Conversely, buyers can look on eBay Motors, which carries a wide selection of Wrangler models. eBay's large volume of vehicles can increase the likelihood of buyers finding Wrangler models that match both their purchasing preferences and budgets. Before shopping for a Wrangler model, however, buyers should keep a number of important buying tips in mind, such as knowing Wrangler designations, checking for weather and external damage, and inspecting the vehicle and its special features.
Tip 1: Know Jeep Wrangler Designations
In addition to the Jeep brand name and the Wrangler nameplate, each generation of Wranglers has been given a letter-combination designation. Buyers familiar with these designations can narrow down the year a prospective Jeep Wrangler was manufactured.
| | | |
| --- | --- | --- |
| Jeep Wrangler Designation | Years Produced | Generation |
| | 1986-1995 | 1st generation |
| TJ | 1996-2006 | 2nd generation |
| JK | 2006-onward | 3rd generation |
If buyers are interested in purchasing a four-door Jeep Wrangler, they need to limit their purchases to Wrangler JK models. The Wrangler JK introduced in 2006 marked the first time Chrysler offered a four-door option for buyers interested in having more room to transport multiple passengers.
Tip 2: Check for Weather Damage Related to the Jeep Wrangler's Roof
One of the most appealing selling points of the Jeep Wrangler is the ability to remove its roof. Unfortunately, the Wrangler's removable roof is also a source of weather-related problems that can cause damage to the vehicle. This damage has been reported by owners of both soft- and hard-top roofs. Leaks in a Wrangler's roof can cause water damage to the carpeting and seats of the vehicle and can contribute to mould growth. If left untreated, water buildup can eventually lead to rust forming on the Wrangler's metal components. Water damage can also affect a Wrangler's electrical systems, causing shorts and, in the most severe cases, fires.
How to Check for Water Damage in the Jeep Wrangler
Since water often travels in unexpected ways, buyers should be vigilant when looking for signs of water-related damage in used Wranglers. Obvious signs of water damage include carpeting that is peeling up from the floor and warped material on a Wrangler's seating. Water also causes fabrics to discolour, so buyers should be aware of any visible stains on soft materials. Buyers should feel around the flooring and seating of a Wrangler to see if there are any areas that feel damp. Because a musty odour frequently accompanies water damage, buyers should not shy away from asking sellers to remove any heavily-perfumed air fresheners from a Wrangler during an inspection. Additionally, buyers should be wary of any new parts that were installed inside of a used Wrangler. If dashboards, carpeting, seating, or door panels have been replaced, it could be a sign that the vehicle experienced chronic water damage.
Tip 3: Check for External Damage Under the Jeep Wrangler
Since Wranglers were designed to traverse different types of off-road terrains, they often sustain damage that is rare for other used cars or trucks. It is, therefore, essential that buyers take the time to inspect the bottom of a used Jeep Wrangler before committing to a purchase. If buyers do not feel that they have the essential knowledge to check the Wrangler's undercarriage for damage, they should consult a professional mechanic and ask for an inspection.
External damage under a Jeep Wrangler can come from a variety of sources. Since Wranglers can easily drive through sand and low levels of water, owners sometimes like to drive them on the beach. Unfortunately, salt water is highly corrosive to a vehicle's components. The Wrangler's ability to drive over rocky terrain also causes problems in some cases. Scraping against large boulders or other hard surfaces can wreck havoc on the transmission, exhaust, and suspension systems of a Wrangler, even though the vehicle has skid plates in place to minimise the threat of damage. Because of these issues, buyers should look for signs of corrosion or collision in the undercarriage of a Wrangler.
Tip 4: Inspect the Jeep Wrangler's General Condition
In addition to some special condition issues that Jeep Wrangler models may have, it is advisable to perform a general inspection of a vehicle's condition. Because Wranglers contain a complex series of systems and components, buyers should be methodical during an evaluation. In some cases, components should be checked both before and after taking a Wrangler for a test drive.
Engine Inspection
To truly check the condition of an engine, buyers should perform both cold and warm engine inspections. Before taking a test drive, buyers should look at the engine to see if there are any frayed belts, corroded connections, or cracks in engine parts. When driving a Wrangler, buyers should be aware of any hesitation when speeding up or slowing down. Once a test drive is completed, buyers can see if running the engine has caused any leaks in fuel or water pumps.
Brake Systems
Brakes in good condition do not make any squealing sounds when in use. Because of this, buyers should be aware of any high-pitched sounds when they are engaging the brakes of a Wrangler or making any turns. Brake pads on vehicles are easily replaceable, but noise from the brake system can be an indication of more serious problems.
Electrical Systems
The electrical system of a Wrangler powers the ignition and other critical components of the vehicle. Buyers should, therefore, take the time to test a Wrangler's lights, radio, heaters, and controls during their inspections. If electrical components do not function as they should, it may be a sign of corrosion within the electrical system's connections or worn parts that need to be replaced.
Tip 5: Assess Special Features Available on Jeep Wrangler Models
Chrysler offers a variety of special options on Jeep Wrangler models that many buyers appreciate for their user-friendly features. When comparing used Wranglers, buyers can choose to opt for models that contain multiple features or basic models with few added capabilities. The addition of special features often equates to a higher price even for used vehicles, so buyers should evaluate how essential special features are before shopping.
Easy Cleaning Features
Since owners often like to drive with their Jeep Wranglers uncovered, the interior can become quite dirty, especially after taking a Wrangler off-road in muddy conditions. Because of this, Chrysler offers unique, easy cleaning features that allow owners to wash out the interior of their Wranglers quickly. Some Wrangler models feature wash-out interiors with drain plugs that allow owners to hose down the inside of a Wrangler and conveniently drain any excess water. Removable carpets are also handy when cleaning, and permit owners to thoroughly clean and dry stained carpets.
Buying a Used Jeep Wrangler on eBay Motors
Because eBay Motors has access to a wide network of sellers, buyers can find more models of Jeep Wranglers available through the eBay marketplace than they can through traditional sales channels in their local areas. When searching on eBay Motors, buyers can conveniently locate available Jeep Wrangler models by using a simple product search. Typing descriptive keywords like " Jeep Wrangler 2010 " into the search field prompts eBay's search function to generate a selected list of vehicles that match the search terms. If buyers want to increase the focus of their Wrangler searches, they can add more descriptions to their keyword search terms or activate eBay's search filters. Search filters allow buyers to identify Jeep Wrangler models based on criteria like their transmission types, steering column placements, mileage, or price. Since buyers often want to test drive a Wrangler before making a final purchasing decision, they should utilise the eBay location filter, which allows them to find available Wranglers within a set distance of their homes.
Conclusion
Jeep Wranglers are durable, sporty vehicles that allow owners to access terrains that are inaccessible to most vehicles. Although off-road capabilities are a major selling point for Wranglers, travelling in rugged areas can cause Wranglers to sustain damage rarely seen in other types of vehicles. A Wrangler's open-air roof also contributes to both its appeal and potential drawbacks. The removable roof found on Wranglers is sometimes not as weatherproof as traditional permanent roofs and can be a source of persistent water damage.
The best way to avoid purchasing a damaged Jeep Wrangler is performing a thorough inspection of the vehicle before any buying commitments are made. Buyers who have some automotive knowledge can opt to perform the inspection themselves. Conversely, buyers who are not certain of their ability to conduct an adequate inspection can ask a local mechanic for help. Once buyers are prepared to shop for their Jeep Wranglers, they can visit eBay Motors to find an extensive selection of Wrangler models.