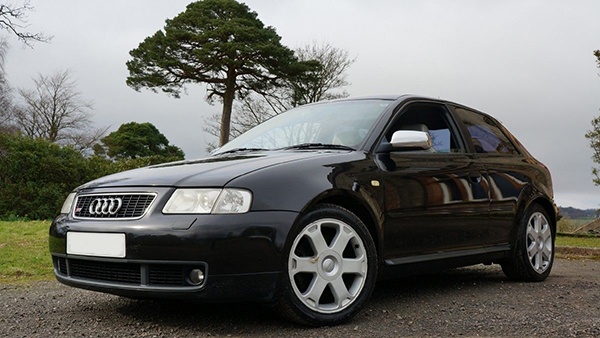 The Audi S3 is a hatchback noted for its power and performance. It has been produced nearly every year since 1999. It is closely related to the Audi A3 model, and like the A3, it has been released in three generations. Buyers that wish to purchase an Audi S3 have several options. Begin by considering the year that the car was made and which generation it falls into. This determines the overall design of the vehicle and which models are available. From there, decide which features and options are desired.
Each generation of Audi S3 has been released in multiple styles. These include different features and body styles along with a variety of engines. Models can be designed as two, three, or four-door. Buyers can also choose manual or automatic transmission. Used Audi S3s can be bought for significantly less than new models, so buyers on a budget may wish to consider a pre-owned model. There are several things to bear in mind to ensure a good quality used car is obtained.
Audi S3s can be purchased from dealers, used car garages, and private sellers. Many listings can be found online at eBay. Consider the benefits and drawbacks of shopping with each type of seller to find the best deals. With a bit of patience, buyers can obtain a great new or used Audi S3 to suit their needs.
Tip 1: Select an Audi S3 Generation
The Audi S3 has undergone several changes during its lifespan, and models can be broadly categorised into three generations. Each marks a notable overhaul to the design of the car, although buyers can find several options and differences between individual models produced in each generation. Learn more about each of the Audi S3 generations.
First Generation
The first generation of Audi S3 began with the car's launch in 1999. The first models released had a three-door hatchback body. Like later models, the original cars had a four-wheel drive system similar to Audi's patented Quattro system. The first generation of Audi S3 had an inline-four 20v 1.8-litre turbocharged petrol engine. The car was released with two levels of power output, including a 210 PS and 225 PS engine. In 2000, the Audi S3 received several cosmetic changes including new headlights and rear lamps, altered front wings, and a redesigned interior. Production of the original design ran until 2003.
Second Generation
The second generation of Audi S3 began in 2006. It was designed with three and five-door body styles. The second generation had a 2.0-litre turbocharged FSI petrol engine with a 265 PS power output. The car had an electronically limited top speed of 250 kilometres per hour. In 2008, a revised version of the second generation Audi S3 was released. This model featured modified styling for the nose and tail, as well as a redesigned grille. Daytime running lights were also added. In addition, a new Sportback model was released. Production of the second generation style ceased in 2012.
Third Generation
Beginning in 2013, Audi released its third generation of the S3. The car had a TFSI 2.0-litre engine that could produce a 300 PS power output. Like its predecessor, the third generation Audi S3 had an electronically imposed limit of 250 kilometres per hour. The exterior and interior were both reconfigured, and the car featured warmed seats covered in leather and Alcantara as standard. The third generation of Audi S3 also featured the Sportback model.
Tip 2: Select the Features of an Audi S3
A high number of options have been offered for Audi S3 models throughout its production history. Look for cars with a sunroof, heated front seats, tinted windows, and high-end stereo systems. On new cars, buyers have the choice to select which features they would like installed, although it is worth considering options when shopping for used Audi S3s.
Tip 3: Choose the Transmission for an Audi S3
Buyers of Audi S3s can choose between automatic and manual transmission. Although this choice mostly depends on personal preference, manual transmissions provide greater torque and faster acceleration.
Tip 4: Buy a Used Audi S3
Due to the long production history of Audi S3s, buyers have many opportunities to purchase used models. Even a car that is only two or three years old can be more affordable than a new model. There are three important steps to take when buying a used Audi S3: determining the car's true market value, obtaining a vehicle history report, and taking the car to a mechanic for a buyer's inspection.
True Market Value
The true market value of Audi S3s indicates the highest price buyers should pay for a model. This figure is determined by recent sales of similar models, so it is always current with the market. The true market value for an Audi S3 can be obtained through online resources.
Vehicle History Report
Before considering the purchase of any used car, it is important to obtain a vehicle history report. This includes details about the car, such as the number of owners it has had, its mileage, and any damage to the car from accidents. The following table lists some of the most useful pieces of information that can be obtained through a vehicle history report.
Report

Description

Odometer

Shows recorded mileage across the car's history

Can reveal odometer rollback

Number of titles

Reflects the number of owners the car has had

Salvage

Indicates if the car has been given a salvage title

Shows whether the car has been in a salvage yard

Accident

Lists reported accidents and any damage to the car

Total loss

Shows if the car has been written off as a total loss by the insurance company
A vehicle history report can sometimes be used to negotiate the price of the Audi S3. If any issues are revealed on the report that the seller has not mentioned, then it is possible to ask for a lower price.
Buyer's Inspection
One final step in purchasing a used Audi S3 is to take the car to a mechanic for a buyer's inspection. An honest seller should allow prospective buyers to take the car to any mechanic in the area for an independent review. Most mechanics charge a fee, so speak to the garage first to schedule a time to take the car in.
Tip 5: Choose a Seller
Audi S3s are sold by dealers and private sellers. There are several differences between the two, so it is important to consider the available options. Learn more about buying from dealers and private sellers to obtain the best deal for an Audi S3.
Dealers
Dealers can offer buyers both new and used Audi S3s. They sometimes have multiple models on the forecourt, allowing buyers to choose one with the best features and performance. Dealers can also be a more reliable source for used cars than private sellers. They have a reputation to uphold, and are therefore more likely to provide honest information about the condition of a car. However, dealers are usually more expensive than private sellers.
Private Sellers
Private sellers can provide an Audi S3 at a much lower price than dealers. However, there are more risks involved with buying from these owners. Private sellers could omit information about the condition a car in their descriptions in an effort to obtain a better price, or simply because of lack of knowledge. The best option for buying from private sellers is through websites that provide information about the seller and a means of contacting the person after the sale has ended.
Conclusion
Audi S3s are some of the most popular hatchbacks on the market. They are known for their speed, performance, and high quality design. Buyers have several options available while looking for Audi S3s. Begin by determining which year of the car is most desirable. Audi S3s have been released in three generations over the course of their production history. The first lasted from 1999 until 2003, the second from 2006 until 2012, and the third began in 2013. Audi S3s are produced with manual and automatic transmissions. Also, consider the available features while shopping for an Audi S3, such as heated seats, sunroofs, and good quality stereo systems that can improve an owner's enjoyment of the car.
A number of used Audi S3s are available. These can be purchased from dealers and private sellers. Obtain a vehicle history report and take the car to a mechanic for a buyer's inspection to ensure that a good quality car is obtained. It is also wise to check the true market value of a particular year and model of Audi S3 to avoid overpaying.
Audi S3s can be bought through online marketplaces like eBay. When possible, buy from reputable sellers that can be contacted after the sale of the car. The selection of Audi S3s available makes it easy for buyers to find a car that matches their interests and driving needs.