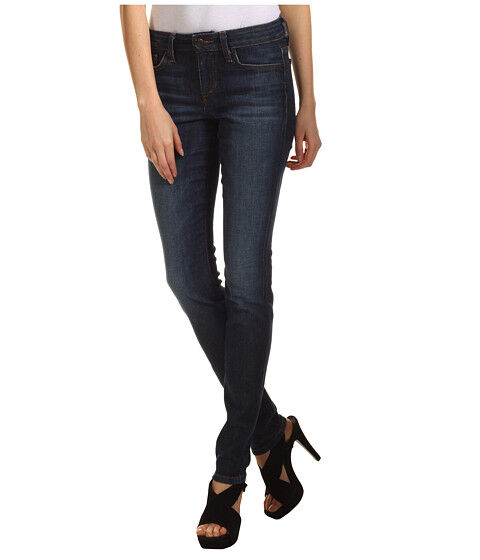 Jeans aare a singular type of apparel, one that men around the world find comfortable and practical, regardless of where they live and what they do for a living. Jeans tend to be durable and in many cases can last longer than other trousers. Jeans are also a fashion statement and are a perfect piece of clothing for many different situations. For many men, the decision to buy jeans is extremely easy. The hard part comes with finding a pair of jeans that will be flattering as well as comfortable. Every man has a different body type and therefore will find out that different jeans may be more flattering than others. In order to determine which jeans are the most flattering for each man, it is helpful to keep in mind a few tips regarding what types of jeans are available and how they work for each man's body type. Then, making a purchase, either in a clothing store on on eBay can become a much more simple matter.
Tip 1: Know Your Body Type
Because different jeans fit individual men in different ways, it makes sense to eliminate anything that will not work for a given body type before exploring what kind of jeans are available. Even though each person's body is unique, there are several different body types that a man can compare himself to in order to determine which jeans wwill fit best.
Slender refers to men who are thin and do not have a lot of bulky mass. Men who are slender often have thin legs and may be taller than other men. A slender man does not usually want to wear clothing, including jeans, that is too large for their body. Anything that is overly baggy or is in danger of falling off while in public, is generally not considered to be very flattering to most people.
Men who carry around a few extra pounds, tend to have larger bellies and thicker legs than other men. If the belly overhangs the waist, even slightly, it can make it uncomfortable to wear certain clothing. Anything that is overly tight or high-waisted, tends to be less than flattering than other clothing. Heavyset men may also want something to minimise certain features of their anatomy, such as the buttocks.
Men who are more athletic tend to have a larger amount of muscle in the upper body, and may have large thighs combined with a slender waist. Men who have a more athletic body type, will find that the most flattering clothing is tighter and can really do a nice job complementing one's physique.
Tip 2: Understand the Fits and Cuts
Jeans are made in several basic styles. Each style is known as a "fit" or a "cut." Different fits are better suited for different body types, so an understanding of the differences between each one is a major step in knowing which jeans will be the most flattering.
Boot cut jeans are designed with a larger leg opening. This is ostensibly designed to accommodate cowboy boots or other kinds of boots that would be harder to wear with a narrower leg. Boot cut jeans have a fairly narrow leg that falls straight from the waist. This makes these jeans a better fit for tall and lean men, but not necessarily for those who are heavy set, or those who are athletic, as the jeans may be too tight for comfort.
Straight cut jeans are the most basic design and feature legs that descend straight from the waist. The legs do not taper, nor do they flare out at all. These jeans are a flattering choice for most men, as those who are heavy set will not find straight cut jeans confining. Those who have skinnier legs will find that they are neither too tight nor too loose. Men with wider thighs will find that straight cut jeans are generally not confining.
Relaxed Jeans
Relaxed jeans are designed to be more loose fitting and have wider legs, and more room in the bottom. Relaxed jeans are generally more comfortable for heavyset men, as well as men with athletic builds and wider thighs. Men who have a more slender build, may find that wearing relaxed jeans leaves them appearing as though they are wearing clothing that are too big for them.
Slim fit jeans are not necessarily the same thing as "Skinny Jeans." Slim fit jeans have legs that fall straight from the waist, but that taper toward the end. The legs are not meant to be form fitting, but they are probably not a helpful choice for men who are heavy set or who have larger thighs. Slim fit jeans are usually a comfortable fit for men who have a slender build or who are tall and slender.
Skinny jeans are those that are designed to fit very snugly. They are form fitting, and leave little to the imagination. Many men will find them uncomfortable and may be self-conscious while wearing them. They are particularly not advised for men with a heavier build or who are athletic. Men who are slender or who simply wish to embrace the style of skinny jeans may find them more appealing.
Tip 3: Find the Best Rise
One of the terms that is almost always associated with jeans is rise. This refers to where the top of the jeans rests when worn. For example, most jeans rise to the level of a man's belly button. This is referred to as a mid-rise jean . There are two other rises that are commonly found in jeans: the high-rise and low-rise. High-rise jeans are those that fit somewhere above the belly button, and are usually considered less than fashionable or are relegated to the realm of clothing worn by the elderly. Low-rise jeans are generally worn by those who are fit and do not have an overhanging belly as the jeans. Keep in mind that this particular style will emphasise this belly rather than help conceal it.
Tip 4: Select a Wash
Jeans are all made of denim, but the denim that they are made of is not all the same colour. Some jeans have the classic blue look that has made jeans so popular over the years. Others may come in a darker shade or lighter shade of blue, yet will still have a defined colour scheme. Other jeans are stone washed, acid washed, or dirty washed.
Stonewashed Jeans
Stonewashed jeans go through a process where they are actually washed with stones, or treated with a chemical that gives jeans the appearance of having been washed with stones. Stonewashing gives jeans a unique look that consists of variations in the colour. No two pairs of stonewashed jeans will look alike.
Acid Washed Jeans
The process of creating acid washed jeans, is similar to the process of creating stone washed jeans. Acid washing consists of using stones in combination with a chemical, usually bleach, to make the denim lose some colour. This process creates a varied, unique pattern. Acid washed jeans were very popular in the 1980's, but are still fashionable in certain circles.
Dirty Washed Jeans
Dirty washed jeans give the appearance of having been worn for heavy labour, over a long period of time. This is due to a chemical process, rather than actual dirt and grime. Dirty washed jeans usually have darker patches on the thighs and back.
Tip 5: Make Certain That the Jeans Will Remain Flattering
Once a pair of jeans has been selected and purchased, it is up to the buyer to ensure that the jeans remain flattering. One way to make a pair of jeans look less than flattering is to overload the pockets. Keeping a bulky wallet, cellphone, keys, handheld video game system, and other objects, will draw attention to the pockets and make the jeans look as if they do not fit properly. Likewise, it is important to wear shoes and other clothing that complements the jeans. If one is wearing boots, boot cut jeans are a reasonable choice as other cuts and fits will not look very good with boots. Keeping the jeans in good condition by washing them and avoiding unwanted tears, will also improve the look of jeans for a long time to come.
Buying Flattering Jeans on eBay
Jeans, in many varieties, can be found on eBay . After a man has used the above tips to decide which jeans will be the best choice, it is much easier to sort through the seemingly endless options. Because of the many sellers on eBay, it is possible for any man to find a pair of jeans that will be comfortable and flattering. The best way to find a specific pair of jeans is to utilise the search bar on the eBay home page. Simply entering a search term such as "Men ' s Jeans" will provide a number of different purchasing options. Adding more keywords to this search will help buyers narrow down their options until they find exactly what they are looking for. Additional keywords can refer to fit, rise, wash, size, colour, or any other factor that a man deems important, in terms of finding the right pair of jeans. Once the options have been narrowed down, making a purchase is now a manageable task.
Conclusion
Jeans are one of the most popular kinds of apparel for both men and women. They are comfortable, durable, and can be worn in many situations. Jeans are good clothing options for relaxing, as well as for more active ventures. Finding the right jeans involves first, determining which body category the buyer falls into. While each individual is unique, most men can be classified as either slender, heavyset, athletic or simply a combination, that makes certain jeans fit the best possible way. The next step is to determine which fit or cut of jeans is most appropriate. Options include boot cut, slim fit, straight cut, relaxed fit, and skinny jeans. Then, it is important to determine if mid-rise, low-rise, or high-rise jeans are best based on body type and fashion. Finally, it is important to find a wash, or colour, that suits personal taste before ensuring that the jeans remain comfortable and flattering for years to come. Once the right pair of jeans has been found, making a purchase is a smooth process with eBay..