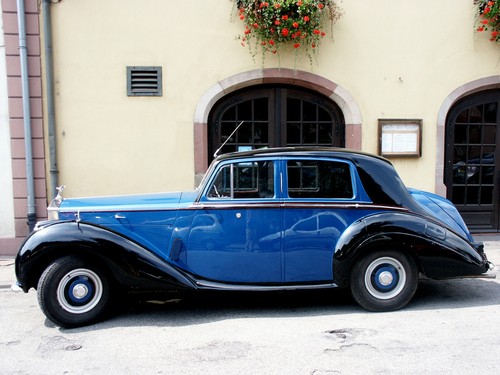 The collectors of Rolls Royce classic cars are more diverse than some might expect. They certainly include the rich and famous, with perhaps more than their share of Arabian oil princes. But they also include those considerably more humble, especially people who operate limousine services and want to offer special motor cars for wedding parties and other such major events. More than 8,000 people belong to the Rolls Royce motor club in the U.K. alone.
Favourite models among collectors span much of the history of the Rolls Royce line, starting with the Silver Ghost that initiated the fabled Rolls Royce nameplate. Some collectors find particularly desirable the vehicles with bodies made by Barker & Co., the coachworks favoured by Sir Charles Stewart Royce. Any classic Rolls Royce exemplifies an adage of the founders: "Whatever is rightly done, however humble, is noble". A search through the online eBay marketplace for the year and model desired is sure to yield a classic Rolls Royce to satisfy any collector's heart.
Type 1. Rolls Royce Silver Ghost
The Rolls Royce Limited Company was officially registered in 1906 and brought out the first Rolls Royce Silver Ghost that same year. The vehicle gained public attention by winning that year's Tourist Trophy Race on the Isle of Man by a margin of 27 minutes over the 65 km Short Highroad Course. It further demonstrated its capabilities by participating in a 15,000-mile motorcar reliability test in 1907.
During the company's early years, Frederick Henry Rolls and Charles Stewart Royce established their firm's position as a preeminent vehicle manufacturer by choosing to sell to the social elite. They chose top carriage makers to design their bodies, ensuring that their motorcars met such specific needs as accommodating the height of a gentleman's top hat. Their aluminium alloy engines were gear-driven and machined to very precise specifications, making the Rolls Royce vehicle quiet enough to allow for conversation even at high speeds.
Type 2. Rolls Royce Phantom Series
The Rolls Royce Phantom keeps coming back to life, most recently in a collection of new incarnations at the 60th anniversary of its initial release. Its design is repeatedly modified with the times. The new Phantoms include an experimental electric version and a body that is almost indistinguishable in profile from many other upper end luxury vehicles. The difference, of course, is in the execution of the details: as Sir Henry Royce said, "The quality remains long after the price is forgotten". The Phantom series has included Phantom, Phantom I, II, Continental II, III, IV, V, and now a collection of new Phantoms beginning in the 60th anniversary year of the line.
Phantom II and Phantom Continental II
An early incarnation of the Phantom was the Phantom II, designed to end the market slide of the original Phantom series. Its straight-six 40/50 hp engines could accelerate from 0 to 60 in 19.6 seconds. The brand-new chassis mounted both front and rear axles on semi-elliptical leaf springs, giving the frame a lower profile and providing the vehicle with better handling. The 3,800 mm wheelbase was standard. A shorter wheelbase Phantom Continental II Saloon won the Grand Prix d'Honneur at the 1930 Biarritz Grand Concours d'Elegance, creating demand for a vehicle that had been designated simply '26EX' and not planned for market. Ultimately, 281 of the Continentals were produced, with 1,408 standard Phantom IIs taken to market.
Type 3. Rolls Royce Barker
The Rolls Royce Barker is any Rolls Royce with a body designed and produced by the Barker & Co. coachworks of London. Barker was C.C. Rolls preferred supplier among several top-flight coachmakers that Rolls Royce Limited engaged to produce the bodies of its vehicles during the firm's early years. Using these firms helped the fledgling automaker to ensure that the high society clientele it had targeted would look favourably on its vehicles. It also helped Rolls Royce to be sure that their vehicles would include specific detailing expected in a high-society carriage, making them comfortable transport for the rich and powerful. Barkers include open-top sportsters as well as classic coupés and saloons.
Type 4. Wraith and Silver Wraith
Fewer than 500 of the original Wraith were produced between 1938 and 1939 before Rolls Royce refocused its plants on war production. The four-door coupé had a six-cylinder in-line engine that could reach 85 mph. Its chassis was welded instead of being built of traditional riveted construction.
Silver Wraith
The Silver Wraith rolled out of the Rolls Royce factory shortly after the end of WWII. Produced between 1946 and 1959, the Silver Wraith models included both short- and long-wheelbase versions, differing by 15.24 cm in length. The engine had a new cylinder head with a capacity that increased over the years of production from 4257 cc to a maximum of 4887 cc. The most significant feature of the Silver Wraith is that it was the last Rolls Royce to be delivered exclusively as a chassis only, allowing for bespoke coachwork. Later, certain Rolls Royce motor cars would be offered in chassis only editions for those seeking bespoke coachwork.
2014 Wraith
A new Wraith scheduled for release in 2014 was debuted at the 2013 New York Auto Show. The sporty vehicle has a V-12 engine, 21-inch wheels, and a cabin designed to accommodate four in luxury. As always, each door has an umbrella in a hidden compartment to protect passengers in the event of rain. The chauffeur may be gone but not the attention to passenger comfort.
Type 5. Silver Shadow
Between the Silver Shadows produced under the Rolls Royce nameplate and those produced as Bentley models, more than 40,000 of the vehicles were made in 33 distinct models, including the Corniche, which was originally produced as the convertible and coupé offerings in the line.
The most widely available of the Silver Shadows is the four-door saloon produced between 1965 and 1977. Nearly 17,000 were manufactured. The next most available are the Silver Shadow II, with nearly 8,500 in the market originally, and the Silver Shadow Long Wheelbase model, with almost 2,800 produced. The Silver Wraith II and Corniche Convertible Series II are the next most available, with just over 2,000 original vehicles produced of each.
Silver Shadow Corniche
The first Rolls Royce Corniche test vehicle was destroyed by a bomb at a dock in Dieppe in 1939 while waiting to be shipped back to England after 15,000 miles of endurance testing. The Rolls Royce Corniche known today is the most recent name for a two-door vehicle first produced for sale as the Silver Shadow Mulliner Park Ward coupé, produced for market between 1966 and 1971. It received the Corniche name in 1971. Bentley also sold a car under the Corniche name. Relatively few were ever produced and the vehicle was rebranded as the Continental in 1984. The original Corniche sold more than 4,000 vehicles between 1971 and 1988, 3 in 4 being convertibles. By the time the Corniche V was released in 2000, it was the most expensive vehicle in the Rolls Royce line. It became a Bentley vehicle when the two companies split soon thereafter.
Rolls Royce Vehicles by Years Produced
Rolls Royce produced a number of additional vehicles, as well as additional models of those vehicles noted above. The table below summarises the Rolls Royce motor car lines by the years when they were produced.
| | | |
| --- | --- | --- |
| Years | Rolls Royce Model | Variations or Series |
| 1907-1925, 1921-1926 | Rolls Royce Silver Ghost, American Silver Ghost | Includes 40/50 hp models and models with Barker or Shapiro-Schebera Skiff coach bodies |
| 1922-1936 | Rolls Royce 20HP , 20/25HP | |
| 1925-1939, 1950-1956, 1959-1968, 2003-present | Rolls Royce Phantom | Phantom I, II, II Continental, III, IV, V, 60th anniversary collector's cars, new Phantoms including 102EX electric, Phantom Coupé |
| 1938-1939, 1947-1959, 1965-1980, 2014-present | Rolls Royce Wraith , Silver Wraith | Wraith, Silver Wraith, Silver Wraith II |
| 1949-1955 | Rolls Royce Silver Dawn | |
| 1956-1966 | Rolls Royce Silver Cloud | Silver Cloud, I, II, III |
| 1965-1980 | Rolls Royce Silver Shadow | Silver Shadow I, II, including Estate Wagon |
| 1975-1986 | Rolls Royce Camargue | |
| 1971-1996, 2000-2002 | Rolls Royce Corniche | Corniche I, II, III, IV, V |
| 1980-1992 | Rolls Royce Silver Spirit | Silver Spirit, Silver Spirit Mark II |
| 1998-2002 | Rolls Royce Park Ward | |
| 1998-2002 | Rolls Royce Silver Seraph | |
| 2010-present | Rolls Royce Ghost | |
For those who wonder what happened to the decade between the Rolls Royce Wraith and the Rolls Royce Silver Wraith, the answer is patriotic. Rolls Royce made aircraft engines for the RAF throughout WWII, as it had during WWI. The Rolls Royce Merlin powered such fighter planes as the Hawker Hurricane and Supermarine Spitfire, the fighter/bomber de Havilland Mosquito, the heavy bombers Lancaster and Halifax and also allied aircraft such as the American P-51 Mustang.
Rolls Royce Model Motor Cars
For those who lack the cash or the garage for a classic motorcar in addition to their commuter car, models of Rolls Royce motor cars are made with the same excellence as the original vehicles. Model vehicles are typically produced at a scale of 1:43, so a model Rolls Royce on a stand in an acrylic case occupies a 'parking space' of less than 25 cm on the bookshelf or executive desk. Some of the high quality models offered in the market include these below.
| | | |
| --- | --- | --- |
| Rolls Royce Motor Car | Vehicle Year | Model Details |
| Princess Elizabeth Phantom IV | 1950 | Ordered by the Duke of Edinburgh in 1949; used as personal vehicle by the young princess; model produced in original colour of Valentine green with registration number LGP 10 |
| Silver Cloud Limousine | 1963 | Black and gold two-tone exterior |
| Rolls Royce Ghost | 2011 | Die-cast; doors and bonnet open; sun roof and seats slide; side mirrors may be folded; tiny umbrellas hidden in each front door may be removed |
The collector of model Rolls Royce motor cars may not be able to drive the vehicles but does enjoy two advantages over the collector of real cars. The model car collector is able to enjoy many more vehicles. More importantly, the model car collector may acquire vehicles that never can come to market, such as the Princess Elizabeth Phantom, which belongs to the Royal Family.
Buying Rolls Royce Motor Cars on eBay
A surprisingly large number of Rolls Royce classic cars are available at any moment through the online eBay marketplace. Because early Rolls Royce cars were chassis built, with bespoke coachwork, the buyer should determine either what chassis and engine type is desired or simply shop for the coachwork that strikes his or her fancy. Even the earliest Rolls Royce engines were made to standards far ahead of their times.
Choosing Rolls Royce Motor Cars Near You
Typically of motor car sales, the Rolls Royce motor cars available online are usually offered for 'Collection Only'. This is no deterrent to the aficionado, who most certainly wants to take a good look up close at the vehicle, hear its engine, and perhaps take a short turn in it. The eBay Search function allows buyers to enter in a postcode to sort selections according to those which are closest to their location. In that way, the buyer can decide whether vehicle is really worth the trip to Inverness or St. Ives.
Conclusion
Those who own and collect Rolls Royce motor cars are likely to favour vehicles from almost any part of the long history of the company. The earlier the Rolls Royce, the more likely it is to have a bespoke, or custom, body designed by a top coach maker specifically for its original owner. Rolls Royce began making standard bodies through its Bentley line, then eventually offered standard vehicle bodies in the Rolls Royce line. In the 21st century, high-end clients for the Rolls Royce are again opening a wider market for bespoke editions of Rolls Royce vehicles.
Collectors may specialise in one Rolls Royce model, such as the Phantom, in its many incarnations, or a model like Silver Wraith, which had a relatively short run but was made during the important post-War era. Those seeking a speciality vehicle for limousine service may dig deep into the Rolls history to find a vehicle with carriage detailing more reminiscent of Cinderella than of today's luxury motorcars. Whatever kind of Rolls Royce is desired, the eBay marketplace is an excellent resource for the collector seeking exactly the classic Rolls Royce desired.