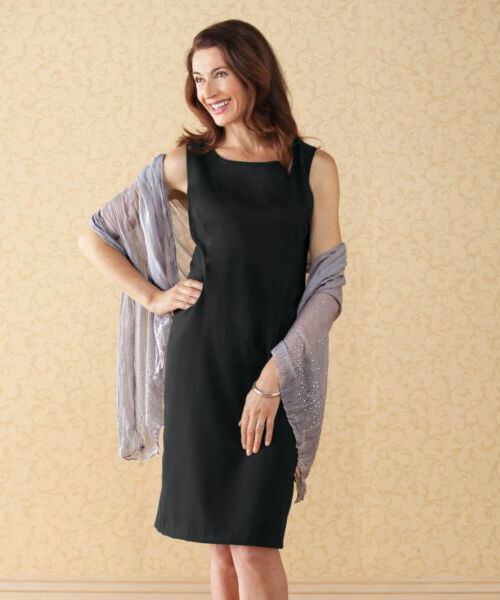 A shift dress is a short dress that lacks detailed shaping. Usually sleeveless, these dresses can be plain or feature A-line skirts or empire waists. Fashion icons Audrey Hepburn and Jacqueline Kennedy made these dresses famous in the late 1950s and early 1960s. Traditionally, shift dresses tend to feature little detail aside from breast darts, so they skim the curves rather than clinging to them. This type of cut draws attention away from the tummy and is flattering on most body types. However, the lack of detail and the generous cut of the dress means that it has a tendency to make wearers look frumpy.
Several factors should be considered when choosing and wearing a shift dress. Contemporary shift dresses feature embellishments and slight variations in cut and design that can be used to improve the silhouette. In addition, dresses feature different necklines, each with its own benefits to different body types. Patterns and colours can be used to draw the attention away from problem areas, and choosing the right accessories can turn a shift dress into something spectacular. One of the reasons shift dresses are a firm favourite with many women is that these garments are versatile and can be worn from the office to dinner. Learn how to change the look of a shift dress from daywear to evening wear by accessorising to match the occasion. Finally, choose the right hem length. Shift dresses are available from online sources, such as eBay, and from clothing and department stores.
1. Choose a Shift Dress with a Contemporary Design
Traditionally, shift dresses were unadorned and simple. This still holds true in most cases as far as contemporary designs are concerned, but pockets, ruching, and strategically placed darts are often added to give dresses flattering shapes.
Choose a Tummy Flattering Shift Dress
Women with tummies should look for shift dresses that are slightly tailored to skim the curves. Fabrics like silk, cotton, and jersey tend to be clingy and highlight areas that bulge. Of course, wearing control pants or shapewear helps to improve the silhouette with minimal effort.
Choose a Shift Dress to Downplay a Large Bust
Women with fuller busts should consider A-line shift dresses with wider skirts to balance heavier busts. In addition, pockets and embellishments along the bust line draw attention to the area and should be avoided. Instead, opt for diagonal or vertical darts, as opposed to horizontal seams, to add shaping.
Choose a Shift Dress to Flatter Full Hips and Thighs
Traditional straight cut shift dresses may be too tight for women with ample hips and thighs. To flatter and conceal the hips and thighs, choose A-line shift dresses. Avoid short hemlines, opting instead for slightly longer dresses that sit no more than 2 centimetres above the knee.
Choose a Shift Dress to Add Curves to a Slim Build
Women with slim builds and lean frames who lack curves should consider shift dresses with added pleats, ruching, and details to create the illusion of curves. Plain styles that are too loose or stiff and do not skim the body are unflattering for this type of build and should be avoided. Instead, choose softer fabrics that drape well.
2. Choose a Shift Dress with a Flattering Neckline
The neckline of a shift dress should flatter the wearer's body type. The table below lists a number of neckline options and a description of each.
Neckline Type

Description

Close-fitting, round neckline

Accentuates bust, makes the face appear rounder, elongates torso

Best for women with small busts, long faces, and short torsos

Should be avoided by women with larger busts and round faces

V-shaped neckline

Universally flattering, lengthens neck and accentuates collarbones

Wide V makes the shoulders look broader, and narrow V makes them look narrower

Use to counterbalance a large bust, provided the neckline is not overly revealing

Rounded neckline, dips to show part of upper chest

Similar effect to V-neck: flattering, lengthens neck and accentuates collarbone

Suits all body types, but a wide scoop neck will make broad shoulders look broader

Rounded neckline that hangs in draped folds

Similar effect to scoop neck, highlights collarbone and lengthens neck

Universally flattering, but women with big busts and broad shoulders should opt for a deeper cowl to avoid adding bulk

As the name suggests, square-shaped neckline

Adds breadth to torso, shows off collarbones and throat

Worn to add solidity to appearance of fine boned women

Wear hair up to balance the horizontal line created by the collar

Runs from one shoulder to the other with only a slight dip

Accentuates bust, makes shoulders look broader, shows off collarbones, makes wearer's face appear rounder, elongates torso, makes the wearer's neck look shorter

Best for women with small busts, long necks, oval faces, and short torsos

Wear hair up to elongate neck's appearance
As illustrated in the table above, choosing the right neckline for a shift dress can accentuate positive features while eliminating the negative. Choosing a good fit and the right neckline decreases the chances of looking frumpy in a shift dress.
3. Choose a Shift Dress with the Right Pattern and Colour
In addition to the construction of the shift dress, the right pattern and colour should be selected. To hide a tummy, opt for darker colours and choose a dress with a bold neckline or hem. Detail at the neckline or hem will draw the eyes away from the midsection. Choose a dress with a splash of colour at the hem to distract the eyes from a large bust, and opt for a dress with vertical lines to mask full thighs and hips. Black and dark block colours, such as greys and blues, give shift dresses a more formal feel. Of course, a little black dress is indispensable, and a black shift dress can double as work and evening wear when coupled with the right accessories.
4. Choose the Right Accessories for a Shift Dress
Choose accessories to complement the occasion and the desired look. A belt can be used to define the waist. Women with slim builds or hourglass figures will benefit from this kind of detail. Experiment with belts of different thickness to find the best look. Ideas for accessorising shift dresses include adding a string of pearls and a pair of heels for a classic look, adding a wooden bangle, bracelet, or statement necklace and sandals for a casual summery look, adding a blazer and heels to turn a shift dress into office wear, adding a delicate necklace and lose the blazer to turn office wear into evening wear, or adding a leather jacket, boots, and tights for a casual winter look. Experiment by pairing the dress with different types of shoes and heel heights, adding a scarf, necklace, bracelet, or bangle. Add layers with a cardigan, jacket, or blazer. If a cardigan looks frumpy, define the waist with a skinny belt.
5. Choose the Right Skirt Length for a Shift Dress
Traditional shift dresses are fairly short making them more appropriate for younger to middle-aged women. However, contemporary designs feature a range of skirt lengths. To choose the most appropriate length, consider the wearer's build and body type. Women with full hips and thighs should opt for longer skirts, as attention should be focused away from the thighs. A shorter skirt elongates the legs and can be used to accentuate long legs or make short legs look longer. A woman with a slim or lanky build should opt for a short A-line skirt as this will add the illusion of curves at the hip and keep the ensemble feminine. Longer skirts do not necessarily look frumpy. Provided attention is paid to the cut of the shift dress and the neckline, a curvy woman looks sexy in a knee length skirt and a longer skirt can create a more sophisticated look. However, those who look good in short skirts should keep the hemline above the knee.
Buying a Shift Dress on eBay
Finding a shift dress or the related accessories on eBay is easy. Type a keyword or phrase, for example "cowl neck shift dress", into the search box that can be found on every page. Narrow your selection by choosing the most appropriate category and the desired features and characteristics. If you would like greater control over your search results use the advanced search feature.
Before You Buy on eBay
Before you buy on eBay, learn how to get to know the seller and the item. Use the seller feedback feature to learn about the seller and item listing page to learn about the product and buying process.
Check the Item Listing Page
The item listing page contains all the information you need about a product and seller. The information displayed here includes the item description, the seller's feedback and contact information, the postage and packaging fees, the terms and conditions of the seller's returns policy, and the seller's accepted payment methods. Use the "Ask a question" link to ask the seller any questions you have about an item or listing.
Check the Seller's Feedback
eBay's seller feedback feature allows you to see what other buyers have to say about a particular seller's products and customer service. Detailed seller ratings provide additional information about the seller's communication, the reasonableness of the postage and packaging fees, how long it took for the item to be dispatched, and the accuracy of the item description in the listing. Click on the number next to the seller's username to view this information.
Conclusion
Shift dresses are versatile and suit most body types. Although traditional designs tend to be plain and straight cut, contemporary shift dresses come in a range of cuts. Lengths, necklines, colours, patterns, and sleeve types vary. While baggy, shapeless shift dresses do tend to create a frumpy look, there are numerous ways to avoid this.
Choose the right cut to accentuate the positive, create curves, and downplay negative features. For example, choose a cut that is tailored without being clingy to emphasise curves. In addition, consider which neckline is best suited to the wearer. Necklines can be used to accentuate a small bust, create the illusion of a longer neck, draw the attention away from fuller breasts, and elongate or add fullness to the face. Patterns, colours, and embellishments should be selected with care. Some colours are more versatile and can be dressed up or down to suit the occasion, and a pattern can be added to draw the eye away from a undesirable area.
Accessories can be used to define the waist or add a splash of colour. The formality of a shift dress can be altered simply by changing the wearer's shoes and accessories. Experiment with belts, jewellery, and shoes to find the desired effect. Although these dresses traditionally feature short skirts, contemporary designs come in varying lengths, from mini to full length skirts. Dropping the hemline will not make the shift dress look frumpy if the correct cut, neckline, pattern, and accessories have been chosen. eBay sellers offer a variety of shift dresses in a range of colours and designs, so no woman need ever look frumpy.