1. check your IPAF training before you hire your powered access platform
~~With recent changes to the IPAF Categories it is imperative that your team has the correct IPAF certification before hiring. It's easy to assume that if you or your employees have got an IPAF card then they are covered to use any powered access work platform. IPAF categories changed recently which might make knowing whether you have the right training harder to determine when say a VMP26 is now Category 1b, and now also includes trailer mounted access platforms. The important thing is to carry out an audit of which IPAF categories your workforce holds and then compare against what powered access platform(s) you use or may wish to use. If in doubt check the IPAF web site for new categories or contact us regarding the range of training categories we offer, including PASMA courses and MEWPS for Managers. Finally regardless of category experience, it's vital that when hiring any platform model that you've not used before that you receive a thorough familiarisation prior to operating. This is standard with every hire from Smart and is free of charge.
2. accessorise to maximise safety while working at height
~~When working at height, safety is paramount – only use in-date safety equipment that's fit for purpose. Smart recommends that you conduct an audit of the equipment your staff use at height when using access platforms, cherry pickers and MEWPs. Are your company's safety harnesses and lanyards in date and both suitably inspected and that inspection documented? Are you using the right safety harnesses for the type of work or access platforms that you are using and are your staff actually using the harnesses provided for them? A new generation of working at height safety harnesses is available that includes integrated hi-vis vests and snap-to fittings that aid ease of use and also maximise visibility on the work site. In addition, wind meters are becoming increasingly adopted by contractors for greater accuracy than rule of thumb.
3. fit your powered access platform usage to your business practices
~~Planning the best use of access time is highly beneficial and more cost effective. Thanks to mobility and ease of use, van mount cherry pickers are ideal for short term access hire requirements in terms of both time and money compared to self propelled cherry pickers and scissor lifts. If you generally only need to work at height for a few hours or a couple of days at most per job then why pay for a minimum three day hire? (Many access companies charge the same for a self propelled platform for a three day hire as for a one day). If your staff operate self propelled booms and scissor lifts then consider getting them to pick up a truck mount access platform en-route to the site. This will ensure that they arrive with the access they need with no waiting or downtime. Again, if you programme work in sequence on multiple sites why hire a platform for each location when you could hire a vehicle mounted platform that could undertake all the jobs. The rental cost can be spread across all jobs for better value and increased efficiency.
4. beware of the hidden costs of other powered access platform and cherry picker hire solutions
~~When considering powered access solution costs make sure you're getting a 'like for like' costing. Delivery/collection operator charges, fuel and CDW can all add up as can the cost to your business of access you have less control of. When comparing the spectrum of access methods, from truck mounted cherry pickers to scissor lifts to self propelled booms, it is easy to compare prices without taking into account hidden costs. If you compare the cost of a self propelled boom versus a self drive truck mount keep in mind the delivery and collection costs of the self propelled boom which often may be alone more than the cost of the truck mount hire! Of course to be fair you may want to consider the time taken for your staff to pick up the truck mount and fuel used but then you could also consider the time spent on site that you have maybe left waiting for a self propelled boom to turn up.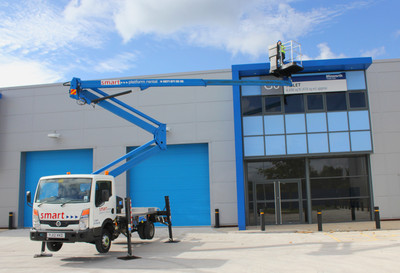 5. when time is short, choose self operated truck mounted powered access
~~Up against a deadline? Then the fewer external resources you need to accomplish your work at height then the more responsive you can be. If your work is highly reactive then you may need powered access platforms on a same day or next day basis. Not all access providers will be able to help. They may need to be looking to arrange haulage if self propelled platforms are required or to obtain an operator if a truck mount is requested. Self drive hire - where you pick up the truck mount and then operate yourselves – could deliver the flexibility you need. And your access provider literally only has to check on the platform availability, so a positive answer is a lot more likely.