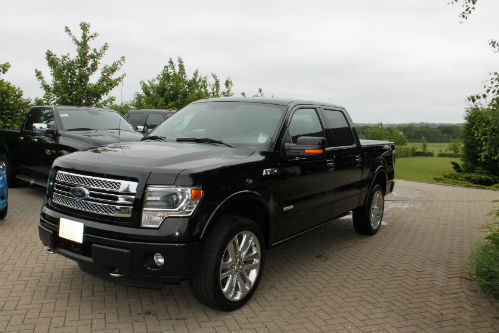 While trucks are probably among the least popular consumer vehicles, at least in the UK, there are still many people who can benefit from owning a good truck. Some of the best trucks available are American-made, and they can offer good performance and value for money. Trucks are suitable for those who frequently use their vehicle to carry big and heavy loads, especially for small business owners, farm owners, or even for those who just want to bring their extreme sports equipment to a weekend getaway. No matter what buyers want to transport by road, a truck is often the perfect vehicle to get the job done.
Trucks have improved considerably in both technical and aesthetic aspects over the years. While trucks used to be greedy gas guzzlers, many improvements have been made and they now have not only better fuel consumption, but also more power. Modern trucks are also better looking than their predecessors and often have clean lines that not only look good, but help with their aerodynamics and performance. Besides looking for American-made trucks from vehicle dealers, buyers can also find them on various online shops, such as eBay.
Choosing an American-Made Truck
It is quite rare to see European trucks because the market for them is quite small. However, American-made trucks have been around for quite a while and buyers who are looking for a good truck to buy can look at trucks from Ford, Chevrolet, and Dodge. Trucks are great vehicles to have if owners know how to utilise them. Besides being a real attention grabber, trucks can carry almost any load one wants, and even tow other vehicles. Plus, they are generally safer to drive than other vehicles are. Buyers looking for a good truck can consider the American-made trucks discussed here.
1. Ford F-150
The Ford F-150 is an iconic American-made truck and is a favourite among buyers as well. Compared to many of its competitors, the Ford F-150 has more features and also a better interior design. The 2013 model has quite a diverse engine line-up, including V6 and V8 engines, and can provide plenty of power for the truck to take on many jobs. However, its predecessors can also complete any task given to them as they all have high powered engines. The interior of the truck is also carefully designed to be pleasing on the eye and ergonomic so that drivers can comfortably reach all the controls they need.
The F-150 also has many helpful features including a built-in GPS navigation system with Sync voice activation and Ford Work Solutions, which is a computer system onboard the truck that drivers can use to keep track of their e-mails, tool inventories, and projects. Other helpful features on the truck are the Trailer Sway Control and Integrated Brake Control for towing trailers.
2. Toyota Tundra
Although Toyota is a Japanese brand, the Toyota Tundra is a fully American-made truck. This truck is very well engineered and can be found in a few engine capacities. Buyers who worry about not having enough power if they buy a Tundra with a smaller engine are delighted by the Toyota's Variable Valve Timing (VVT) technology, which can boost the truck's power to over 300 horsepower. The Tundra also has among the largest disc brake rotors on any full sized pickup, which gives it quite a short stopping distance. However, some buyers may find their ride in this truck to be quite bumpy on straight roads. Furthermore, the Tundra's interior can seem too plasticky to some. That being said, this truck is very spacious and quick, making it a good buy overall.
3. Dodge Ram
Although older generations of the Dodge Ram are not considered among the best American trucks, recent generations of the truck have certainly seen many improvements. The Dodge Ram has strong powertrains, coupled with a smooth, comfortable ride. Plus, the Hemi V8 engine used in the truck is able to deliver impressive power, which is enough for any task one has for it. The smooth ride on the Ram is provided by its high quality rear suspension with coil springs.
The interior of this truck is also very spacious and well designed with various electronic attachments including a Bluetooth hands-free system, which is voice-activated. Recent generation Rams also have a very useful feature called the MyBox system. This system is a set of compartments on the side of the truck bed, which drivers can use to store tools and groceries. It is also possible to store ice in the compartments as they have drain plugs at the bottom.
4. Chevrolet Silverado
The Chevrolet Silverado is a practical and versatile full sized truck. Although it has a somewhat conservative design, which might not appeal to younger buyers, it certainly has some valuable advantages. The Silverado is available in a few engine types and payload capacities, with all of them perfectly capable of carrying the loads they need to. Plus, buyers can also find Chevrolet Silverado models with varying seating capacities, from three to six. Being able to fit six people in it, this truck can be very useful for those who like to travel with many people. It also has a very smooth and quiet ride, making it suitable for long distance drives. Some may complain that the Silverado has a smaller in-cabin storage capacity than other trucks, but the difference is often so minute that it is negligible.
5. Toyota Tacoma
This Toyota truck is also American-made and has long been a favourite compact pickup among buyers. The Tacoma has a few cab configurations that buyers can choose from as well as a four-wheel drive option. Although this truck is compact, it offers great value for money especially for those who need a truck for personal use only. The design of the truck and technology under its bonnet have remained quite unchanged over the years but have been tweaked and refined. Buyers can choose from four-cylinder engine variants and V6 variants of the truck, which can deliver from 150 to 240 horsepower. This truck also has great fuel efficiency and can serve most buyers very adequately. Those who value comfort while driving may be pleased to know that the Toyota Tacoma has comfortable seats and also drives smoothly.
6. Ford Super Duty
Some consider the Ford Super Duty one of the best heavy duty pickup trucks. With this truck, buyers can truly carry and tow anything they need since it is perfectly suited for very heavy work. Like the Ford F-150, the Super Duty also has a Work Solutions system onboard, which is perfect for many small business owners. Although its interior design looks slightly aged, it has superbly comfortable seats and user friendly cabin design. The Ford Super Duty may be the most powerful truck in its class, but buyers should remember that this truck is a true gas guzzler and can be difficult to manoeuvre around town. Overall, this truck offers plenty of power and towing ability in a simple-to-use, luxurious vehicle.
Buying an American-Made Truck on eBay
eBay has many vehicles for sale, including American-made trucks. To find the truck you want, you simply need to type the right keywords into the search bar on eBay's home page. You can use any suitable keywords including 'American trucks', ' Ford truck', or other appropriate ones. An important thing to look at when browsing through the list of available trucks is the description of each truck. Most trucks have their names, model year, and any included accessories written in the item description. Therefore, be sure to read the description closely so you can choose the truck you need.
Also, remember to look at the price of the trucks to avoid picking one that is outside of your budget. It is also wise to search for a truck located near your area so you can reduce the cost of collecting it. After selecting the truck you like, make sure you read all of the provided information including its full specifications, payment and collection method, return policy, and any other relevant information. Lastly, make sure the truck is fully functional and has no major issues. To know more about your truck before purchasing it, you should contact the seller with your inquiries.
Conclusion
Trucks can be of great use especially to drivers who use their vehicles to regularly haul heavy cargo or tow other vehicles and trailers. Although in Europe trucks are not as popular as other vehicles, they are very helpful to those who want a work horse for a vehicle. There are many American-made trucks for buyers who want a reliable, powerful truck. Some trucks to consider are the Ford F-150, Toyota Tundra, Dodge Ram, Chevrolet Silverado, Toyota Tacoma, and Ford Super Duty.
The F-150, Tundra, Ram, and Silverado are all full sized trucks. The Toyota Tacoma, on the other hand, is a compact pickup truck and can do more than enough for most buyers. Furthermore, it offers better mileage than bigger trucks. The Ford Super Duty is the biggest truck in this selection and has the most power under its bonnet. To find a good American-made truck, buyers can always search eBay as it has numerous good quality trucks for sale at great prices.