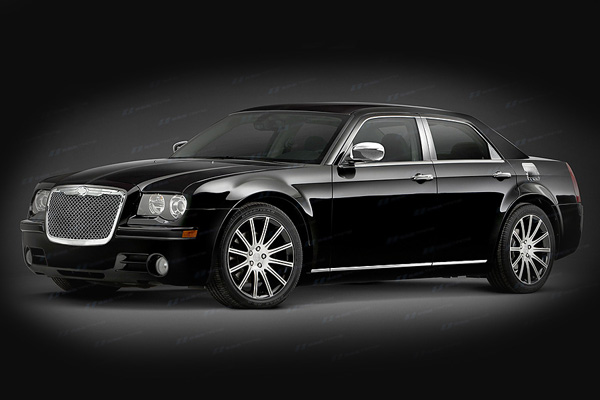 The vast majority of teens look forward to the day they can get the behind the wheel, and almost all parents approach that day with a bit of anxiety. Driving an automobile is a huge step toward independence, but one that comes with a long list of financial and personal implications. The first question many parents have is whether or not they need to purchase a car for their teen. Many parents already own a vehicle that is suitable and available for a teen driver to operate. For those who decide their teen needs their own set of wheels, the next question is often what brand vehicle to purchase.
Chrysler makes a number of vehicles that are suitable for teen drivers, but choosing the right one takes some time and consideration. As with any car purchase, a number of factors must be considered in order to choose a model that best suits the needs of the driver and the financial situation of the family. Consider these five factors before purchasing a Chrysler for your teen to ensure the vehicle chosen is safe, reliable, and affordable.
Factor #1: Consider the Safety Rating of a Chrysler
Automobile accidents are a leading cause of death of 15 to 20 year olds, and teens are involved in four times as many accidents as drivers 20 and over. With those statistics in mind, parents need to put safety at the top of the list when choosing any car for a teenager. Organisations like Euro NCAP (New Car Assessment Programme) provide crash test results and safety ratings for a number of different makes and models, which is valuable information for parents when choosing a car for a teen.
New cars come with a long list of safety features which do a better job than ever at preventing serious injury or death amongst drivers and passengers. The most common safety features, and especially those that every teenager's car needs, are outlined in the chart below.
| | |
| --- | --- |
| Safety Feature | Function |
| | Prevents the wheels from stopping completely during hard braking enabling the driver to retain steering control |
| Electronic Stability Control | Prevents a car from rotating when going through a turn too fast or on slick roadways; standard on all new vehicles |
| Supplemental Restraint System Airbags | Side and side-curtain airbags which provide real protection in a side impact |
| Seatbelt Reminders | Visual and audible warnings that detect whether seat belts are in use in various seating positions and give out signals until the belts are used |
Most new and late-model used cars have these safety features. The newest models include more advanced safety features, such as lane change and lane departure warning systems, brake assist, and speed limiting devices. But such cars come with hefty "new car" price tags.
Factor #2: Consider the Needs and Driving Habits of the Teen
Owning and operating a car is a huge responsibility, and parents should consider the maturity level of their teens before choosing a Chrysler for these young drivers. Even mature, responsible teens sometimes have lapses in judgement, so be sure they are ready for the level of independence a car offers before handing over the keys.
Deciding If a Teen Needs a Car
Parents must decide whether their teens have a true need for a car, for instance, to get back and forth to an after-school job or extracurricular activities. In this case, owning a car gives them more control over their busy schedules and frees up valuable time for the parent in charge of chauffeuring them around town. Plenty of teens want their own cars so they have the freedom to cruise around town with their friends, but this is little justification for the added expense and responsibility of purchasing another vehicle.
Identifying the Driving Habits of a Teen
The next consideration is the driving habits of a teen. Will the car be used primarily to go short distances a few times a week? Or does your teen have a longer commute every day of the week? For teens who put a lot of miles on a car, fuel economy may be a high priority. Those who drive long distances may want a reliable vehicle that is comfortable to drive. Consider the amount of cargo room needed for things like sports equipment, musical instruments, and other items the teen may need to haul around.
Factor #3: Consider Car Type When Choosing a Chrysler
The design of a car has a lot of influence on its handling, safety, and versatility. Modern automobiles are designed to maximise comfort, seating capacity, and cargo space while still delivering a smooth, safe ride. Choosing the right car type is often a matter of finding one with the right seating capacity and ample storage space.
Parents should keep in mind that passengers are one of the biggest distractions for new drivers, and may want to avoid high-occupancy vehicles for their teens. Another point to keep in mind is a vehicles centre of gravity. Taller vehicles are more prone to fatal rollover crashes. As far as car type goes, midsize sedans are considered some of the safest cars on the road.
A basic knowledge of the differences between the most popular styles makes it easier to find a good fit for a teen driver. The table below lists several Chrysler form factors, and provides a brief description of each type.
| | |
| --- | --- |
| Car Type | Description |
| | Small, sporty sedan with only two doors |
| | Sedans with a rear liftgate and rear folding seats which offer a fair amount of cargo room when the rear seats are not in use |
| | Basic style for passenger vehicles; available in several size options that seat between four and six passengers with ample boot space |
| | Handles like a sedan but with a boot door similar to a hatchback; offer more seating room and extra cargo space |
| | Combines elements of estates, SUVs, and sedans to create vehicles with maximum, versatile seating capacity and increased cargo space |
| Sport Utility (SUV) | Fully enclosed cabin in a design that touts the ruggedness of a truck with seating for five to eight passengers and large cargo areas |
Many teens prefer the look of small coupes and hatchbacks, but parents should consider the size of the vehicle carefully. Smaller vehicles suffer significantly more damage in an accident and provide less protection to their occupants.
Factor #4: Consider the Reliability of a Chrysler
Reliability ratings should be taken into account when shopping for a Chrysler for a teen driver. No one wants their teen to be stranded on a roadway with a disabled vehicle. A number of consumer groups gather data on repair and maintenance costs on a variety of makes and models, making it easy for parents to identify the most reliable models.
Factor #5: Consider Performance and Handling
Performance and handling are other important factors to consider. Teens are inexperienced and often make driving mistakes such as taking a corner too fast or not braking soon enough. Small sports coupes provide too much power and speed for new drivers. Large vehicles are heavy and take longer to stop than midsize cars, and many have higher rollover rates. Standard sedans that feature a low centre of gravity and tight steering are easier to control around corners, and they can be stopped safely and quickly.
Factor #6: Consider the Cost of a Chrysler
Finally, parents must consider the cost of any vehicle before committing to a purchase. Whether the plan is to buy a new or used vehicle, adding one more car to a family fleet has a financial impact far beyond the purchase price. The annual additional cost of petrol and maintenance can run into the thousands. There are also taxes and registration fees to consider. One of the highest costs associated with young drivers is insurance. Some models are much cheaper to insure than others, so it pays to do some research before making a vehicle final selection.
Find a Chrysler on eBay
eBay Motors is a great place to shop for a Chrysler for a teen. Not only is there a wide selection of Chrysler vehicles available, such as theGrand Voyager and the PT Cruiser, eBay has numerous other features to help buyers locate and purchase the car they want. Parents can take advantage of eBay's feedback system to identify top rated sellers for peace of mind before, during, and after the transaction. Additionally, eBay Motors has an extensive inventory of parts and accessories, making it easy and convenient to repair and maintain the vehicle after purchase.
To find a Chrysler for their teen, parents can head to the main eBay Motors page. From there, it is a matter of selecting the specific make and model of the vehicle desired using the search utility. Narrowing down search results is simple. Buyers can specify parameters such as the condition of the vehicle, price range, colour, or left hand or right hand drive. Results can be fine-tuned by selecting specific model years, mileage ranges, or car type. Since test driving a vehicle is an important part of the buying process, shoppers can limit a search to cars located within a certain area or a specified number of miles from a postcode.
Conclusion
The decision to purchase a car for a teen is a tough one, and it should be considered carefully. Not only do parents need to decide if their teen is ready for the added independence and responsibility, there are safety and financial factors to account for as well. For any new driver, safety needs to be the top consideration. Though all vehicles must meet minimum safety standards, there is a noticeable discrepancy among various makes and models when it comes to avoiding collisions and the amount of protection offered in the event of one.
Financially, there are long term costs associated with every vehicle, such as insurance, taxes, and maintenance. Some cars are more prone to breakdowns than others, a fact which quickly adds to the overall cost of ownership. Whether searching for a midsize sedan or an MPV, parents need to carefully weigh the options before purchasing a Chrysler for their teen.