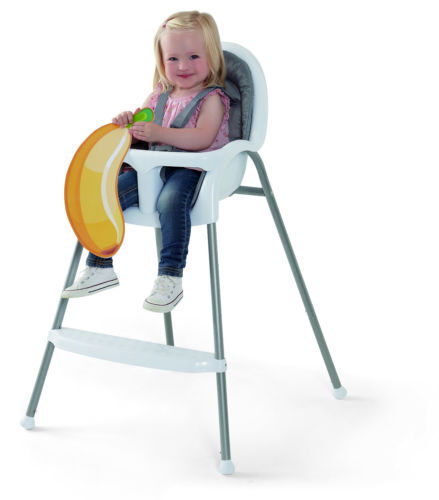 High chairs are one of the most helpful pieces of baby equipment for parents. From the time babies begin to eat solid food until about age two or three, high chairs provide a place for any child to be safe and secure during mealtimes. High chairs boost the child to a comfortable height for feeding purposes, and most have a tray so children are able to begin to pick up food on their own. While high chairs were once large, wooden eyesores, they are now made as stylish, functional pieces that fit within any decor. High chairs are made of wood, metal, or plastic, and come with a wide variety of features to choose from.
High chairs make great gifts for new parents, and are one of the most popular items on baby registries. They are purchased in brick and mortar stores, or online using eBay. eBay not only has a large selection, but most prices are lower than the average retail price, so buyers get the most bang for their buck. Before making a purchase, it is important to know what to look for in order to purchase a safe, reliable, and long-lasting high chair.
Feature 1: Type of High Chair
While some people still prefer the look of a large, wooden high chair, others prefer a more sleek and compact design. Before choosing a type of high chair, buyers should first take any size or space restrictions into consideration.
Basic High Chairs
Basic high chairs are basic models of high chairs, usually made of plastic, wood, or metal, with a seat belt attached. Some feature tray tables or padded seats. Plastic and metal options are both affordable and lightweight, making them easy to store or carry. In addition, most are easy to clean. However, basic models are typically not made for comfort, and they offer less protection from a potential mess. Plastic is usually the easiest of the three types to clean, since it is simply wiped clean with a wet cloth. Wooden models are heavier than plastic or metal, but are oftentimes more aesthetically pleasing.
Full-Featured High Chairs
Although basic high chairs get the job done, many people prefer the additional features that are included in full-featured high chairs. Many full-featured high chairs include wheels for easy moving, detachable, washable trays , and adjustable seats that raise, lower, and recline. Some full-featured high chairs convert into a chair so the child can continue to use the chair once he or she is older. Full-featured high chairs are designed to keep the child comfortable, safe, and secure. However, they are usually more expensive than basic high chair options.
Portable and Hook-on High Chairs
While most high chairs are free standing, portable high chairs are attached to either the table or another chair. Hook-on chairs are smaller and lighter than free standing chairs, and are good for small spaces since they do not take up as much room as a free standing chair. Portable and hook-on high chairs do not usually have trays, and babies are usually pushed up to the table instead. They are also quite portable, and easy to move or store. In addition, they are oftentimes more affordable than free standing high chairs.
Feature 2: Safety
When choosing a high chair, one of the most important features to look for is safety. By choosing a chair with the proper safety requirements, babies have less of a chance of getting injured. All high chairs should have a safety belt, or harness, to keep the child secured in the chair. Five point safety harnesses have straps around the babies arms as well as around their legs. This prevents the child from standing up or sliding out of the chair. Three point safety harnesses also have a crotch post, which is made to go in between the child's legs. Both harness options are made to keep the baby safe and secure. Parents should avoid high chairs with single strap safety belts that just buckle around the babies waist. These safety belts make it easy for the baby to slip out of the chair and potentially get injured.
It is also important to know the brand and model name of the high chair in the event that there are any product recalls. In recent years, over two million high chairs have been recalled because of safety problems. Recalled high chairs may cause risk or injury to the child, which is why it is important to be aware of the brand and model prior to purchase. The Product Recall Finder is available online to check for high chair recalls.
Feature 3: Stability
Because high chairs are typically top heavy, it is important to choose a stable, sturdy chair that does not easily tip over. If the chair tips over, a baby may get seriously hurt, so it is important to choose a chair that does not tip over if someone bumps into it. The most stable chairs feature a wide base and a low centre of gravity to prevent the chair from tipping. Before placing the baby in the chair, giving the chair a good shake helps to ensure that it is sturdy enough to safely hold the child.
Feature 4: Comfort
Most babies spend a lot of time in their high chairs, which is why it is important to choose a comfortable chair for the baby. Padded seats provide the most comfort for the baby, and footrests are an added feature that can help add extra comfort for older children. Many high chairs feature plastic seats since they are easy to wipe clean, but plastic may have sharp edges that may in fact bother the baby. Before making a purchase, look for sharp edges that may scratch the baby's legs.
Feature 5: Adjustability
Since the baby uses the high chair from the time he or she starts eating until age two or three, it is convenient to look for a chair that adjusts so the child does not easily outgrow it. Many chairs feature height adjustments, so that the chair fits at various different tables. More importantly, some chairs offer an adjustable tray, so the baby is not constrained as he or she grows. Some chairs also offer a reclining seat , which adds comfort for older children.
Feature 6: Mobility and Storage
Choosing a high chair with wheels is important for babies that may be fed in a different room, such as the dining room and kitchen. Wheels make it easy to move the chair without having to lift it. It is also important to choose a high chair with wheels that lock, so the chair is not constantly moving during mealtimes.
For families that live in a small space, a foldable high chair may be ideal to save space. When looking for a foldable high chair, it is important to look for a foldable chair that locks to ensure it stays folded. High chairs that stand upright when folded, are usually the best for option for saving space since they fit easily into a closet or storage area.
How to Purchase a High Chair on eBay
By understanding what to look for when purchasing a high chair, you can make an informed decision on a chair that keeps the baby safe, secure, and happy. eBay is the perfect place to begin your search for a high chair. eBay offers thousands of options for high chairs, making it easy to find exactly what you are looking for. Another benefit of shopping on eBay is that you can shop from the comfort of your own home. eBay also offers high chairs made by the most reputable brands, most of which can be found under retail price. To find the brand you are looking for, you can search for a specific brand, or narrow the search results further by entering one or multiple brands.
Searching for High Chairs on eBay
When you are ready to begin your search for high chairs, you can begin with the use of keywords on the eBay home page. If you already know which type of high chair you are looking for, you can use a specific search phrase, such as 'full-featured high chair'. To browse through different options and prices, you can even use a broader search term, such as 'high chair'. eBay also makes it easy to stay within your budget by allowing you to set your price maximum. By setting your maximum price, you do not have to waste time browsing through options outside of your price range.
Conclusion
High chairs are one of the most helpful pieces of baby equipment for parents. They give the baby a safe place to be secured during meal times, or whenever the parent needs to get other things done. High chairs make great gifts for new parents, and are one of the most highly sought after gifts on baby registries. Since high chairs tend to be a higher ticket item, many people choose to go in together on the gift with family or friends, to purchase a quality chair for the parents without having to spend a small fortune.
By knowing what to look for in a high chair, it is easy to find a chair that is both safe and suitable for the baby. Since babies use high chairs for a few years, choosing a quality chair is essential in ensuring that the chair lasts. With the wide variety of high chairs available, it is easy to find a high chair that meets the parent's and baby's needs.