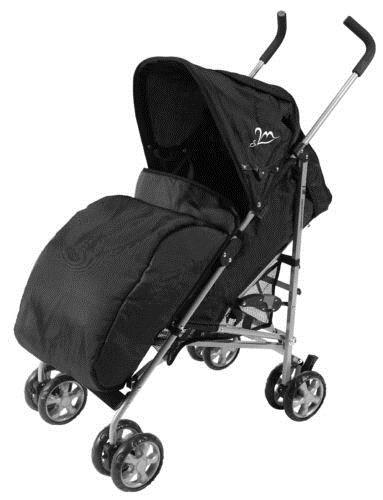 Anyone involved in childrearing knows that a great deal of equipment accompanies the endeavour. There is no question that bringing up baby is well-nigh impossible without a pushchair to absorb some of the pressure that goes with parenthood. The pace of which walking toddlers are capable is not sustainable during a demanding day, and loading a child into his pushchair gives all those concerned a much-needed rest. Safety when out and about is another pressing reason why a pushchair is one of the essentials on the childrearer's shopping list. Ensconced in his or her own conveyance, the nipper is out of harm's way.
Specialist parent and child retailers are one source for pushchairs, as are some big general shops and department stores, but more and more of such purchases are being made online. To meet the demand, a host of online suppliers deal in prams, pushchairs, and buggies. Additionally, almost every make and model of pushchair is to be found listed on the auction website, eBay. When looking into the pros and cons of pushchair options on the market, buyers are well advised to focus on six primary features, which include: safety, sturdiness, weight, foldability, ease of cleaning, and price.
Feature 1: Safety
It scarcely needs mentioning that, as with any conveyance that carries small precious humans along public pavements and across roads, the prime concern is to minimise all types of risk. Unsurprisingly, it is safety aspects that all of the trusted manufacturers stress first when designing and building each model of pushchair. The purchase of a pushchair, no matter how urgent, is best not performed in haste. The necessary time needs to be taken to learn about each model's safety features. Safety concerns centre around brakes, finger-trapping dangers, and stability.
Brakes
The parking device on any buggy or pushchair is a significant safety feature. Essentially, the amount of effort required to apply the brakes, and the amount of resistance the brake pads offer against the wheels' outer rims are the main aspects of brake safety. Generally, the easier the brakes are for the operator to engage, the better. In reality, the people who utilise pushchairs range from large adults to slightly-built individuals, including older children; hence, ease of operation needs to be factored into a decision. Pushchair parking brakes are either hand-operated or foot-operated, and the mechanism needs to be out of the reach of the young passenger.
Finger Safety
Active, inquisitive young children cannot be relied upon to sit motionless as they are wheeled on and off kerbs, past shops, and along supermarket aisles. While twisting and turning, these little passengers tend to grasp the seat's side supports. It is, therefore, important that the prospect of pinched and trapped fingers is minimised, if not eliminated, by a pushchair's design. Select a pushchair that does not contain gaps between the seat and the structure. Alternatively, ensure that any such gap is a wide one.
By the same token, during the operations of folding and unfolding a pushchair, an operator's fingers need to be out of danger; hence, a clear procedure for the opening and closing of a buggy or pushchair, with chunky levers that are easy to manipulate, needs to be a priority for the prospective purchaser.
Feature 2: Sturdiness
Fortunately, the days of a flimsy, slender-looking pushchair are long gone. A much more robust and chunky design now tends to be the norm. A number of variations on that theme are, nevertheless, available. The weight-bearing capacity of any pushchair intended for a growing toddler is a key point, as it affects both the smooth running of the mini vehicle, and also its overall longevity. The chosen vehicle may be intended to outlive its first occupant, since many pushchairs are purchased not just with the first child in mind, but to be kept for younger siblings as they grow out of the pram stage; hence, the need for a sturdy model that can cope with many years of use.
A pushchair's specifications should indicate its maximum load. Many state that 15 kg is the most that can be carried; nevertheless, as some are specifically intended to cope with shopping too, to a limited degree, some models do boast a higher maximum load. The stipulation of 15 kg is largely seen as erring on the safe side, but it is never advisable to load a pushchair's handles with a large quantity of groceries. When it comes to twins, or siblings close in age, a twin pushchair is indispensable, with of course, a greater overall capacity.
Feature 3: Weight Issues
The weight of a pushchair is, itself, of far less importance than the handleability which the design offers. To reduce strain, fatigue, and painful muscles of the operator, a good idea is to look for very light handling. This tends to come down to the quality of precision engineering and how well the resulting pushchair balances and distributes passenger weight, so that descending and mounting pavement kerbs is made as effortless as possible, even with a large quantity of groceries.
Feature 4: Foldability
Pushchairs are not just about transporting their young, precious passengers. They are just as much about being transported; in other words, getting the pushchair in and out of a house and car, and onto and off of buses and trains is easily as important. The pushchair's main operator needs to be happy with the workings for collapsing and opening the pushchair. This is where it pays to practise on a few before committing to a specific model. Lightweight pushchairs are described as umbrella models because of the easy way they unfold from a single, central handle.
Feature 5: Ease of Cleaning
When it comes to the cleaning of a toddler transporter, complete stripping down is not normally an option, as certain parts of the fabric of any buggy or pushchair are riveted to a frame. A small number of brands have fully cleanable models. It can be a good idea to look for a manufacturer who makes removable seats. Deep creases, where crumbs and general dirt can get trapped, are not desirable. The general rule is that pushchairs require regular sponging down, then air-drying, which is best done on a sunny day. Not all manufacturers supply detailed instructions, however. A number of independent buggy cleaning concerns exist, often featuring steam cleaning.
Feature 6: Price
As with many products, the pushchair spans a wide price spectrum. Levels of comfort and longevity are sacrificed at the very cheapest end; however, among the quite affordable pushchairs that are available, good quality models abound. Super-luxury pushchairs in the top price bracket include limited edition versions, which are largely about appearance, and also exceptionally streamlined brands. Those on a budget can often pick up a very reasonable branded, used pushchair, which would originally cost a couple of hundred pounds.
Pushchair Accessories
No sooner is the acquisition of a new pushchair complete than the clamour to add useful paraphernalia begins. Ingenious devices to make the parent's life easier abound in today's marketplace. The pushchair is, after all, a part-time habitat for its occupant, and can even be seen as a car substitute. It needs to be decked out.
Canopies
The importance of protecting the vulnerable skin of small children from direct sunlight is increasingly well understood. To this end, the purchase of a canopy must be first on the list where accessories are concerned. The jaunty effect of a parasol puts a smile on the faces of passers-by, while it serves an important health and safety purpose. Buyers can choose from a cornucopia of plain and multi-coloured fabrics and shapes.
Footmuffs
Whether fleece-lined, quilted, brightly coloured, two-toned, or demurely navy blue, the most essential added component for any pushchair is the footmuff, encasing the child's legs and feet in a cosy all-enveloping cover, rather like the bottom end of a sleeping bag. A bewilderingly extensive variety of footmuffs exist on the market.
Bag Clips
To enable the pushchair operator, whether parent, grandparent or carer, to free up their hands for the important task of pushing, a gizmo, which is clipped onto the pushchair is just the thing. The bag clip can be used to hang a handbag or shopping bag. It is wise to be mindful of weight balancing factors, and to hang nothing over 2 kg from the buggy's handles.
Buying a Pushchair on eBay
If you are intent on equipping your growing child with a suitable carrier, exploring the merchandise posted to eBay can be productive. Pushchairs in every possible variation can be found listed there, by many top sellers. Doing some homework, quizzing other parents, and reading customer forums, as well as the reviews on independent consumer sites, can be a good start. Another way to research how a specific pushchair works is to check out the manufacturer's website, which may well carry videos.
Nevertheless, on eBay, you may still be faced with an extensive range from which to choose. A recommended course of action at this point is to type your chosen keywords into the search field, thereby narrowing down the list of possibilities to a manageable number. For example, by typing into the search field "Maclaren three-wheeler pushchair", you can generate a list of relevant results. Now, the decision can centre on price, delivery costs, seller feedback, and the pushchair's condition. Additionally, in most cases, any doubts and queries can be easily resolved using eBay's facility for sending the seller a question, which should receive a prompt response.
Delivery is the next point to examine. Fortunately, in a sizeable number of cases, collection in person is the seller's preferred solution to the issue of transportation. This naturally provides buyers with an opportunity to verify that the pushchair in question is the right choice.
Conclusion
Prospective purchasers face a relatively onerous task when it comes to finding the ideal pushchair for their needs, the numerous brands each offering something different. Prices also range across a considerable spectrum. Often, it is after visiting shops and trying out various pushchair models, or having attended a parents and toddlers group and swapping notes there, that the purchaser feels ready to proceed with a thorough search on eBay where there is a strong chance of finding a good deal, since, with its growing popularity and increasing membership, eBay hosts every sort of merchandise. Not just that; most sellers are dedicated to maintaining a good reputation, as they use the website as a principal outlet for their wares, hence any browsing parent or child carer can be confident of not wasting their time with an eBay search.
The relief which comes with taking possession of a suitable pushchair and proceeding comfortably to transport the youngest family member is considerable. It pays, therefore, for the prospective purchaser to weigh up the importance in his or her own mind of the six key features.