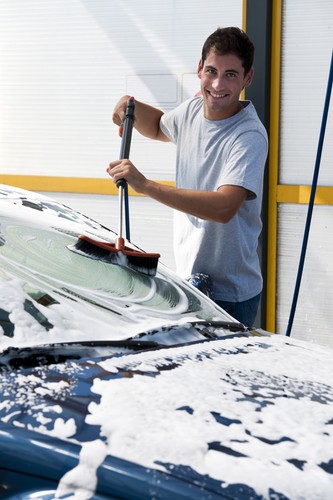 Many people choose to wash their own vehicle rather than bring it to a car wash establishment, whether it is for the pricing savings or the satisfaction of cleaning your car yourself. When you wash your own car, you want to be sure that it is cleaned properly and you are using products that are both appropriate and safe for your vehicle.
The products used to wash the inside and outside of your vehicle can be simple in nature or more elaborate, which varies depending on your budget and what cleaning supplies you would like to use on your vehicle. It can be as simple as a hose, bucket, soap, and a brush. Others may want to purchase soap that is specific to your car vehicle. Other available cleaning supply options include wax, sealants, or other products that clean tyres and rims on the vehicle. Though these products do not have to be used with every cleaning, many people opt to get them in order to preserve the life of their vehicle and add that extra shine to make it look brand new again.
Item 1: Wash Mitt
Special wash mitts have been designed to aid in washing the exterior portion of your car. They are worn on one hand and can be bought in a variety of materials, including sheepskin, microfibre, micro-chenille, and wool. Each mitt is made out of soft material that does not scratch or damage the vehicle in any way.
Wash Mitts come in different sizes in order for you to find a good fit no matter the size of your hands. They make car washing quick and efficient, and are typically more comfortable for washing a vehicle than holding a brush or other cleaning tool. A wash mitt is flexible and durable, so it can be used to wash the tyres, grill, wheel well, and bodywork, as well as the main exterior of the car.
Item 2: Brush
There are a variety of car brushes that can be purchased to assist in washing the outside of a vehicle. Some brushes are held right in the hand, and are only slightly larger than an individual's hand. They are designed so that a handle wraps around the person's hand, making it easy to hold and wash. Other brushes have a very long handle with a brush at the end. This is best for larger vehicles, so that the top and hard to reach areas can be easily reached and cleaned. Before purchasing a brush, an individual should be sure that the bristles of the brush are made out of a material that will not scratch or damage the vehicle in any way. A brush that is nonabrasive is necessary to protect the paint and finish of the vehicle.
Tyre Brush
Small brushes are available that are designed specifically to wash the tyres, rims, and lug nuts of the vehicle. They are small enough to get into all of the small crevices of your vehicle effectively. Tyre brushes are intended to reach every detail and gap within the rim and wheel of the car, and are very effective in cleaning and protecting the finishing of the wheel. It is important to wash the wheels of the car, because dirt from the roads as well as brake dust build up on the wheels and can break down the material over a period of time. If the wheels are not cleaned every so often, these materials can corrode the finish of the wheels and rims.
Item 3: Shampoo and Soap
There a variety of shampoos and soaps that can be purchased to clean the exterior of a vehicle. Each brand has its own chemical makeup and characteristics. Ideally, you should look for a shampoo or soap that gets rid of dirt and sediments while safeguarding the finish of the car. This means you need to be sure that the shampoo or soap does not have characteristics that causes it to strip the wax or paint from your vehicle. Some shampoos even come with conditioner included in it, which adds extra shine to the vehicle and leaves it looking pristine and new.
Item 4: Bucket
A bucket or other type of container will be necessary when washing the exterior of a vehicle. The bucket is used to mix together the water and the shampoo or soap. You might even find it beneficial to have two buckets. One bucket contains the water and shampoo mixture, while the other contains just water for rinsing the brush or cloth. This keeps the water and shampoo mixture from becoming contaminated with the dirt and filth from the car. Before putting the water and shampoo into the bucket, be sure that it is cleaned thoroughly so that the water and shampoo mixture is not tainted in any way.
Item 5: Drying Cloth
A drying cloth is a very important item that should be used when performing an exterior car wash. Some people believe that the sun and air dries the car completely, so a drying cloth is not necessary. While the car dries partially from the sun, the pollution and dirt in the air mixes with the water droplets on the car to produce water spots that are visually unappealing to look at. In order to prevent this, a drying cloth of some type should be used to dry to car right after it has been cleaned. Two types of drying clothes are commonly used to dry a vehicle, including a microfibre towel and chamois.
Microfibre Towel
A microfibre towel is made from a blend of polyester and polymide materials, which is known to be highly absorbent. While it is a very soft material, it is also one of the strongest because of the high amount of fibres that are woven together to make the microfibre blend. Microfibre towels can be repeatedly washed and reused between car washings.
Chamois
Chamois is another material that can be used to dry a vehicle after washing, and is also known to have a high absorbency rate. The material is very soft and does not scratch or leave marks on the vehicle. It is also known to increase the shine of the car when it is used on a freshly washed car. Chamois have strong durability, but must still be cared for properly in order to ensure a long shelf life. It should be washed with warm water and soap and then dried naturally in a place out of the sun or in a container that blocks out air.
Item 6: Wax and Sealant
Waxes and sealants are used to protect the paint on the vehicle. Using a wax or sealant increases the life of the car and shields its beauty from any possible damage. Waxes and sealants prevent the vehicle from being damaged by dirt, pollution from the environment, water and other types of moisture, as well as rays from the sun. They are applied after the vehicle has been completely washed and dried. They should be applied regularly to ensure the vehicle always holds its best shine possible.
How to Buy Exterior Car Wash Items on eBay
All of the items that are desired for an exterior car wash can easily be purchased using eBay, who has made it easy to acquire everything that is needed right through their website. A quick and easy way to find the car wash items you are looking for is to perform a keyword search, which can be done on any eBay page. If you would like to see a wide range of car cleaning products available, you can simply type in " exterior car cleaning products &" into the search bar.
If you know the exact product you are looking for, you can be more specific in your keyword search as well. For example, you can type in " tyre brush&" into the search bar. Once the results appear, you can limit these results by specifying the material, price, condition, and various other options as well. If you would like, this process can be used for each of the items necessary to perform an exterior car wash.
Conclusion
Washing the exterior of a car independently is an inexpensive and rewarding process. You can be sure that your car is getting washed properly with materials and products that do not hurt the vehicle. You can also save money by washing your own vehicle, rather than bringing it to a professional establishment and paying extra to have someone else do it.
There are not many items that are necessary to wash the outside of a car. You should first decide on how much money you feel comfortable spending on all of the cleaning products. Some items are essential, while others are extras that are not necessary but often desired. A brush or mitt of some type, shampoo and soap, and a bucket are basic cleaning items that everyone needs for a basic exterior car wash. If you want to purchase extra cleaning supplies for your vehicle, special tyre brushes, conditioner, and wax or sealant for the exterior of the car are available as well.