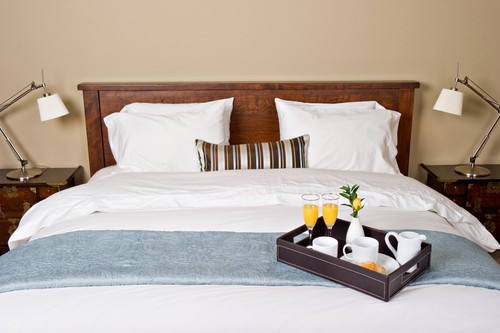 Sometimes a luxury weekend break is needed to relax, recharge, and simply rest. Several UK destinations offer spa breaks with luxury accommodation. Barnsley House, set in the Cotswolds, is an indulgent retreat away from busy city life. Its focus is on making visitors feel at home, while being pampered. Osborne House in Llandudno is an elegantly furnished hotel with six suites. The five-star Balmoral Hotel in Edinburgh is in the heart of the city, making it easy to visit attractions and absorb the atmosphere from a comfortable base.
For those who would like to do some sightseeing and travelling over the weekend, a European destination may be more appealing. Visit the elegant Turner Hotel in Rome, the well-appointed Marriott Renaissance Arc de Triomphe in Paris, or the popular Hotel Crowne Plaza in Prague. Holiday packages, accommodation, and travel tickets are available from a number of sources, including hotels, travel agents, and online from eBay.
Luxury Destination 1: Barnsley House, Gloucestershire
Barnsley House is contemporary and stylish, but with a focus on comfort and casual relaxation. Guests are encouraged to do as they please, with staff available to help them have the perfect weekend break. All rooms feature stone fireplaces, wooden floors, and beams, but no two are exactly the same. Private terraces, sitting rooms, and gardens are available, and guests have their own jacuzzis. The Potager Restaurant overlooks the gardens and offers excellent meals served in a contemporary restaurant with stone features. Private dinner parties for up to 10 people can be arranged in the gardens. Meals can be taken in the gardens or by using the full room service option.
Barnsley House Garden Spa
No luxury retreat is complete without a spa. The Barnsley House Garden Spa is reached via the gardens. Beauty and holistic treatments are available. Floor to ceiling windows allow guests to view the gardens while being pampered. The spa features a steam room, sauna, relaxation room, and heated outside hydrotherapy pool.
How to Get to Barnsley House
Barnsley House is set in the centre of Barnsley, Gloucestershire. It can be reached within 90 minutes when driving from West London and within an hour from the Midlands. For complete relaxation, take the train from Paddington to Kemble.
Luxury Destination 2: Osborne House, Llandudno
Osborne House is smaller hotel. It has six luxurious suites furnished with antiques and fine paintings. The King suite has a sea view, a king-size bed with Egyptian cotton sheets and a down duvet. It features an original marble gas fireplace and a marble bathroom with a cast iron bath and walk-in shower. Large bay windows let visitors make the most of the breathtaking views. The Bistro Bar, decorated with opulent drapes and lit by candles, lends an air of romance to the casual dining on offer. Produce is sourced from local suppliers and all food is prepared fresh on the premises. The hotel shares the facilities of its larger sister hotel, The Empire, located nearby.
Osborne House Spa
The spa features a heated saltwater pool, sauna, steam room, and whirlpool. It also has a heated indoor pool, an outdoor swimming pool, modern gym equipment, and offers a wide variety of beauty treatments. For something different, visit the Watkins or Poolside restaurant at The Empire Hotel.
How to Get to Osborne House
Osborne House is set on the Promenade in Llandudno, Wales. Llandudno can be reached by train and is served by Manchester and Liverpool airports.
Luxury Destination 3: The Balmoral Hotel, Edinburgh
The five-star Balmoral Hotel in Edinburgh is one of the most luxurious destinations in the UK. Set in the heart of the city, it offers easy access to landmarks, visitor attractions, and the main shopping district. The hotel has 168 rooms and 20 opulent suites, some with views of Edinburgh Castle and the Old Town.
The hotel has a number of restaurants, from the Michelin-starred Number One fine dining restaurant to Hadrian's, for informal dining. Visit The Bollinger Bar at Palm Court for an award-winning afternoon tea or sample one of the extensive range of single malt whiskies in the evening. The Balmoral Bar serves cocktails and drinks in an elegant and stylish setting.
The Balmoral Spa
The Balmoral Spa features 5 treatment rooms, a 15 metre swimming pool, sauna, steam room, gym, and exercise studio. The spa is staffed with knowledgeable therapists who are trained to provide the best service possible. Complimentary health checks, programmes, and reassessments are also provided.
How to Get to the Balmoral Hotel
The Balmoral Hotel is located next to Waverley Station, making it the perfect option for those who enjoy travelling by train. It is situated 25 minutes by car from the airport and taxis are readily available to complete the last leg of the journey. Time your visit and attend one of the many events held in the city.
Luxury Destination 4: The Turner Hotel, Rome
The four-star Turner Hotel overlooks the Seven Hills of Rome and Porta Pia, one of the city's ancient gateways. Located in a fully restored nineteenth-century building, the hotel features marble, parquet, and a red, gold, and ivory colour scheme. There are 68 rooms, ranging from single rooms to junior suites. All rooms come with air conditioning and heating, satellite TV, a minibar, and a safe. Rooms have private bathrooms, with high-end rooms featuring marble bathrooms. All rooms are decorated with antique furniture and high quality fabrics. The table below lists and described the rooms available.
Turner Hotel Room Type

Description

Single

One double bed or two single beds

Usually on the ground floor with views of the courtyard

Economy double

One double bed or two single beds

Usually on the ground floor with views of the courtyard

Classic double

One double bed or two single beds

Not necessarily on the ground floor

Superior double

One double bed or two single beds

Marble bathroom

Luxury option

Triple

Double bed and single bed or three single beds

Spacious: 19 square metres

Family

Two connecting double rooms or one large room

Two king-size beds

One bathroom

22 square metres

Junior suite

One double bed

Antique furniture

Marble bathroom

Separate lounge area

25 square metres

Luxury option
Free Wi-Fi is included throughout the hotel. All rooms come with complimentary toiletries and a hairdryer.
Services include private car or limousine transport from Fiumicino and Ciampino airports, railway stations, and Civitavecchia port; free luggage storage; a laundry and dry cleaning service; free babysitters; and free parking. Do not forget to pack a guidebook and map.
Luxury Destination 5: The Marriott Renaissance Arc de Triomphe Hotel, Paris
Paris is synonymous with sophistication, elegance, and luxury. The five-star Renaissance Paris Arc de Triomphe is located close to the landmark for which it is named and near Champ-Elysees Avenue. Christian de Portzamparc created its breathtaking contemporary design. Rooms and suites are spacious and elegant. Guests can dine at the hotel's Makassar Lounge Restaurant, which serves contemporary French-Indonesian cuisine.
The focus is on luxury, from the decor to plush bedding and thick mattresses. Floor to ceiling windows offer breathtaking views and some rooms have balconies with views of the city. A Wi-Fi connection is standard in all rooms. The hotel features a health club with free weights and cardiovascular equipment. Paris can be reached by train or aeroplane.
Luxury Destination 6: The Hotel Crowne Plaza, Prague
The Hotel Crowne Plaza in Prague offers a range of accommodation, from basic rooms to luxury suites. The hotel overlooks the city; Prague Castle and Stromovka Park are visible from most rooms. The focus is on comfort. Superior rooms are located on the seventh floor and have been remodelled recently. Choose an executive room for more space and better views. The Tower suites are the best the hotel has to offer and have often hosted celebrities and politicians.
The Crowne Plaza offers a range of restaurants and dining. The main restaurant, The Harvest, features international cuisine. Enjoy coffee, drinks, and desserts in the Armstrong Lobby Bar. There is an all year round folklore evening held at the Volcano Garden & Grill. Meals are served from 6 am to 1 am. The hotel has a basic fitness centre, infrared sauna, and solarium. Prague can be reached by train or aeroplane.
How to Buy Packages for Luxury Weekend Destinations on eBay
eBay is the perfect place to find a relaxing luxury break, whether at home or abroad. Type a phrase, such as " short spa break", into the search field, which can be found on every page, to see the offers available from sellers. Refine your search by choosing the most suitable category and item features. For more control over your search, use the advanced search feature.
Before Buying on eBay
Before buying on eBay, take a moment to learn about the item and the seller. Click on an individual offer to view the item listing page. Here you can find additional details such as the full item description, buying choices, payment options, and the seller's feedback information. Always read the item description carefully, paying close attention to the dates of offers and availability. If you have any questions about a listing, contact the seller by clicking the " Ask a question" link.
eBay's seller feedback feature makes it easy for you to see what other buyers have to say about a specific seller's products and customer service. Click on the number next to the seller's username to view this information. Take the number and type of products sold previously into account when viewing these details.
Conclusion
Sometimes a luxury weekend of pampering and opulence is just what the doctor ordered. Several UK destinations offer spa breaks or indulgent accommodation in a relaxing setting. Visit Barnsley House in the Cotswolds to get away from the city or Osborn House for a seaside break. The Balmoral Hotel in Edinburgh is perfect for those who enjoy shopping and relaxing in a busier atmosphere.
Alternatively, go abroad for the weekend for a different culture and European cuisine. The Turner Hotel in Rome offers luxury accommodation with a baroque feel at a central location. The Renaissance Arc de Triomphe is a visitor attraction in itself, with a contemporary design that echoes the hotel's elegance. Prague's Crowne Plaza often plays host to celebrities and has a variety of opulent rooms and luxury features within close proximity to tourist attractions.
Choose a destination that is easy to reach, whether by car, coach, train, or plane. Choosing comfortable transport leaves weekenders relaxed after they return home. A variety of holidays and travel tickets are available from eBay sellers.