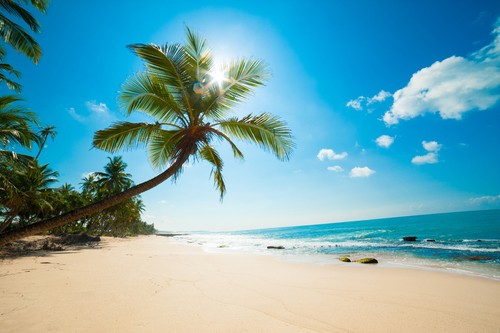 There is something about the ocean that draws people to it. Scientists believe that life evolved from the ocean, and the fact that many of the large cities in the world and their populations are near an ocean indicate that people are naturally drawn to the surroundings of an ocean. There are few things that are more enjoyable and relaxing than a day at the beach. For people located near an ocean, a quick escape to the beach can be a refreshing break in a chaotic schedule. For others, there are a number of things they can do in a short amount of time to make a quick visit to the ocean a fun and relaxing event. While the purchase of some equipment is necessary to take advantage of some of these activities, many of them are inexpensive. Whether simply sitting on the sand, watching the waves or riding them on a brand new surfboard, one can find most of the things needed for a quick escape to the beach by using the powerful shopping tools on eBay.
1. Picnic
Picnicking is a traditional way for people to combine their love of food with a quick excursion into nature. Picnics get people get out of the house for breaks, helping them enjoy a meal in the fresh air amidst wonderful scenery. Picnics seem to make the food taste better, and whether it is a large family oriented gathering or an intimate experience, sharing food together in an outdoor environment is a stimulating social activity. Setting this against the backdrop of the ocean with its calming waves and dramatic scenery is a special way to spend a few hours relaxing and enjoying a meal with the family. There are very few things needed for picnicking, and it is easy to assemble a picnic as well. Apicnic basket or cool box holds the food and beverages to take to the beach, and a blanket to sit on completes the list of items needed to have a great day.
2. Go Fly a Kite
The beach is usually a windy place, and many people take advantage of this fact to enjoy an activity that has been around for literally thousands of years. Flying a kite is a personal experience that allows individuals to connect with a sense of flying while displaying a colourful and interesting kite that speaks to one's personality. Kite flying is simple fun that can be either an inexpensive trip to the beach with a simple kite, or an elaborate event with a huge dragon kite that can be seen from far off in the distance. Kites are a simple way to enjoy a few hours of quiet pleasure at the beach with one's kids and feel like a child oneself.
3. Fishing
Fishing is an enjoyable sport that anyone can learn to do and enjoy. Once the initialfishing rod andreel are purchased, along with items such asline and hooks, the fisherman is ready to tackle the ocean in search of big fish. There are basically two different ways to enjoy a day of fishing at the ocean, depending on the budget and the style of fishing one enjoys.
Boat Fishing
Boat fishing is a productive way to fish, because the captain can utilise sonar to pinpoint where the fish are located, and then position the boat so the angler can have a great chance of getting the bait right to the fish. Boat fishing can be done with a party boat that takes many anglers out at the same time in search of large schools of fish. Individuals or small groups can also rent chartered boats, as they give anglers an excellent opportunity to catch fish because of the expertise of the captains. They are, however, more expensive than party boats, but are more likely to result in a successful expedition.
Shore Fishing
For anglers on a budget or for those who prefer the peace and solitude of fishing alone, there are many opportunities to fish from the shore. Specialised surf rods that are long help anglers cast far out in the water beyond the churning surf. Many species of fish target this area for food, so reaching it is critical and can only be achieved with a surf rod. Docks and jetties are other excellent locations for anglers to toss lures and baits into the ocean, because these areas usually are very attractive to fish. Shore angling can be just as effective and enjoyable as fishing from a boat, if the angler does the homework and understands the fish he is going after.
4. Sunbathing
One of the more popular and less expensive activities that a beachgoer can engage in is simply enjoying the sun. Abikini or a swimsuit, a lounge chair, and some suntan lotion are all that is required for a few lazy hours of rejuvenating oneself by lying on warm sand, listening to the relaxing sound of waves and sea birds nearby. Sunbathing is an activity that can be done as part of a relaxing day at the beach or a quick escape from work and a long tea break.
5. Surfing
Surfing is a popular activity that can only be accomplished by visiting the ocean. Riding waves is an exhilarating experience that allows individuals to interact with the ocean in a very tangible manner. Surfing takes the best aspects of competing in a sport and adds a flair of adventure that can only be experienced through an interaction with the waves. Surfing attracts different types of people, from thrill seekers to simple nature lovers. Different types of surfing are available, depending on what the interests of the individual are. Shortboards are designed for those who wish to make sharp cuts and dramatic rides, while longboards are made for smooth and fluid trips down the wave face. One can take advantage of a myriad of other board styles available to suit different tastes.
6. Treasure Hunting
Oceans are places where things are often lost, and the beach is where these items sometimes wash up. The continued pounding of the surf buries items under the sand, sometimes to be lost forever. Because of this, individuals who have the desire to hunt for lost treasure have always found the beach to be a prime location. A person equipped with a metal detector can spend a short time at the beach and find many little treasures, from lost rings or watches to coins, that have fallen out of pockets. Occasionally, something of true value that has been buried for many years in the sand can be uncovered. Metal detectors allow people to cover large areas of beach in a relatively short time and are a great hobby for those who love the ocean and like to hunt for its hidden treasures.
How to Buy Items on eBay for a Short Break Near an Ocean
Once you have decided on an activity that you want to pursue on your short ocean getaway, the next step is to find the right items you need on eBay in order to make that trip something special. You can utilise the advanced search tools available on the eBay home page to find exactly what you need by simply entering a keyword, such as " suntan lotion", into the search box. A number of available listings is then displayed, relating to that keyword. You can search through the listings until you find the right item, or you can select from various categories on eBay. For example, categories such as 'Sporting Goods' yield listings for items such as fishing rods or other specific items you may be looking for.
Once you have found the item that you want, take a moment and check the feedback and ratings the seller has received. At the conclusion of every transaction, the buyer has an opportunity to leave a score and feedback for the seller, which can be read by other eBay users. These scores and comments create a virtual reputation for the seller that future buyers can use in making their purchase decisions on eBay.
Conclusion
The ocean attracts people because it is a place of continual motion and majestic beauty. There is a mystery to the ocean that exists side by side with its ability to appeal to one's playful nature, and the combination of these elements serves to intrigue people and draw them constantly to it. One can do a variety of simple and inexpensive things at the beach, making it a natural destination for a quick getaway where individuals can revitalise themselves.
For those who are searching for just the right items to make the excursion to the beach as fun and relaxing as possible, finding the right items at the right prices does not have to be a laborious process of visiting several shops or comparing the offerings of different websites. All a person has to do is visit eBay and take advantage of the website's tools to find the required items at affordable prices in one easy-to-use location.