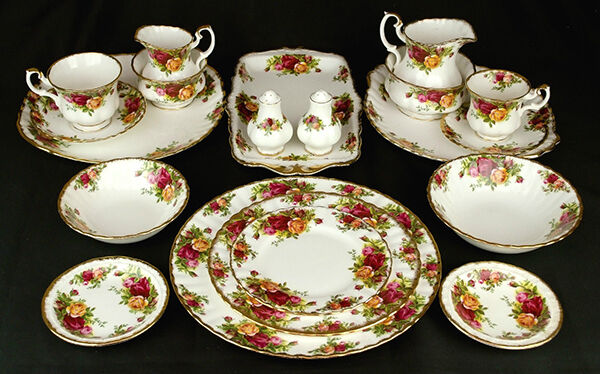 Many people consider vintage china to be an attractive collectable because of its many endearing qualities. It is fragile and decorative, unique and nostalgic. These delicate yet sturdy collectables are often less expensive than antique china, even though they are no less precious to the collector with an eye for these vintage items. This lower price makes collecting it for its beauty very enjoyable.
Some vintage china pieces, however, hold great value, and a collection can represent a true investment. With all investments, it is wise for a consumer to gather as much information as possible before making the purchase. In the case of vintage china, there are six things that the collector should keep in mind in order to ensure the purchase is a sound investment, whether the purchase is made for the items resale value or just for the beauty of the china itself. When buying vintage china, consider these six things before making the purchase.
1. Understand the Term Vintage
When shopping for vintage china, it is very important to understand the terms used in the collectable trade. Unlike the term 'antique', which strictly refers to items that were created over 100 years ago, 'vintage' has not yet had a hard and fast rule attached to it. Because of this, many people inappropriately use the term vintage to describe any item that is previously used and desirable. This can lead to confusion and the need for the collector of vintage china to be well studied and to get confirmation on how the seller is using the term.
In general, it is wise for both the seller and the purchaser to stick with the meanings that are commonly used within the collectable trade. In particular, the term vintage can be used to describe a collectable under two conditions:
* Item was manufactured during the era that it was popularised.
* Item, regardless of condition, is less than 100 years old, but more than 20.
If the item is being bought or sold, then it is part of the collectable trade, and both parties would be wise to keep to the commonly accepted definitions of these terms. If the piece is merely used, while still nice and perhaps desirable, it is probably not truly vintage if it was manufactured after 1980.
2. Decide on a Reason for Purchasing the Vintage China
When it comes to collectables of any kind, people state many different reasons for purchasing them. Some people are only interested in the value of the item, keeping its resale price in mind during the entire act of purchasing. Other people are more concerned with the look of the item and their attraction to it.
With vintage china, it is important for the collector to determine their exact interest in the piece before purchasing in order to experience the most enjoyment from the purchase. This also helps the collector to avoid frustration in the event that, after the purchase, the item's condition or value is not precisely as expected.
Personal Collection
One of the main reasons a collector chooses a specific piece of vintage china is because of their attraction to it. In the world of collecting, it is hard to put a specific value on many items simply because of this factor. Expert collectors advise making purchases from the heart; buying only items that the collector will be truly pleased with. This allows the collector to avoid frustration in the event that the item's resale value turns out to be less than originally expected. When purchasing pieces this way for a personal collection, it is much easier to enjoy the purchase for the piece itself regardless of any minor imperfections.
For Resale Value
If the purchase is more about building a valuable collection than it is about putting together one that the collector truly enjoys, it is much more important to focus on the item's resale value. Some collectors view the items that they purchase as investments; sometimes hoping to make a quick profit, and sometimes hoping to invest for the future. These collectors should be much more careful about determining the overall value of the vintage china in order to ensure that the purchase represents the value that they hope it will. In order to do this, it is wise to consult a professional or a quality collector's guide that provides important information about the values of different vintage china pieces. It is also important to inspect the item or items carefully to determine the condition.
3. Understand That Some Damage on Vintage China Is Acceptable
When it comes to vintage china, as well as other fragile collectables, a small amount of damage is expected relative to the age of the piece. This damage may include minor cracking, a small chip, crazing to the finish, and even minor repair work. Because this is vintage china, being less than 100 years old, much of these imperfections that may be expected on some older collectables should not be as evident on any but the oldest pieces. However, it is understood that some pieces wear in a certain way, or that a finish used by a manufacturer during a particular era is very susceptible to crazing. This type of damage often does not affect the value of the item much, although the item is considered even more valuable if it is either not present or minimal.
4. Check the Condition of the Vintage China
A number of factors affect the value of vintage china; a main one being its overall condition. It is important, then, to be sure to determine the items condition before purchasing. Because of the rarity and desirability of a particular piece, many pieces of china still retain their value regardless of minor imperfections. Because of this, a wise collector, one who is serious about becoming knowledgeable, should consult a collector's guide, and seek other resources in order to determine the true value of each piece before purchasing. These resources are very helpful and usually describe the condition that is considered acceptable for such an item and its value.
5. Determine the Vintage China's Value When Shopping on the Internet
Many pieces of vintage china are now being bought and sold on the Internet, where collectors are pleased to find great bargains on a regular basis. When shopping for pieces this way, however, handling it and looking at it closely is rarely possible. Because of this, inspecting the items condition may take more finesse than is required when purchasing from a local venue. The following chart lists some points of advice to keep in mind when purchasing vintage china through an online venue:
| | |
| --- | --- |
| Advice | Recommendation |
| Read Description Carefully | If all is to be expected, a good listing provides information about any flaws, damage, or aging that is evident on the item, it also provides as much information as is available about the piece, including date of manufacturing company and the name of the pattern of the piece |
| Study Pictures Carefully | Regardless of what the description says, it is very important to consult the images; be sure that the pattern and style of the china is consistent with what is described and look for any evidence of any condition that might affect the value of the item |
| Check for a Backstamp | Look to see if a picture of the china's backstamp is available; this piece of information can be invaluable in tracking down the item's value |
| Consult Reference Information | Take all of the available information and consult a professional in the trade and/or a collector's guide, preferably one that focuses on vintage china |
| Ask Questions | If possible, ask the person selling the item any questions that you may still have about the item; depending on the online venue, the seller may or may not be welcome to such questions, most reliable sellers are |
A quality vintage china collector's guide that is current likely has even more advice for making online purchases.
6. Shop at the Best Time
No one wants to spend more for an item than is necessary and finding a bargain is one of the biggest thrills of collecting. In order to find the best bargain on vintage china, be mindful of times when these pieces may be in higher demand. Typically, many people are in the market for these items around the holiday season, and also during the springtime. There is an abundance of vintage china pieces available for sale during these times, but bargains are generally more difficult to find. If it is most important to find a specific rare piece, it is a good plan to shop during these times. In order to find the best bargain, however, be sure to be looking during other times of the year when these items are not as popular so prices may be lower.
Buying Vintage China on eBay
Finding vintage china can be almost as much fun as owning it, especially if you like shopping in vintage and antique shops, flea markets, and garage sales. These were once the main, if not the only, way to locate and purchase such items. Now, however, locating vintage china is much easier to do by turning to the Internet, especially to Internet auction sites such as eBay. Using eBay makes it much easier to quickly locate a specific china pattern, style, era, or manufacture; something that was impossible to accomplish with ease before the Internet.
When shopping for vintage china on eBay, be sure to check the listing thoroughly, following all of the above suggestions. Be sure to check out the seller; looking over the ratings and reviews given by buyers. These can give you confidence in the purchase. Also, check to see if the seller lists any other pieces in the same pattern. This is often the case and can be a great way to build a collection. Most sellers are more than happy to help the buyer save some money by combining the shipping costs of several purchases.
Conclusion
Collecting vintage china appeals to different people for various reasons. Sometimes a consumer is in the market for vintage china for a one time purchase. It makes a great gift, especially for anyone who truly enjoys china or just owning authentic vintage pieces. These are great gift ideas for holidays, birthdays, and Mother's day, as well as just a nice friendship gift.
Many consumers who are shopping for vintage china are truly into purchasing prized pieces for a personal collection, whether the collection is of china or vintage items in general. Regardless of the reason for purchasing it, those in the market for vintage china are interested in finding quality items at a price that represents a real value. In order to do that it is important to understand the term vintage, determine the reason for purchasing, understand that some damage may not affect its value, and know when is the best time to shop.