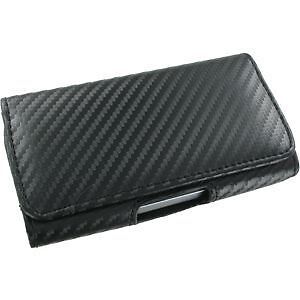 There are always a vast number of mobile phone cases and covers available. Given the multitude of options available, it can sometimes be a good idea to create a prioritised list of what desirable attributes the intended purchase should have. Here are some of the most important things to look out for when considering the purchase of a mobile phone case or cover.
Style of Case or Cover
Mobile phone cases and covers range from sober leather wallets to brightly coloured and fashionable socks. When choosing a case or cover, it is always good to begin by deciding which is the preferred style. It is usually appropriate to select a more professional style for a business phone. However, this does not mean it has to be boring. A business phone cover can be a way to reflect a person's wider interests and lifestyle. Cases and covers are available which can be a useful way to tastefully reference a favourite car marque, sports team or musician. There is obviously far more scope for self-expression where the case or cover is for a mobile phone that will be used purely for pleasure. Individualising such a phone is simple, as most designs are available in many different colours. A more colourful phone also has the advantage that it is far less likely to be lost, left behind or mistaken for someone else's.
Level of Protection
When choosing a phone case or cover, it is important to select one which will offer an adequate level of protection for the environmental hazards it will face. A case or cover for a phone which will frequently be operated in harsher conditions must allow access to all the most important operational controls without requiring the device to be removed from its protective housing.
Water
A waterproof case is a must whenever there is any likelihood that the phone may accidently become immersed in liquid. However, a fully waterproof case can be cumbersome to use when compared with more easily operated water-resistant case. Therefore, where the risk of water damage is low, a water-resistant case may be the more suitable choice.
Dirt
A phone which will be used mainly in dusty or dirty environments will often be best protected by a water resistant or waterproof case. Which of these is the most appropriate will depend on the severity of the conditions. Waterproof cases can prevent the ingress of fine dust particles, while also offering the phone protection should it face any additional liquid hazards.
Shock
Many covers and cases can offer the phone significant protection from accidental damage due to shock. Many of these rely on silicone or neoprene panels, which act as bumpers should the device accidentally come into contact with a hard surface.
Screen Protection
Whichever type of phone case or cover is selected, it is worth considering the additional protection offered by a screen shield. These clear adhesive panels are designed to absorb the wear and tear normally associated with the repeated use of a touch screen.
Build quality
Many phone manufacturers offer their own cases and covers. Although more expensive, their superior build quality and more accurate fit can mean they sometimes still offer the best value for money. There are also a number of third party case manufacturers who have built their brands around offering phone cases of superior quality. When choosing a mobile phone case or cover it can be useful to understand some of the differences between the various materials from which they are constructed.
| | |
| --- | --- |
| Fabric | Lightweight cheap and stylish. Offers little in the way of protection. A favourite material for sock design covers. |
| Soft plastic | Basic level of protection. Low resilience. Wide range of colours and styles available. |
| Hard plastic | Level of protection varies widely between different models. Available in many colours, including clear. Some waterproof models available. |
| Leatherette | Cheaper than leather. Medium level of protection and resilience. Reasonable range of colours and styles. |
| Leather | Hard wearing. Expensive. Available in a wide range of styles. Ideally paired with a screen shield and stylus. |
| Neoprene | Basic shock and water protection. Medium resilience and inexpensive. Wide range of colours available. |
| Silicone | Excellent shock protection. Extremely durable. Wide range of colours. |
Phone Case or Cover Design
There are a several distinct designs of cases and covers currently available.
| | |
| --- | --- |
| | Cheap and lightweight, mobile phone socks are available in a number of different styles and designs. They are only able to offer the most basic level of the protection to the phone while it is stored inside and do not offer it any protection when it is removed. |
| Pouch/Sleeve | More resilient and slightly more expensive than a sock. Affords the phone medium protection when store, but none when phone is used. |
| Clip | Primary function is to allow the phone to be attached to the interior and exterior of vehicles and clothing. Level of protection highly dependent on which design of clip is used. |
| Case/Skin | Close fitting design offers protection to the phone at all times. Wide range of styles available. Made from a number of different materials. Shockproof and waterproof designs available. |
| Wallet | Offer a useful balance between protection and practicality. Branded leather items can be costly, but can offer superior build quality. |
Ergonomics
When looking to protect an expensive mobile phone, it can be tempting to opt for whichever device will offer the maximum level of protection. However, a mobile phone housed in a fully waterproof case is a much bulkier, heavier, and clumsier device to operate. Phone manufacturers spend large sums of money finely tuning the ergonomics of their products. This careful design work can is nullified if the device is then housed in a cheap, poorly designed case. When looking for a mobile phone case or cover, it is essential to consider the ergonomics of the item. If it will make the phone more awkward to use, it will be always be tempting to remove it from the case. Where the phone will only occasionally be used in a harsh environment, it can be useful to have a highly protective case on standby.
Value for Money
The budget for the purchase should reflect the value of the phone. A sock cover may well be all that is required to protect a cheap phone used occasionally for private calls. On the other hand, a valuable smartphone that is used for business may require the additional protection and prestige of an expensive branded leather wallet. The market for mobile phone cases and covers is highly competitive, with new products arriving all the time. It, therefore, pays to do a little research into the products currently available and to always be prepared to shop around to get the best deal.
Finding Phone Cases and Covers on eBay
There is a vast inventory of mobile phone cases and covers waiting to be discovered on eBay. Locating a suitable item is simply a case of interrogating the search facility or browsing through the relevant links. Entering information into the search function will reveal those cases and covers which have the desired attributes. For example, when looking for a case for an iPhone 5 mobile phone simply enter "iPhone 5 case" into the search bar. Following the relevant links to the available mobile phone cases and covers is also easy. Start by expanding the All Categories drop down menu and choosing the option for Mobile Phones & Communication. Then, follow the links for Mobile Phone & PDA Accessories and then Cases & Covers. The options in the panel on the left of the page can be useful when researching the various cases and covers that are available. Powerful searches can be performed with these, especially when several options are combined. For example, they can be used to identify every orange Samsung Galaxy S III synthetic leather wallet that is currently available for purchase on eBay.
Conclusion
It is all too easy to make a mistake when choosing a mobile phone case or cover. The chosen item will need to reflect the environment in which it will be used. A business phone will require a very different case to one purchased for a phone used when engaged in outdoor leisure pursuits. A shortlist of the most desirable features for the intended purchase to have can help when choosing between the various items that are on offer. Browsing and searching for suitable items on eBay is easy, thanks to the powerful search facilities and contextual links provided when viewing the available cases and covers.