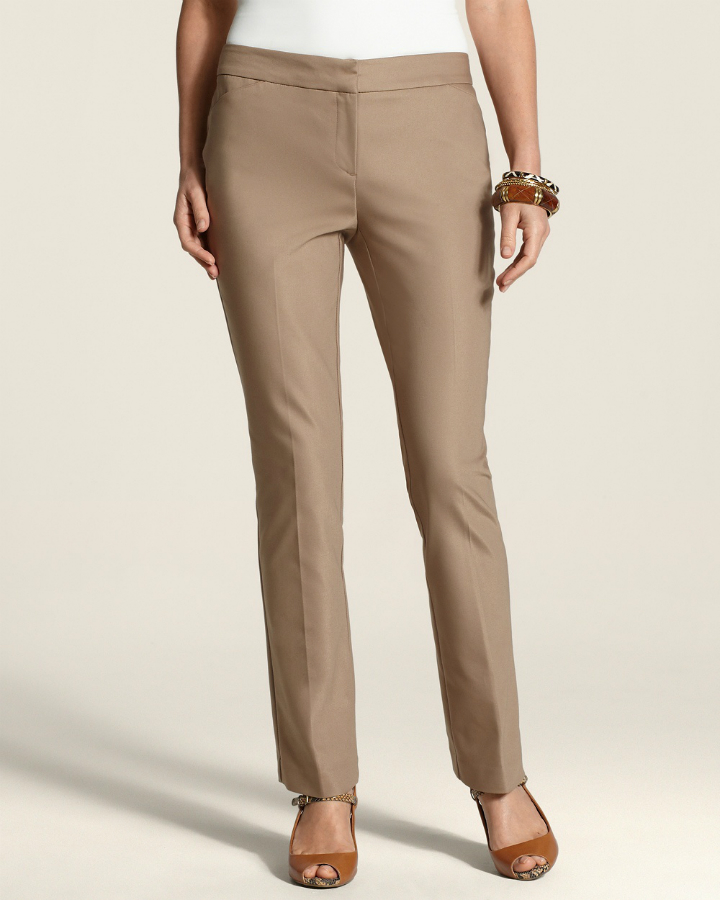 The main advantage of wearing women's trousers is that they suit most body types and are extremely versatile, which means that a woman can obtain many looks with the same pair of trousers. This is especially true for classic trousers that can be easily worn with a lot of items already existent in one's wardrobe. Women's trousers come in a wide variety of styles and there are endless outfits one can create with a simple pair. For instance, a chic and feminine look can be obtained by pairing some tailored trousers with a blouse that emphasises the waist, while a pair of cargo trousers and a graphic T-shirt can create a laid-back, adventurous look.
The possibilities are truly endless and this is why women like to have as many pairs of trousers as possible in their wardrobe. Some styles are a must-have for any woman, and by knowing the way different trousers can be worn for different occasions, buyers can make an informed decision every time they shop for a pair of trousers.
Type 1: Cropped Trousers
Cropped trousers are a timeless piece for every wardrobe and they can be worn in summer and winter as well. They are considered by many women an essential piece of clothing and their main advantage is that they are suitable for any body shape. It is, of course, up to the buyer to select the style that suits her best, but it is certain that the effect of wearing cropped trousers is always a flattering one.
There are multiple styles of cropped trousers to choose from and perhaps the most popular of them is tight trousers with high heels. These are ideal for a special occasion and can be paired with silk or satin blouses for a glamorous effect. For a more casual look, cropped trousers with a tight bottom and a little wider at the waist are the ideal choice.
When it comes to shoes, cropped trousers work best with high heels or ballerina flats. On warm summer days, they can be worn with a pair of gladiator sandals. In winter, they can be worn with tights and a pair of ankle boots.
Type 2: Chinos
A pair of women's chino trousers is the ideal choice for the summer and it has several advantages, being a great alternative to jeans. Chino trousers are lightweight, comfortable, and extremely flexible. Also known as 'khakis', chino trousers have their origins in the British military uniform of the soldiers stationed in Punjab in the nineteenth century, who wore this kind of trousers because they were not accustomed to the temperatures in India. Nowadays, chinos are a casual type of trousers worn by both men and women.
Despite their slightly elegant look, chinos are actually very easy to wear and they are perfect for university as well as for a night out with friends. When bought in dark colours such as black or navy, chinos can be even perfect for the office, as long as the company allows relaxed work-wear. Chinos work well with contrasting or patterned tops. As for shoes, chinos go well with brogues during day time and wedges for a more sophisticated evening look.
Type 3: Cargos
Cargo trousers are a real must have in any woman's wardrobe. An ideal mix of military trend and skinny jeans, these trousers are ideal for creating a relaxed and effortless look. These trousers come in many different styles, but most of them can be recognised by their two side pockets and zippers at the ankles. Cargo trousers are perfect for an evening on the beach or a shopping spree in the city. When paired with low boots, they can look more sophisticated and can work well for a dinner with friends.
Women's cargo trousers go perfectly with an elegant top and gladiator sandals. For a very casual look, they can be paired with a simple T-shirt and fashion trainers. Cargo trousers are considered more casual than jeans and they are very popular because they are both practical and comfortable.
Type 4: Dungarees
Until recently, dungarees have been considered a garment for pregnant women, but since becoming more and more visible on the catwalks, they are now a must have for fashionistas. When it comes to choosing a particular style of dungarees, women are spoiled for choice, as they are available in a wide variety that serves all purposes and looks. For a slightly vintage look, buyers can choose denim styles, while for a trendier outfit, dark colours such as brown, khaki, grey, or black are ideal.
Dungarees can be paired with a plain T-shirt or even a zipped hooded sweatshirt for a casual look or with a blouse with Peter Pan collar, a vest, or a blazer for a more sophisticated look. As dungarees are not originally feminine garments, they can be accessorised with heels, jewellery, and bold makeup in order to avoid looking too masculine.
Type 5: Tailored Trousers
Tailored trousers are a must-have for many women, especially for formal and office wear. These trousers may look flattering on most body types and they come in a wide variety of styles. The only downside of wearing tailored trousers is that they need constant ironing and some of them even dry cleaning. Women can choose wide or straight-leg tailored trousers, according to their preferences.
Depending on the occasion, women can wear tailored trousers in light or dark colours. Colours such as dark grey, chocolate brown, navy, or black are ideal for office wear, while shades including camel brown, beige, or orange are more suitable for casual wear.
Type 6: Leather Trousers
Leather trousers have been long reserved for bikers and rockers, but in the recent years they became a fashion staple for many women's wardrobes. There are plenty of opportunities to wear a pair of leather trousers, ranging from a night out in the club to an evening with friends. The interesting thing about owning a pair of leather trousers is that they can be accompanied by the most unexpected materials, such as a fur coat or a transparent silk shirt. Matching leather trousers with footwear is an easy thing to do because these trousers go with almost everything, ranging from stilettos and platforms to ankle boots and fashion trainers.
How to Buy Women's Trousers in the Right Size
In order to look flattering, women's trousers need to fit perfectly, which means they need to be bought in the right size. Many women make the mistake of buying trousers without taking their measurements and end up with trousers that are either too loose or too tight. Before shopping for trousers online, buyers should make sure they have accurate measurements of their waist and hips at hand.
| UK Size | Waist (cm) | Hips (cm) |
| --- | --- | --- |
| 6 | 60.5 | 86 |
| 8 | 63 | 88.5 |
| 10 | 68 | 93.5 |
| 12 | 73 | 98.5 |
| 14 | 78 | 103.5 |
| 16 | 83 | 108.5 |
| 18 | 90.5 | 116 |
Buyers should always check the sizing information provided by the manufacturer or seller before purchasing a new pair of trousers, as sizing may differ from one style and brand to another.
How to Find Women's Trousers on eBay
Many women feel slightly discouraged when it comes to buying a new pair of trousers, simply because there are so many styles to choose from. When shopping for trousers, you should try to decide upon a certain style before starting your search, in order to reduce the amount of time spent browsing for the perfect pair. One of the easiest ways to shop for women's trousers is eBay because it offers impressive selections as well as an intuitive search system.
Shopping for women's trousers on eBay is straightforward, as all you need to do is type 'women's trousers' in the search bar. After that, you can instantly browse through hundreds of styles. If you are looking for a particular type of trousers, such as chinos or cargos, simply enter the additional keywords in the search box. You can also refine the search results by style, colour, size, or price in order to find what you want quickly. Do not forget to check the sizing information carefully before buying and, when in doubt, make sure you contact the seller for more details.
Conclusion
Trousers are essential items in a woman's wardrobe and, with so many styles available, it is impossible not to have quite a few pairs. Women's trousers are suitable for any kind of outfit and they can be worn both casually and formally. Depending on the occasion, women prefer to have multiple pairs of trousers in their wardrobe and there is no such thing as owning too many of them.
Women can purchase trousers in a large number of high-street stores as well as online. The most convenient way of shopping for a new pair of trousers is to scour the Internet in search of the ideal style. Websites such as eBay offer a large palette of women's trousers and provide a pleasant shopping experience at the same time. With so many styles to choose from on eBay, buyers can be sure they can find the ideal pair of trousers in just a few minutes.