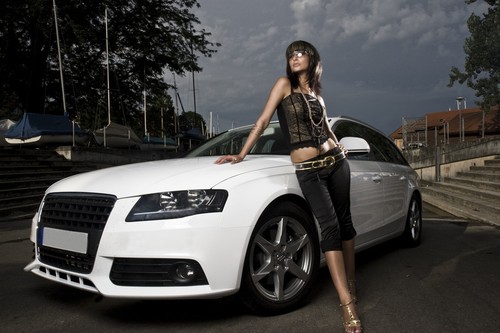 Drivers that wish to personalise their Audi can find several ways to change its look and feel. One of the easiest ways is to have a new paint job. Audi models are produced in a limited number of colours, so choosing one that is not offered by the manufacturer is certain to make the car stand out. Owners can also add decals and graphics to their car for a truly unique style. In addition to logos and racing stripes, many companies can create custom graphics. It is also possible to have the windows tinted on an Audi to alter its visual appearance and provide more privacy for the driver and passengers.
Many components can be changed on an Audi to create a new style. Body kits can include spoilers, side wings, and front and rear bumpers. One of the most noticeable ways to alter the appearance of an Audi is to convert the doors. This allows the doors to open either upwards, like a Lamborghini, or from the rear, like so-called suicide doors on older vehicles. Lowering kits can also be purchased for Audis. These drop the car close to the ground for a different look.
Buyers can find several sources to customise their cars. Painting and decals can be applied by specialist garages. Packages like lowering and door conversion kits can be purchased from car accessory retailers. There are also several sellers online, including in marketplaces like eBay. Consider some of the many options available to change the look and feel of your Audi.
Look and Feel 1: Body Kits for Your Audi
Body kits are designed for particular models and years of Audis. They include several spare parts that can be added to the car to change its appearance. Most body kits include spoilers, side skirts or bars, and front and rear bumpers.
Spoilers
Spoilers are some of the most popular additions for Audis. In addition to changing the look of the car, these products can also help to improve performance, especially at higher speeds. Spoilers are available for nearly all models of Audi, including theA6,100, 80, A4, and Coupe.
Side Skirts and Bars
Side skirts and side bars add a new dimension to the appearance of an Audi. Although they do not improve performance like a spoiler, these items are still popular additions. Skirts, bars, and running boards can each add their own unique character to an Audi.
Front and Back Bumpers
For significant alterations to a vehicle's body, buyers can consider purchasing front and back bumpers. A wide selection of styles can be found for Audis. Look at a variety of sources to see the full selection of products and to find bumpers that offer the most appealing visual characteristics.
Body Kit Materials
Spoilers, bumpers, and side skirts are made from several materials. The choice of material affects the durability of the part, as well as its cost. Consider parts made from ABS plastic, fibreglass, carbon fibre, and aluminium to find the best items. The following table offers a brief description of each material.
Material

Description

Least expensive

Can become dry and cracked over time

Does not withstand impact well

Fibreglass

Relatively inexpensive

Lasts longer than plastic

Carbon fibre

Most expensive option

Very lightweight

Lasts well over time

Usually reserved for performance machines

Aluminium

Mostly used for side bars and spoilers

More durable than plastic
Consider the material carefully before making a purchase. ABS plastic is inexpensive, but not durable, whereas carbon fibre is the most expensive, but provides better value for money over time.
Look and Feel 2: Lowering Kits for Your Audi
A great way to change both the look and feel of an Audi is to buy a lowering kit. Dropping the car lowers its centre of gravity for improved performance in turns. Like other spare parts for Audis, lowering kits are designed for particular models and years. They can be bought from and installed by garages. It is also possible to purchase kits and install them at home.
Look and Feel 3: Door Conversion Kits for Your Audi
Door hinge conversion kits can change the direction that a door opens. There are two popular types available, including gullwing and rear-opening styles. These products can be purchased through garages and online sellers.
Gullwing Doors
Gullwing doors are modelled on the upward swing of Lamborghini doors. These kits add a distinctive appearance to the vehicle that also changes the experience of entering and leaving the car.
Rear-Opening Doors
Rear-opening doors, also called suicide doors, are designed to open from the rear edge. Although this was once a common feature on car, this style of door is now seen rarely. Phantom doors are best used on two-door Audis or on the rear doors of a four-door model.
Look and Feel 4: Paint Jobs for Your Audi
Few things change the appearance of a car as dramatically as a new paint job. Custom paint shops can paint a car almost any colour imaginable, including those not offered on vehicles from the factory. A paint job is also a great way to help an older car to look new again, or to unify a body kit.
Always have a clear coat applied over the base layer of paint. This non-pigmented finish protects the paint from scrapes and damage from sun and weather. Depending on the garage, this option may be included as part of the paint job or there may be an extra charge. Applying a clear coat can save owners money in the future by prolonging the life of the paint.
Look and Feel 5: Decals and Graphics for Your Audi
If a new paint job is not enough to customise the appearance of your Audi, consider adding decals and graphics. These include stickers for windows and windscreens, as well as designs that can be applied directly to the body paint. Look for logos from top brands, including Audi, or add racing stripes for a sleek appearance. Many companies can also create custom graphics to add a unique touch to the car.
Look and Feel 6: Tinted windows
Tinted windows can make a noticeable impact on a car's appearance. They also provide the driver and passengers more privacy. Specialist garages can apply a layer of tinting to windows, but it is also possible to purchase DIY products to use at home. Although these can save buyers considerable amounts of money, they require careful application to avoid wrinkles or bubbles in the film. Kits for home use can be purchased online.
How to Buy Components and Accessories to Change the Look and Feel of Your Audi on eBay
A wide selection of components and accessories to change the look and feel of your Audi can be purchased from the sellers on eBay. To find these items, begin a search from the home page. For example, enter " audi body kit" to see all listings tagged with those terms. You may refine listings by adding terms on the search results page. It is also possible to browse listings using category links.
Read the Item Description
Click on the name or image of a part to see its full listing. You can view information about the product, including the seller's asking price and delivery charges. Read the full description provided by the seller and compare it with available photographs to understand the specific item being sold. If there are any questions regarding the item, then contact the seller by using the "Ask a question" feature.
Seller Feedback
Review sellers on eBay before committing to a purchase. Look at the feedback rating and number of completed transactions to assess a user's reliability and experience on the site. You may click on the name in the item listing to see additional information, such as comments from previous buyers and ratings on individual aspects of the seller's performance. Leave feedback about your experience at the end of your transaction to support the eBay marketplace.
Conclusion
Audi owners can improve the look and feel of their cars in several ways. One of the best ways is to replace the front and back bumpers with new parts. Spoilers, side skirts, and side bars can also be added. These are commonly sold together in body kits designed for specific models and years. It is also possible convert the doors on an Audi to change the way that they open. Look for gullwing and rear-opening door kits. Lowering kits can improve performance and add a distinctive look.
A new paint job can help owners to create a unique appearance for their car. Use colours not offered on new models for an original look. It is also possible to add decals and graphics to a car.
Marketplaces like eBay have a number of listings for components and accessories for Audis. The selection of items available makes it easy for buyers to change the look and feel of their Audi for a personalised driving experience.