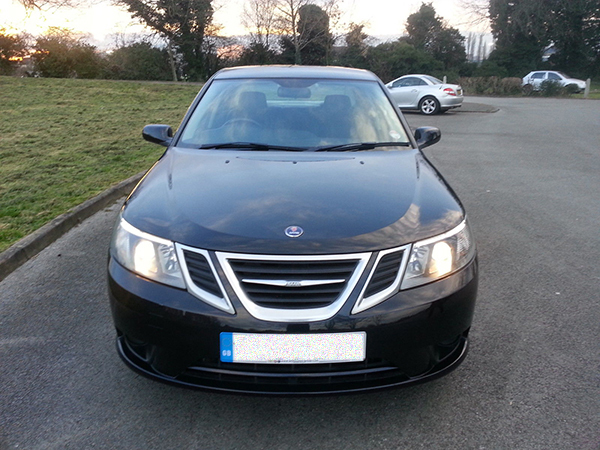 Owners of a Saab 9-3 can purchase a number of accessories to increase the functionality and security of their cars. Because the car accessories product segment is so large, buyers have the option, in many cases, to purchase Original Equipment Manufacturer (OEM) accessories released specifically by Saab or aftermarket accessories offered by third-party manufacturers. Saab's OEM products are often more expensive than aftermarket items, but provide buyers with fittings tailored to the dimensions of a Saab's components. Aftermarket accessories, on the other hand, use universal components that adapt to any car of a particular size. In general, adding accessories to a Saab 9-3 does not affect the car's warranty, but buyers should check the conditions of their warranty agreements before outfitting their cars with accessories that require modifications. These modifications can include permanent adaptations to a car's components, like drilled holes in a car's panelling, to accommodate the mounts of certain types of accessories.
Car accessories for Saab 9-3s are available locally at Saab car dealerships and auto specialty shops. Alternatively, buyers who prefer the convenience and variety of online shopping can use eBay Motors to source car accessories. Although accessories are offered to increase the customisation of a car, a number of accessories have achieved popularity for a wide range of people.
1. Racks
Racks are exterior accessories that fasten to a Saab 9-3 and allow buyers to carry items outside of their cars. When considering a rack for their Saabs, buyers have two choices that can be used in specific circumstances.
| | |
| --- | --- |
| Types of Racks | Features |
| | Bike racks attach to the boot of a Saab 9-3 and are developed to carry one or more bicycles securely |
| Roof racks | Roof racks attach to the top of a Saab 9-3 to provide buyers with additional cargo hauling capacities |
Unless buyers plan to carry bikes and cargo frequently, they typically prefer to take their racks off of their vehicles when they are finished hauling their equipment. Because of the focus on adaptability, buyers should research how easy it is to remove racks before deciding which type of rack to purchase.
Rack Installation Issues on the Saab 9-3
When comparing rack models, buyers should be aware of the different types of installation methods that are employed to attach a rack to their Saabs. In some cases, a rack can be added to a vehicle using mounts designed to fit within a Saab's external components. For example, a bike rack may include fittings that can be mounted within the Saab's factory-installed side rails. In other cases, however, drilled holes are required to install a rack. This is particularly found with racks that are designed to carry a significant amount of weight. Buyers who are handy with tools can add these drill holes themselves, but buyers who lack metalworking experience should consult an auto body specialist to have the drill holes added to their vehicles professionally.
2. Roof Boxes
Roof boxes are offered in many styles and sizes that allow Saab 9-3 owners to increase the amount of storage space available on their cars. Buyers generally purchase roof boxes to carry luggage, sporting equipment, or other bulky items, but a roof box also comes in handy when transporting smaller items that are dirty. By placing soiled items in a roof box, buyers can be assured that the interior of their Saab 9-3s remain stain-free. Roof boxes are released in small, medium, large, and extra large sizes. Before buying a roof box model, buyers should check to see if they need a roof rack to install the box. Depending on the features of the roof box, it can include its own mounting system or rely instead on attaching to a pre-installed roof rack. Loading options for roof boxes include single side openings and dual side openings. Single side openings can only be accessed from one side of a Saab 9-3, while dual side openings are accessible from both the driver and passenger sides of a car. Roof boxes are not permanent attachments to a Saab 9-3, so owners can conveniently detach a box once they are finished using it.
3. Animal Guards
For Saab 9-3 owners who need to transport pets, animal guards can be a beneficial car accessory. Animal guards limit a pet's movement within a car and create a safer driving experience for buyers. To stay in place, an animal guard has a metal frame that surrounds either a metal grille or a mesh partition. The guard is installed between the interior roof and floor of a Saab 9-3 immediately behind the car's front seat. This placement stops pets from jumping into the front seat, which can cause hazardous driving conditions.
4. Sun Shades
Sun shades are useful for Saab 9-3 buyers in a number of ways. The most obvious benefit is the cooling effect sun shades provide on hot days. By placing a reflective sun shade in the car window that receives the most direct sunlight, buyers can significantly lower the amount of heat that builds up within their cars. Sun shades also prevent the discolouration that can be caused on soft surface materials that are exposed to direct sunlight over long periods of time. Sunlight is particularly harmful to fabrics and leather, and can cause noticeable bleach spots on car seats and other interior components. By using sun shades, Saab 9-3 owners can significantly cut down on the likelihood of bleach spots occurring within their cars.
5. Car Tracking Systems
Car tracking systems allow Saab 9-3 owners to track the movements of their vehicles. This can be especially helpful in case a Saab 9-3 is stolen. Car tracking systems have passive and active tracking capabilities or a combination of both types of tracking. Passive tracking permits owners to manually remove a tracker and download its travel data points so owners can see where the car has been since it was last checked. Conversely, active tracking utilises GPS data and proprietary software so Saab 9-3 owners can see where their cars are located in real time. Some GPS-capable tracking systems also provide owners with speed data and can warn owners of speeding if their cars are going over a road's designated speed limit.
6. Car Immobilisers
Car immobilisers are anti-theft devices and are designed to stop a theft from occurring in the first place. To function, a car immobiliser monitors the type of key used to turn on the ignition of a Saab 9-3. If a key does not contain the correct security chip, the car immobiliser prohibits the car's engine from starting. Buyers interested in purchasing car immobilisers should consult their car insurance agents before adding a device to their cars. In some cases, outfitting a car with an immobiliser decreases the cost of car insurance because it prevents auto theft.
7. Security Sensors
Security sensors provide an extra set of eyes for Saab 9-3 drivers. To do this, the sensors utilise magnetic waves or radio waves to scan a car's blind spots for obstructions. An alarm sounds, warning a driver of objects if an obstruction is detected. When shopping for security sensor kits, buyers have many options to purchase kits with special features, like video cameras that allow a driver to see areas around a car. Unfortunately, added features increase the cost of security sensors, so buyers should evaluate the benefits a feature can provide against its cost before choosing a sensor kit to purchase.
How to Buy Saab 9-3 Accessories on eBay Motors
Buyers interested in a wide variety of car accessories for their Saab 9-3s can visit eBay Motors to browse through an extensive selection of purchasing options. eBay Motors carries an array of accessories for a car's exterior or interior, as well as accessories developed for security or touring..
To find Saab-related accessories quickly on eBay Motors, buyers can perform focused keyword searches. For example, typing the keywords " Saab 9-3 wing mirror extenders " into eBay's search field results in a concise listing of all of the items on eBay Motors that match that description. Since car accessories on eBay Motors can benew or used,, it is advisable for buyers to read the details in eBay's product descriptions before purchasing any accessories. This ensures that buyers have a clear understanding of the conditions of the items they are purchasing. If buyers opt to purchase aftermarket accessories instead of OEM accessories released specifically for the Saab 9-3, they should also review the size dimensions of any potential purchases. This helps buyers avoid purchasing accessories that cannot fit into, or onto, their Saab 9-3s securely.
Conclusion
Saab 9-3 owners can customise their vehicles by adding a number of useful accessories to their cars. In most cases, installing a car accessory is simple, but weight-bearing accessories may require a professional auto body specialist for proper installation. Before opting to add an accessory to their Saab 9-3s, buyers should check both the warranties and insurance policies of their cars to see how an accessory installation may affect their coverage.
The car accessories market is very large, so buyers have a myriad of options when choosing the types of accessories to add to their Saab 9-3s. Car racks and roof boxes can help buyers increase their cargo hauling capacities and keep their car interiors clean. Sun shades can decrease the hot temperatures often found in a car on warm days and the damaging effects direct sunlight has on some Saab 9-3 components. Car tracking systems, immobilisers, and security sensors increase the safety of driving and prevent auto theft. Once buyers have identified which types of car accessories are most valuable for their Saab 9-3s, they can visit eBay Motors to access a large selection of accessories with various features that can make installing and using accessories easy.