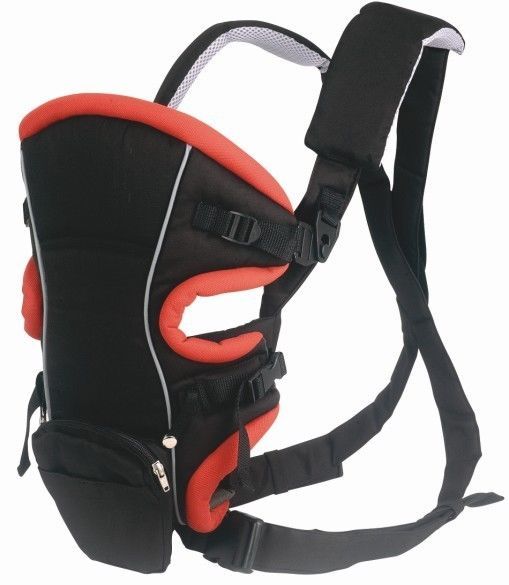 Baby carriers , also known as baby backpacks, are popular with many parents as a way to keep children close without having to carry the babies in their arms. When shopping for a baby carrier, there are various factors to consider. One of the most important things to consider is the child's safety. Some carriers can be used for newborns on up to toddlers, but other models are designed for specific ages. There are some basic carrying positions that are common with carriers, and some carriers allow the wearer to hold the baby in a number of different positions. Some carriers are also better suited to certain activities, so the buyer should take that into account, as well.
Buyers can choose from different models of carriers, such as ring slings, soft structured carriers, and pouch slings. Baby carriers also come in a wide range of fabrics, both natural and synthetic. A buyer should always look for a carrier that is the right choice for his or her child. Both online marketplaces like eBay and brick and mortar baby retailers typically offer a nice selection of baby carriers.
1. Safety
Safety is one of the most important factors when choosing a baby carrier. It is a good idea to read product reviews to see what other buyers have said about a baby carrier before purchasing it. A buyer should always follow the safety instructions from the manufacturer. Before use, the wearer should always check that the carrier is in excellent condition and that none of the parts are broken or damaged. Some baby carriers do not provide the proper support for newborns, so buyers should make sure that it provides enough support for a specific child.
2. Child's Age
The child's age is a definite factor when choosing a baby carrier. Some carriers provide extra support for newborns. Parents with newborns may want to purchase a ring sling or a pouch, both of which make it easy to nurse. Other carriers are larger for toddlers who can support themselves. Some models can actually be adjusted so that they continue to be usable as a child grows. Some carriers require the child to have head and neck control to be safe, so the buyer should check to see if a carrier model requires this.
3. Materials
A buyer should consider the materials that are used in the baby carrier, including the fabric. Baby carriers typically come in a variety of natural and synthetic materials. The buyer may want to go with natural fabrics since most carriers touch, and possibly even rub, the baby's body and face. Layers of synthetic fabrics and excessive padding also make the carrier hotter for both the wearer and the baby. The materials are close to the baby, so a buyer should be careful about choosing fabrics and make sure the child is comfortable. Some carriers are made with eco-friendly or organic materials, as well.
4. Size
Different aspects of the size of the carrier have to be considered. The size of the child should be considered before purchasing a carrier. If the buyer wants a carrier that is designed to last, he or she can get an adjustable one . One should also consider the size of the wearer. Some carriers can adjust to fit wearers with different body shapes, while other carriers come in small, medium, and large sizes. If the carrier is used by parents or other caretakers with different body shapes, it may be a good idea to look for an adjustable carrier.
5. Carrying Position
The buyer should think about how he or she wants to carry the baby before purchasing a carrier. The five major carrying positions are front outward facing, hip, back, hammock, and front forward facing. Older babies and toddlers often like positions that allow them to see things, including a hip position, front outward facing position, or back position.
Position

Description

Provides plenty of support for newborns

Front Outward Facing

Allows the baby to face the wearer

Great choice for older babies who have head support

Front Inward Facing

Lets the baby face the wearer

Good option for newborns and slightly older babies

Hip

Natural hip carrying position provides additional support

Suitable for both infants and toddlers

Back

An excellent position for older babies, toddlers, and infants
A buyer can find a carrier that works in one position or in multiple positions. The buyer's preference should depend on a number of factors, including the size of the child and the wearer's and the child's comfort. A buyer might want to test out a few different carriers to see what he or she prefers.
6. Climate
Although climate may not seem important when buying a baby carrier, babies are very sensitive to temperatures. All carriers make it warmer for the baby, so for warmer climates, a buyer may want to find a carrier made of cotton or other breathable fabrics. For colder climates, the buyer may want a lighter carrier that can be worn under the wearer's coat. The buyer can also consider carriers with plenty of padding or that are made out of a warm fabric, such as fleece. For convenience, the buyer may want to look for fabrics and styles that are machine washable.
7. Lifestyle
The buyer should also think about his or her lifestyle when purchasing a baby carrier. As an example, the buyer should think about the activities he or she would be doing when wearing the carrier. A caretaker can do a number of activities while wearing a baby carrier, including hiking, walking, gardening, and housework. They can also be worn to put a baby to sleep.
Styles of Baby Carriers
There are various styles of baby carriers on the market. Some of the choices for a buyer include a soft structured carrier, a pouch sling, and a ring sling. These are just a few of the most popular models that are available. It is possible to find other types of carriers, as well.
Soft Structured Carrier
A soft structured carrier that has buckles is easy to adjust. These carriers are often suitable for babies from infants to toddlers, but it depends on the brand. Some other features a buyer may want to consider are extra support and padding or reversible colours. The carrying positions for these carriers depend on the brand, although all of them have a front upright carrying position.
Ring Sling
Ring slings are very versatile and can be used in a variety of carrying positions. This kind of carrier has a length of fabric that is put through rings on one end of the fabric and secured through the rings. It may also have a trailing length of fabric that can be used to shield the baby from the wind, rain, or sun or serve as a privacy cover when nursing. Ring slings often have a padded band and come in a wide variety of fabrics.
Pouch Sling
A pouch sling is very easy to use, so it is a popular choice. This kind of carrier is usually made of a loop of fabric with a pouch for the baby. Although it depends on the brand, pouch slings can usually be used for newborns all the way up to toddlers, and it is a very good option for newborns. This kind of sling provides support with a piece of fabric that goes over one shoulder and across the wearer's back.
Finding Baby Carriers on eBay
You should take advantage of the different search options that are available on eBay when shopping for a baby carrier. One of the best tools to check out is the search tool. You simply type keywords, such as 'front carrier' into the search box. If the number of listings on a search is huge, you can narrow down your search by using the category tools or other filters. This is just one of the search options available when shopping for baby carriers on eBay, but it is probably the easiest to use.
You should also learn about the feedback tool on eBay. After buyers purchase an item, they can leave feedback and let other buyers know about their experiences with a seller. Before making a purchase, you can check the feedback that other buyers have left in order to feel more secure about making a purchase. When checking feedback, you should look at both the amount and the quality of the feedback. After you have purchased an item, you can leave your own feedback to help future buyers have a better buying experience.
Conclusion
Baby carriers are a great way for a parent to take care of a child, but it is important to get the right carrier for a family's needs. Safety is always the first priority when looking for a product for a baby. The buyer should consider the fabric choice for comfort and for safety because it will be very close to the baby. Young children are very sensitive, so the climate and the types of activities that will be done when using the baby carrier also need to be taken into account. Some carriers are more rugged, which makes them perfect for outdoor activities.
There are various styles of baby carriers available, including ring slings and soft structured carriers. These styles may be better suited for certain ages, such as newborns or toddlers, so a buyer should check the manufacturer's recommendation. When a buyer takes his or her needs and the baby's needs into consideration, he or she can easily purchase the right kind of baby carrier.