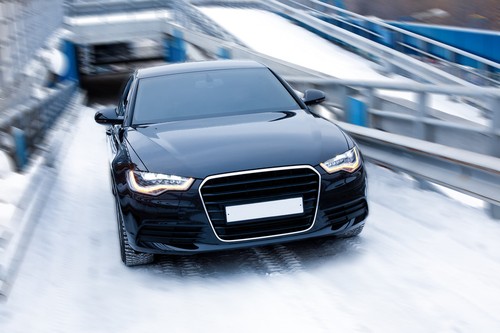 Traditionally, a sports car is a small, two-door vehicle that is designed for easy manoeuvrability and high performance. However, modern day sports cars come in a variety of sizes, often have four-doors, and are usually categorised as such because of their powerful engines and minimal weight. While sports cars come in a range of common colours, consumers can often find sports cars in hues and shades that are not available in more practical types of cars. Additionally, some manufacturers produce cars that are not traditionally sports cars but rather are modifications of regular-performance cars such as sports compacts, sports sedans, and muscle cars. On the modern markets, these automobiles are often considered "sports cars".
For consumers interested in a sports car, but are on a budget, a used sports car is a practical and affordable option to explore. Used sports cars are available at used-car dealerships and online at websites like eBay. Buyers interested in a used sports car should consider the following seven factors before making a final purchase.
1. Find Out the History of the Used Sports Car
One of the most important facts to consider before purchasing a used sports car is determining the history of the vehicle. The history of a car is often available from reporting agencies, online databases, and personal records. Researching the history of a used sports car allows consumers to learn a number of different things about the vehicle they are interested in purchasing including factors such as the following: past accidents, flood damage, odometre rollbacks, lemon histories, junked titles, emission inspection results, and vehicle use. Some extensive history reports or records might indicate service and repair history. All of these things impact the overall value of the used sports car, and should give consumers a better idea of how the used sports car is going to function in the future.
2. Research Different Models of Used Sports Cars
There are a variety of different used sports cars available for purchase on the market today. Consumers should do some research into the different models of sports cars on the market to narrow down the options that they are attracted too. Further, some sports cars are more prone to mechanical and technical problems than others. Additionally, some used sports cars are typically more expensive than others. Luxury names likePorsche,, BMW,, and Lamborghini are going to offer more expensive options, even as used vehicles. On the other hand, brands such as, Honda,, Mitsubishi , and Toyota,, generally have more affordable options on the used sports car market. The following chart compares a few used sports car models that are available on the used car market.
| | | | |
| --- | --- | --- | --- |
| Manufacturer and Model (Standard) | Engine | 0 to 96 time (kilometres per hour) | Horsepower |
| | 2.0-litre turbo four-cylinder | Less than five seconds | 286 |
| | 2.0-litre | 6.1 seconds | 167 |
| | 4.2-litre V8 engine | Less than four seconds | 430 |
| | 3.8-litre turbocharged six-cylinder | 3.5 seconds | 350 |
This is just a small snapshot into the world of used sports cars. This chart should not substitute for individual consumer research.
3. Calculate a Budget
There are many used cars available for purchase at a wide range of different prices. In order to help narrow down the selection and make the whole process less overwhelming, consumers should consider setting a budget beforehand. Generally, the easiest way to do this efficiently, is to set an ideal price at the low end as well as a maximum price at the high end. The ideal price is the lowest deal that is realistically available in an ideal situation, taking into consideration all other factors. On the other hand, the maximium price is the highest price a consumer is willing to pay, given that the used sports car has everything else the consumer is looking for in a vehicle. Setting this budget range helps a consumer make the best use of their time and energy when looking to purchase a used sports car.
4. Purchase From a Reputable Seller
Whether buying from a dealership or an individual seller, it is important that the specific seller that a buyer is purchasing from is reliable, reputable, and trustworthy. If a seller has all of these characteristics, it is a lot more likely that it is a used sports car that a consumer is potentially interested in purchasing. Be sure to also ensure that it meets the vehicle's description and history advertised. A reputable seller should be forthcoming with any requested documents about the used sports car including, use, past owners, and maintenance.
5. Consider Test Driving the Used Sports Car
If possible, an important factor to consider is whether a consumer has the option of test driving the used sports car. Even if a buyer is purchasing a used sports car from a reputable seller, there are always characteristics of a vehicle that are only apparent when actually driving the car. Further, driving potential used sports car gives buyers a better idea of whether or not a used sports car is right for them.
All cars drive a little differently, handle road conditions differently, and generally have varying features. For a large investment such as purchasing a used sports car, it is optimal for buyers to test drive the car first. Buyers should test drive the vehicle on the type of roads, and during similar conditions to where the car is normally set to be used in. Additionally, buyers should consider test driving another new vehicle of the same model to compare how the used sports car drives.
6. Consider Having an Auto Mechanic Check the Used Sports Car
Even if a consumer has all of the relevant paperwork, has a full history of the vehicle, and has test driven a potential purchase, a buyer should also consider having an automobile mechanic check the used sports car before making the final purchasing decision. Professionals often see issues and problems with used cars that are not visible or readily apparent to the everyday buyer, or often even the seller.
Automobile mechanics often spot engine issues, transmission problems, and underlying rust. With a large number of used sports cars on the market, consumers should not settle for a used sports car that already has a host of mechanical problems. Taking a potential purchase to an auto mechanic often helps sort out the prospective purchases from the prospective problems.
7. Determine the Used Sports Car's Value
In addition to the sticker price, consumers should also consider a used car's actual value. In addition to the history of the car, it is also important to examine the used sports car's kilometres and age. Typically, sports cars lose most of their value in the first two years. Therefore, consumers should aim to purchase a used sports car that is between two and five years old. Similarly, the more kilometres a used sports car has on it, the more the value depreciates. Consumers should aim to purchase a used sports car with less than 16,000 kilometres . As the age and kilometres of a used sports car increases, so do the maintenance and repair costs, even in a well-cared for vehicle.
How to Buy a Used Sports Car on eBay
There are thousands of used sports cars available for sale on eBay. The options range from the relatively affordable Pontiac Solstice , to the luxury Ferrari Spider . Regardless of what sports car you are in the market for, eBay has a selection of used vehicles to meet your needs. Let's say you are interested in checking the availability on the Mazda MX-5. Simply navigate to the eBay website portal and type Mazda MX-5 into the keyword search found on any eBay web page. After you click the search button, a list of options in a variety of colours is then populated for you. You can use this exact method to locate any model or make of used sports car you desire on the eBay website portal.
Regardless of budget, purchasing a used sports car is typically a significant financial investment. As such, it important that you can trust the seller that you are dealing with. To help put you at ease, eBay has created a Top-rated seller identification system. Sellers with this label typically deliver consistently well, provide accurate product descriptions, and charge fair postage. Additionally, Top-rated sellers have participated in at least 100 trouble-free transactions over the past year with a 98 per cent positive feedback rating. This feature is just one way eBay helps you consider the reputation and reliability of your used car seller.
Conclusion
As the the concept of the sports car has evolved from its inception, so have the models manufactured by a number of different automobile companies. While most modern sports cars still have a high-powered engine and ideal handling, they also come in a variety of shapes, sizes, and colours. Additionally, both bargain brands and luxury brands produce the highly coveted "sports car".
While not everyone can afford or even desire a new sports car, once a buyer opens the door to the used car market, the possibilities become much broader and user-friendly. Used sports cars cover a range of makes and models and cover the spectrum in age, kilometres, and history. As a result, it is important that a consumer goes into the purchasing process equipped with a number of factors to consider when shopping for a used sports car. These factors range from what models are available, to how to determine a used sports car's value, all of which can be accomplished by using eBay.