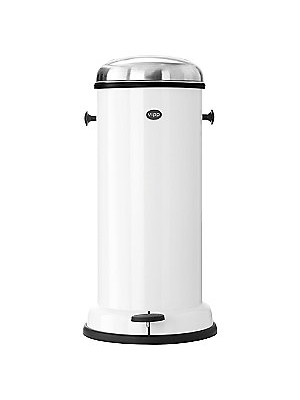 With new technological innovations being made every day, it is no wonder that these filter down into the most basic items in our lives. Electronic rubbish bins – also known as automatic or intelligent bins – are fast becoming a popular way to store rubbish, with new features and advantages over the usual metal and plastic bins present in many homes.
With this guide buyers will be able to understand the various features of an electronic rubbish bin, as well as how to buy bins on eBay – the site with the largest market online.
Electronic Rubbish Bin Features
There are many features of an electronic/ automatic rubbish bin – physical features, effects, advantages and disadvantages that need to be kept in mind when considering buying an electronic bin. The main features of electronic rubbish bins are:
Sensor
The main feature of electronic rubbish bin, there are motion sensors built into the sides or bottom of the bin to detect any movement nearby – such as a hand or foot – and allow automatic, touch-free lid opening.
Advantages:
· Touch-free sensor allows the bin to opened when hands are full.
Disadvantages:
· An over-sensitive sensor means that bin can open too frequently or when not needed – many sensors are at a reachable height for young children who may set off the sensors on purpose.
· A bin that opens too often when not needed will drain the battery a great deal.
Automatic Lid
The infrared sensor enables an automatic opening and closing of the bin lid, without the user needing to touch any part of the bin itself.
Advantages:
· The automatic opening of the bin means that the user does not have to touch the bin, preventing the spread of any contamination.
· Automatic opening allows the user to open the bin even when their hands are full.
Disadvantages:
· Automatic lids be programmed with a timed response – rather than staying open as long as the infrared beam is broken – so the bin may start closing even when it is still needed.
Override
On many bins, the infrared sensor and automatic opening can be overridden with open and close buttons on the control panel of the bin.
Advantages
· The bin can be commanded to open even when the sensor has not been alerted, allowing for the storage of large rubbish.
· If sensor is damaged, or bin is not responding correctly it can still be used without having to physically open the lid.
Disadvantages
· Use of the override means that the buyer has to touch the bin, which may not be hygienic.
Inner Bin
Many electronic rubbish bins contain an inner bin or ring to contain rubbish or rubbish bags, putting an extra layer between the user and the stored rubbish.
Advantages
· The removable inner bin or ring prevents rubbish from getting onto the outside electronic bin – protecting the sensitive electronics and sensors from damage.
Disadvantages
· The inner bin is smaller than the outside bin, so bins with inner bins do not have as much storage space.
Tight Seal
The design of the lid of electronic rubbish bins creates an incredibly tight seal around the top of the bin, much like non-electronic touch top bins.
Advantages
· The tightness of the seal keeps any smell from the rubbish trapped inside the bin.
· The seal keeps the contents of the bin firmly inside, keeping the bin's exterior hygienic.
Disadvantages
· By necessity, the bid lid is quite small to make the seal effective – so the user may have trouble putting large items in the bin.
Compartments
Some electronic rubbish bins have several compartments for different items, often divided for recycling purposes with sections for paper, metal and plastic.
Advantages
· The separate compartments can make recycling very easy, with rubbish stored in the same place, but in the correct compartment and ready to be set outside for collection.
Disadvantages
· Bins being divided into compartments may mean that the individual bins themselves are smaller, meaning they must be emptied out more frequently.
Batteries
Batteries, usually large 'D' size – power most electronic rubbish bins, though some can be charged through an adapter.
Advantages
· Bins do not need to be plugged into the mains, allowing the buyer to put the bins anywhere in the building without have to find a nearby power outlet.
Disadvantages
· Depending on how often it is used, the batteries may need to be replaced frequently to keep the bin working effectively.
· Batteries are a more costly power source than mains power, particularly if they need to be replaced frequently.
These are the main seven features of an electronic rubbish bin, and the buyer should be keeping these features in mind when they are searching electronic bin listings online. It is important to consider what features are of particular importance and focus on those that offer this feature – designs of electronic rubbish bins vary and the buyer may find that some models offer variations or even completely different features.
Things to Consider When Buying an Electronic Rubbish Bin
There are many things to must be considered when buying electronic rubbish bins besides the features. In particular, factors such as size, convenience and even hygiene need to be taken into account before the buyer can start looking for the perfect electronic rubbish bin.
Hygiene
The increased hygiene benefits of electronic rubbish bins is an important buying factor for many people, with the design of bins geared towards keeping cross contamination to a minimum. However, hygiene can be as important or unimportant as the buyer needs it to be – many shoppers purchase electronic rubbish bins for their convenience.
Hygiene will likely be an important factor to those buyers purchasing a bin for use in the kitchen, or in busy households where a risk of cross contamination is higher. However, those buyers purchasing bins who are not concerned about hygiene can focus on other aspects of electronic rubbish bins such as the convenient sensors and automatic lids.
Location
Electronic rubbish bins are used in many different locations – kitchens, bathrooms, bedrooms and offices – and the location will often decide what kind and size of automatic bin needs to be purchased. In the kitchen there may be a large bin for general rubbish, a compartmented bin for recycling, or even a small automatic swing bin attached to a cupboard door and tucked away.
Size
There are many different sizes of bin available – ranging from some as small as 12 litres to 50 litres and more. When looking at electronic rubbish bins the buyer should decide on how much rubbish the bin will need to store, and more importantly where the bin will be. Location is key – kitchen rubbish bins often need to have a larger capacity than office rubbish bins due to the kitchen seeing more use by more people.
What will be more convenient for the buyer is important, as larger bins need to emptied less often they can take up a great deal of space; the buyer should decide on the purpose and size of the bin needed before searching.
The buyer should consider what features and factors are of particular importance to them before searching – is convenience more important than hygiene, for example? Needs vary from person to person, and different electronic rubbish bins will suit different buyers with different needs.
Buying an Electronic Rubbish Bin on eBay
Now that the buyer as all the different features and considerations in mind, they can begin to search for the ideal electronic rubbish bin. eBay is the perfect place to start the search, with a wide variety of types, sizes and designs available at a range of prices. When searching for electronic rubbish bins on eBay, the buyer should keep in mind:
Price – there are many electronic rubbish bins available on eBay at a variety of prices, and the buyer can use the search preferences to display search results within their budget. There are many rubbish bins available at Auction or Buy It Now, allowing the buyer a great deal of flexibility when purchasing.
Size – there is a great range of sizes of electronic rubbish bin to suit every room and need, and the buyer should consider the capacity they will need before searching. Buyers can then use the search bar to indicate their preferred size.
Local Sellers – buying an electronic rubbish bin from a local seller is an ideal way to keep shipping prices down, especially when buying a bulky item like a bin.
If the buyer needs any more advice on searching eBay, they should make sure to consult eBay's Search Tips page for guidance on how to get the perfect result from a search. If the buyer is uncertain about any of the items they see listed, they should not hesitate to ask the seller any questions they may have.
Conclusion
With all the innovative features included in their design, electronic rubbish bins can be a great help in any room, whether at home or in the office. With this guide buyers will be able not only to understand more about the features and benefits of an electronic rubbish bin, but also understand how to find the ideal size and type for the perfect price on eBay.
When searching for electronic rubbish bins on eBay, buyers should keep in mind the additional benefits of purchasing bins using PayPal, eBay's recommended way to pay with added eBay Buyer Protection.