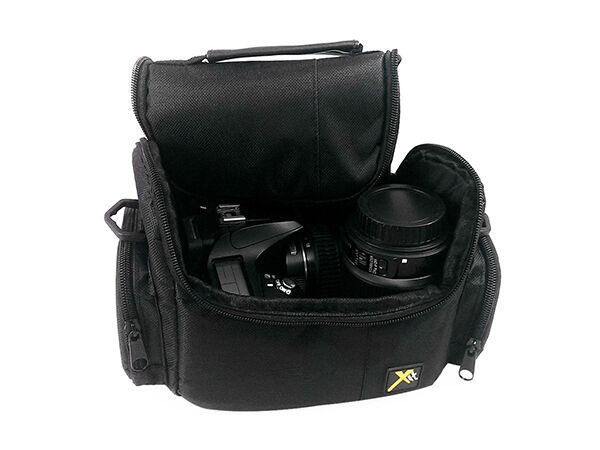 Modern digital cameras are designed and manufactured with precision, and they have numerous small and fragile components. They are technologically very advanced, and as a result they can be expensive to purchase. This, combined with the fact that they can be easily dropped and damaged, makes a protective case an essential purchase for most camera owners. However, there are many different camera cases available to buy, so it is important to be aware of the seven most important features to look for in a protective camera case.
1. The Various Sizes of Protective Camera Cases
Protective camera cases are available in many different sizes to fit the wide range of cameras found in the marketplace. A compact digital camera takes up far less space than an SLR , for example. Some protective cases that are available are made for specific cameras, which can often be the best choice for owners of those particular models. The fact that the camera and case fit perfectly together means that the former will always be well protected. When buying any protective camera case, it is essential to check beforehand that it will fit snugly around the device it is designed to protect. If the case is too small, it will be difficult for the camera to fit inside it, and if it is too big, there will not be adequate protection around the camera's edges.
2. Protective Camera Case Compartments
Regardless of the size of a protective camera case, there will often be compartments for various pieces of photography equipment. In small cases for compact digital cameras, there may only be a pouch to store a spare memory card or possibly a USB cable for connection to a computer. In larger cases, such as those used by professional photographers, there will usually be individual compartments for various types of lenses and flashes. Any purchase of a protective camera case will therefore depend on the needs of the buyer and the specific equipment that is to be stored and protected.
3. The Texture of Protective Camera Cases
Protective camera cases can have either a hard or a soft exterior, and each type has its advantages and disadvantages. Soft cases tend to be less expensive and lighter to carry, but harder cases offer much greater levels of protection. Hard cases are typically made from rigid plastic or aluminium for professional photographer's cases. Soft cases can be made from a variety of materials, such as canvas, leather, nylon, or neoprene synthetic rubber.
Ideally, protective camera cases will be shockproof, a feature which involves combining a hard outer shell with a plentiful amount of padding inside the case. It is a frequent occurrence for people to drop camera cases as they are carrying them, but a shockproof case will prevent any damage occurring to the camera inside. In addition, cases are often stored in backpacks or suitcases when travelling, meaning that it is very easy for them to move around and come into contact with other items. A shockproof case absorbs the impact, leaving the camera inside perfectly secure.
4. The Weatherproof Nature of Protective Camera Cases
It is important for camera cases to protect not only from accidental damage, but also from the elements. The frequency with which cameras are used outdoors means that they must be protected from the sun and rain. When a camera gets too hot its functionality can be impaired, and it is easy for this to happen when a camera is left lying in the hot sun while on holiday, for example. Similarly, rainwater or any spilled liquid can affect a camera's inner workings if it comes into contact with it.
Each of these problems can be solved by buying a suitable protective camera case. There are many waterproof cases available that not only protect against the rain, but also in some circumstances can be used for underwater photography. Other types of protective camera cases, such as those made from neoprene, offer heat protection. Furthermore, some cases protect cameras against dust, which can impair performance if allowed to gather inside the camera itself. The material used in the production of a camera case will determine the type of protection that it offers, so it is important to consider the ways in which a camera will be used before buying a suitable protective case.
5. The Aesthetic Qualities of a Protective Camera Case
For some consumers, the way a protective camera case looks will be as important as how well it serves its protective purpose. Camera cases are available in a range of different colours and designs to suit all tastes. This means that it is very easy to buy suitable and stylish protective camera cases for children and teenagers. Cameras owned by these groups are arguably the most likely to become damaged as a result of being dropped or misused, making the purchase of a protective camera case an absolute necessity.
Every consumer will want their protective camera case to look as stylish as possible, in addition to offering the maximum level of protection. By comparing the variety of different designs that are available, it is possible to buy a protective case to suit any camera.
6. Carrying Options for Protective Camera Cases
The fact that protective camera cases come in many different shapes and sizes means that there are various ways in which they can be carried. Cases for compact digital cameras, for example, can easily be carried by hand, as they are small and light. Some even provide a strap that can be worn around the wrist for extra convenience.
Larger protective cases that are used to store extra equipment often come supplied with shoulder straps. These types of cases can either be worn over with a strap over one shoulder or as a backpack. Other camera cases include a belt to be worn around the waist. Some of the aluminium protective camera cases used by professional photographers resemble small travel suitcases. They have wheels for easy manoeuvring, and handles that can be extended. Other smaller versions have basic handles and are carried like a briefcase.
It is important to choose a style of protective camera case that not only adequately protects the photography equipment inside it, but that is comfortable to carry and convenient to use. Only in this way will it continue to be used and will therefore represent good value for money.
7. The Level of Security of Protective Camera Cases
A camera should always fit securely inside a protective case, and there should be no possibility of it ever becoming loose or falling out. The way in which a protective camera case closes, and remains closed, is therefore an important consideration when making a purchase. Most small protective camera cases fasten either with Velcro, with a zip, or with a stud button. These are all very secure fastening methods and are generally quite robust. Problems can develop, however, with the teeth of a zip fastener becoming damaged, and sometimes stud button fasteners can come loose from the protective camera case itself. It is important to confirm that no such problems exist before spending money on a case.
Protective cases for professional camera equipment usually have snap fastener security locks. Once again, these are very secure but should always be checked to ensure that they function correctly. In fact, when extremely expensive camera equipment is involved, it is advisable to purchase a case that is fully lockable to provide extra security. The whole point of a protective camera case is to allow camera owners to feel confident that their photography equipment is safe, and it is therefore vital that any fastener is strong and in good working order.
Buying a Protective Camera Case on eBay
The online retailer, eBay, has a large selection of protective camera cases to browse and purchase. In order to view the full range, it is necessary to navigate to the correct category from the homepage. Firstly, clicking on All Categories will bring up a list of sub-menus from which Cameras & Photography should be selected. Clicking on Camera & Photo Accessories will bring up further options, one of which is Cases, Bags, & Covers. The search can be narrowed by choosing a selection from the Type menu on the left of the page, with examples including Compact Cases/Pouches, Hard/Pro Cases, and Wallets/Mini Cases.
Conclusion
Whether photography is a hobby or a professional vocation, it is important to protect expensive camera equipment as much as possible. Cameras can become damaged, sometimes irreparably, when dropped or subjected to heat, liquids, or dust. Protective camera cases are an effective and inexpensive way to prevent such damage from occurring. They can be easily purchased from eBay, where a large selection is available for every possible camera type.