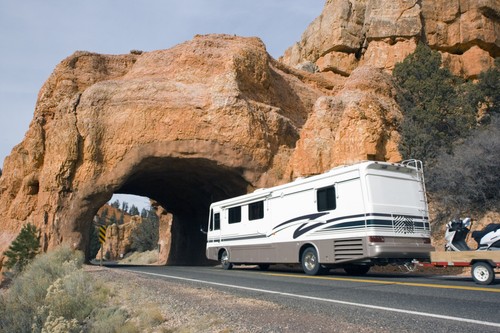 Travelling via motorhome is a great way to go, and it includes many of the luxuries of home including a place to sleep, small kitchen, and a restroom. Travelling in a motorhome means that drivers can save money on lodging expenses by simply spending the night in their motorhome or recreational vehicle. Before setting out on a motorhome adventure, there are some items that makes every journey safer, easier, and more convenient. Find items for motorhome travelling as well as motorhome accessories on eBay in many styles and for affordable prices.
Some items are purely for easy travelling, such as a porch awning to create a shady place to sit, and some are necessities of life on the road, such as kitchen items, cookware, first aid supplies, and flashlights. When it comes to purchasing motorhome accessories, buyers should ensure that they fit the specific model and make of motorhome before purchasing.
Item 1: Awnings
An awning makes relaxing outside the motorhome, or activities such as camping and fishing, even more enjoyable. Some awnings serve as an additional room enclosure, similar to the structure of a tent, and some simply provide shade on a hot, sunny day.
Patio Awnings
A patio awning slides out or folds out to provide some shade outside of the motorhome. There are awnings that can be operated with a button, and some that roll up. There are many types of patio awnings. Patio awnings come in many colours and many sizes to fit all types of motorhomes. Patio awnings are also called sun canopies. Sun canopies are not enclosed; they simply provide an overhead structure to add some shade to an area. They are easy to install and many are waterproof to protect vacationers from the elements.
Tent Awnings
A tent awning is larger than a patio awning, and it is almost like having an extra room in the motorhome, but it is outdoors. A tent awning is a great spot to have an insect-free meal, sleep in the outdoors without being disturbed, or have a spot to cool off inside the shade when it is hot outside.
These are also called porch awnings, and usually have a door that makes it easy to go outdoors from inside the awning. Some tent awnings are made similarly to regular camping tents, out of weatherproof material that is breathable and ventilated.
Chairs and Pegs
Some other items that consumers may need to enjoy their awnings and patio enclosures include pegs to ensure that the patio awning is stable, and outdoor chairs to sit in while enjoying the shady space. Outdoor chairs come in many varieties and are made of plastic, metal, or wicker materials. Folding chairs can be stored easily on the motorhome. Many Camping chairs have inbuilt cup holders for convenience.
Item 2: GPS
Travel of any kind is made easier with a GPS device or Satellite Navigation System (SatNav). Some popular GPS brands include Garmin and TomTom. A GPS has a screen that includes maps, and some brands have voice direction assistance. A GPS with a touch screen is easy to use, and is simple to install on the dashboard of a motorhome. When travellers are on vacation and driving through unknown areas, a GPS or SatNav device can make stopping to ask for directions an obsolete task, and provides the best routes available to get to the destination.
Item 3: Flashlights and Lanterns
If travellers are spending the night in a motorhome or camping outside of one, evening light is sorely needed. This can come in several forms, such as flashlights, which are always useful to have on hand when camping in an RV. Lanterns are useful too, which illuminate a larger space, such as under a patio awning or a campsite. Rechargeable lanterns save money on fuel and are more environmentally friendly. It may also be a good option to have candles and matches on hand for any type of emergency or power outage.
Item 4: Kitchen Items
Most motorhomes come equipped with a kitchen, and it pays to be prepared to fix meals while travelling on long stretches, or while parked at a campsite. The best rule of thumb for stocking the kitchen of a motorhome is to consider what the easiest and most convenient items are to prepare on the road or while camping.
Refrigerator
A refrigerator is a must. A motorhome refrigerator allows travellers to have everything they are used to having at home while they are on the road. Depending on the size of the motorhome, the size of the refrigerator varies. Generally, they are smaller than standard refrigerators and may not include a freezer option. Refrigerators are available for motorhomes in several different styles, including stainless steel and wood-panelled options.
Dishes/Supplies
It may be easier to use paper plates when travelling, but plastic dishware is still a good option for motorhome use. To make eating on the road easy and convenient, travellers should ensure they have all of the other necessary items too, such as cups, silverware, and paper towels or napkins.
Pots or small pans, towels and soap, and any other items needed for food preparation are good options to have on hand while travelling. An outdoor camping grill is a fun way to prepare food outside the motorhome and enjoy the camping experience even more.
Item 5: First Aid Supplies
Travelling and camping requires drivers to be away from home for an extended period of time, and safety is always a consideration. It is a good idea to be prepared for any type of situation that may arise while on the road by having a full first aid kit. First aid items should include bandages, antibiotic cream, medicines for an upset stomach, allergies, headaches, or fever, and plenty of insect repellent. Prescription medicines that may be needed for any of the passengers of the motorhome or the driver should be brought along as well.
Other items that may keep travellers comfortable and can be added to a first aid kit include sunscreen, lip balm, and cough drops. A thermometer is a good idea in case of fever, and a set of tweezers in case anyone should happen to get a splinter.
Item 6: Tools and Supplies
Driving in a motorhome may require some tools. It is best to have these items on hand in case they are needed. Some of the tools and supplies that consumers may need when travelling include heavy-duty toilet cleaner, jumper cables, a tyre pressure gauge, emergency flares, and any type of roadside assistance phone numbers, campground information, and any other pertinent information that can help drivers and passengers out while travelling.
Item 7: Entertainment
Driving for long stretches can get boring after a while. Travellers may want to make sure they have plenty of onboard entertainment, including MP3 players, a portable DVD player, tablet computers, eBook readers, and even some audio books or CDs.
Having some entertaining options makes the trip go by faster, and makes driving more enjoyable. Drivers should make sure they have all the necessary items needed to operate media items such as batteries, chargers, headphones, and any other peripherals that are necessary to enjoy using electronics over a long stretch of time.
How to Buy Motorhome Supplies and Accessories on eBay
Travelling in a motorhome is fun, exciting, and makes lodging inexpensive. The luxury of a motorhome may rival traditional motels or hotels, and many newer models include all of the luxuries of home. You can get everything you need to make your trip convenient and fun on eBay. Navigate to motorhome accessories where you can find items such as awnings, or head to camping supplies to get things for sleeping in a campground with your motorhome. Key in individual, specific items using any of eBay's internal pages, such as "flashlights", or search electronics to find ways to stay entertained on your journey.
Buy motorhome supplies, awnings, and electronics from reputable merchants who are Top-rated sellers, and when you have received your items and enjoyed a problem-free purchasing experience make sure and go back to the seller's page and leave positive feedback for your seller. This makes shopping easier for future buyers, and it helps alert the seller to any changes that need to be made to further perfect the purchasing process.
Conclusion
Motorhomes combine the best of both worlds: the convenience of a car and the luxury of a home. Travelling in a motorhome means that drivers and passengers have their lodgings already attached and camping is a cinch. Most motorhomes are equipped with beds as well as small kitchens, and many have all of the modern features that most homes have. Purchasing some supplies before travelling can increase the satisfaction of a journey, and ensure that travellers have everything they need on hand to make the trip even more successful.
Shopping on eBay for electronics, camping supplies, and motorhome accessories can save travellers money and ensure that everything that is needed is on hand during the trip. Driving a motorhome is fun and relaxing, and it is even better when consumers know that they have everything they need at their fingertips. Travellers may even want to pack tents, and camp outdoors in a motorhome campsite to enjoy the weather, and an awning provides the perfect spot for camping, which young travellers may enjoy.