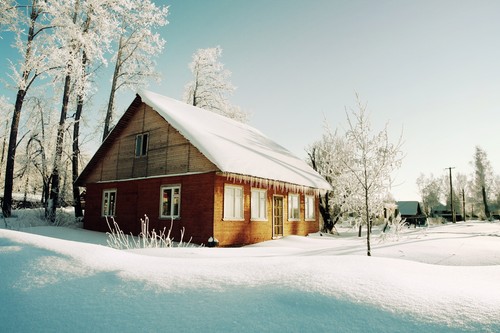 Christmas is simply a magical day. It is the time of the year when the family gathers to exchange gifts and eat to their heart's content. On this special day, kids open presents left in the stockings hanging by the fireplace or under the big Christmas tree. The board games left untouched for the past year are played at Christmas and everyone enjoys food, fun, and time together. Every penny spent on food and gifts for Christmas is well spent.
Many like to spend Christmas away from home. Some head to Southern Europe to escape the winter chill, while others embrace the frosty weather and head wherever they can be assured of a White Christmas. To accommodate the whole family on a Christmas holiday away from home, one needs a rented holiday house. A family or group planning to spend Christmas together in a rented house should have a checklist of items to pack for the holiday so they can be assured that nothing gets left behind. When listing the things to pack for a Christmas holiday, one should remember the food, cookware, the appropriate clothing, and a variety of other items.
1. Christmas Food
What is Christmas without traditional Christmas fare? Many self-catering rented houses are equipped with electric cookers, microwave ovens, refrigerators, and other kitchenware so guests only need to bring food with them. Guests can pack the cooking ingredients before leaving home or they can drop by a local store or any supermarket on the way to the destination. It is quite common in the U.K. to have a roasted turkey or goose, mince pies, Christmas cake, and Christmas pudding on the menu, and guests should stock the kitchen of the rented house with the ingredients for these meals.
Aside from Christmas food, guests should also bring the essentials such as coffee, bread, cereals, spices, and condiments. Many rented holiday houses put out welcome packs that include complimentary home baked goods and a variety of wines and soft drinks like juices, but guests need to make sure to bring along the basics when it comes to food, especially if they check in after the stores have closed for the day. In some rented houses there may not always be welcome packs in the offering, so guests who do not bring food along risk having to search out a grocery store at night in an unfamiliar town or village.
2. Kitchenware and Tableware
Most rented homes come equipped with kitchenware and tableware, but if the plan is to put on traditional Christmas lunch, the guest should check first with the owner of the house that the kitchen has all that is required to prepare this special meal. One needs to take into account what is on the Christmas menu in order to determine what utensils, plates, and platters are required. The preparation of Christmas lunch may require a pressure cooker or a special pot or pan, so it may be necessary to bring these along from home. It is important to contact the owner of the holiday house to find out what is available and what is not.
It may also be necessary to bring along special kitchenware that is traditionally used to make and serve the Christmas feast, such as an antique silver turkey platter or a Christmas-themed set of plates. In addition, simple kitchen items such as coffee filters and dish cloths should also be considered when listing items to pack for a holiday stay in a rented house.
3. Clothing and Personal Care Products
If Christmas takes a family to colder parts of the country, guests should not forget to bring winter clothes such as thick coats, scarves, pullovers, fleeces, hats, gloves, thick socks, and boots. If the family is opting for a sunnier Christmas, the packing list should include items such as t-shirts, underwear, sandals, jackets, trousers, shorts, jackets, and other appropriate clothing. Guests should also bring workout clothes. It is important to bring extra clothes in case the holiday is extended. Guests should also not forget to pack personal care items such as combs, shampoos and conditioners, a shaving kit, oral hygiene products, lip balm, makeup, tampons, and lotions. These simple items can prove expensive when purchased from shops in popular tourist towns and villages.
4. Electronics
It is highly unlikely that a traveller these days forgets his or her mobile phone at home. However, phone chargers are often forgotten when packing, so this particular item should be sitting near the top of the packing list. Although Christmas should be the time of the year for people to turn off their electronic devices and engage in actual activities with the family or friends, it does not hurt to bring a laptop or a tablet computer to the rented house. This way, family members can reach out to the people they left behind at and send out Christmas messages during the Christmas holidays. When photographing special moments at Christmas, it is always better to rely on a good standalone digital camera than the inbuilt cameras found on mobile phones. Do not forget to pack the device's charger as well as the manual in case there is a need for troubleshooting technical issues. Televisions and DVD players are usually provided at the rented house.
5. Medical-Related Items
A first aid kit for the family should always be packed when travelling, even if the owners of the rented house insist that they have one in the house. This is because a family's first aid kit does not only contain plasters, antiseptic, analgesics, antacids, and anti-itch creams but also specific prescription medications. Guests must also consider bringing laxative, polysporin, and antihistamine. Some people forget to bring vitamins and supplements when they go to a holiday house, so it is important that these items make it onto the list, too.
6. Documents
Guests may need a map with directions when they travel to the rented house. Also, a travel guide is needed to help travellers familiarize themselves with the various tourist spots and establishments in the area and to help visitors better understand the town or city where the rented house is located. For peace of mind, it is also important to bring medical prescriptions, vaccination documents, and travel insurance documents, especially if the family is heading to another country for their Christmas holiday.

7. Indoor Games
The Christmas season is a perfect time to bond with the family or group of friends, and renting a holiday house makes this easier. Indoor activities are perfect for the snowy afternoons, so guests should bring board games such as Monopoly and Scrabble. People can kill time while there is heavy snow outside or while waiting for Christmas lunch. Guests can also bring skis or ice skates so they can play outside during favourable conditions.
Summary of 7 Items to Pack for the Holiday House
The table below shows the seven necessary items to pack for a Christmas holiday in a rented house. The table also includes specific things that fall under these seven categories.
| | |
| --- | --- |
| Items | Specifications |
| Christmas Food/Food | Ingredients for roasted turkey or goose, mince pies, Christmas cake, and Christmas pudding; essentials such as coffee, bread, cereals, spices, and condiments |
| Kitchenware | Special or traditional kitchen items like a pressure cooker, special pot or pan, silver platters, Christmas-themed plate set |
| Clothing and Personal Care | Clothes for layering such as thick coats, scarves, fleeces, vests, hats, gloves, thick socks, and boots; personal care items like comb, shampoo and conditioner, shaving kit, oral hygiene products, lip balm, makeup, tampons, and lotions |
| Electronics | Mobile phone, laptop, tablet, camera, charger |
| Medical | First aid kit; polysporin, and antihistamine, vitamins and supplements, prescription medications |
| Documents | Travel guide/map, medical prescriptions, vaccination documents, and travel insurance documents |
| Games and Sports Equipment | Outdoor: skis, ice skates; Indoor: board games |
The table above is a quick list of important items to bring to a Christmas holiday home. Readers can personalise the list to suit their individual and family needs.
How to Find Christmas Holiday Items and Holiday Houses on eBay
Many Christmas holiday items are available on eBay, and with the site's easy to use search platform it only takes a few minutes to locate an item you are looking for. eBay allows the buyer to evaluate sellers by publishing sellers' feedback scores. The higher the seller's feedback score, the more likely he or she provides good customer service and communicates well with buyers..
Finding Holiday Rentals on eBay
Finding a holiday house on eBay is very easy. If you have a specific type of house in mind and know the destination, country, county, city or town, you can simply type keywords that describe what you are looking for into the search field on the homepage. For example, you can type 'holiday house in Cornwall' or 'cottage in France' into the search field. Another way to find rented houses on the site is to start your search on the main homepage and use various category filters to hone your search. Use the filter options to sort the listing until you have a preferred list of holiday houses to choose from. There are numerous holiday houses located all over Europe and many are listed on eBay.
Conclusion
Christmas is a very special occasion for many families. For this reason, there are families who rent holiday houses to bring the family together for the season. When renting a house for the Christmas season, one should prepare a checklist of items to bring to the rented house. Because visitors are going to a rented house to celebrate Christmas, food, particularly ingredients for Christmas lunch must be included in the checklist. Kitchen utensils and dinnerware should also be packed for the holiday, and this can include special trays and plates that people usually bring out during the Christmas feast.
Guests should also bring twice as much clothing, as they may need to bundle up during the cold weather. Also, the family should bring electronic devices like laptops and mobile phones so they can still connect to friends they left behind back at home. Medical items and important documents should also be on the packing list. Finally, one should also bring indoor games to entertain the family when it is very cold outside. It is important to have a checklist for items to pack for a Christmas holiday in a rented house to ensure nothing important gets left behind.