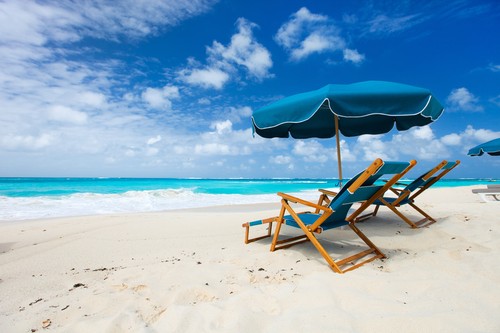 There is no vacation quite like a seaside vacation. Travellers can relax beside the sea on sandy beaches, take a dip in the pool, eat fresh seafood, and end the day by exploring beach nightlife. It is also a standard vacation destination for many families with children. That being said, packing for the beach, even if it is just a seaside short break, can get a little overwhelming. Oftentimes, items are forgotten and then must be purchased at the vacation spot for premium prices.
For travellers that are flying to their destination, packing smart means more than just saving storage space; it can help avoid costly baggage fees. Therefore, airplane vacationers need to stick to the basics. Car travellers have the luxury of being able to bring as many items that can fit into the vehicle. No matter how the vacationer travels, there are several beach items that are necessary for every packing list and can be bought on eBay.
Item 1: Tote Bag
Tote bags are almost always a necessary item to bring on a seaside vacation. This handy item can be used for hauling everything to the beach at one time. The best ones come with plenty of side pockets for sunglasses, sunscreen, and reading material. The large inner pouch can carry towels, snacks, and children's toys. A tote bag is ideal for anyone who is not staying right beside the ocean, since no one wants to make several trips in the hot sun in order to grab items from the hotel room.
The best tote bags are brightly coloured so that they stand out even in the middle of a crowded beach. Size is also important, and most tote bags are made out of extremely durable canvas that can stand up to high UV exposure without fading or warping the fabric. Even air travellers can take a tote bag along since it is easily folded and stored in a suitcase without taking up too much room.
Item 2: Wet Tote Bag
This is an item people tend to forget, and its importance cannot be understated. A wet tote bag is made specifically for hauling wet items like towels and swimsuits. Most travellers do not understand how crucial it is to bring one along until they have wet items that they do not want to pack alongside other goods in their tote bag. Stashing items in a wet tote bag keeps wet clothes separate from dry ones. There are even some models that look like small backpacks with wheels for easy portability.
If the traveller is flying, there is no reason to bring a large wet tote bag along since this results in a higher baggage fee. The alternative is to bring along a few empty grocery or trash bags in the suitcase. Wrap the wet items in the bag during travel to keep them separated while still only using one suitcase.
Item 3: Two Swimsuits
Even the most absent-minded traveller tends to remember his or her swimsuit when it comes time to pack. After all, the swimsuit is one item most people buy especially for the trip so it is usually the first one packed. However, travelling experts recommend bringing two swimsuits. This way the vacationer can wear the second swimsuit in case the first swimsuit is wet. Having two suits means you never have to struggle to slip into a wet and cold swimsuit ever again.
Since swimsuits are tiny, even airline travellers can follow this tip. Stay away from purchasing a swimsuit at the beach. Companies tend to overprice certain products at beach resorts, including swimsuits. Bring along two swimsuits, resist the urge to buy a new one at the beach, and save money for other vacation expenses.
Item 4: Sandals
The beach is full of sand, and while it is nice to lay on, it also has the habit of getting everywhere. Many beach goers have made the mistake of wearing sneakers or shoes to the beach and then being forced to spend time trying to pound the sand out of their shoes. Save some time and effort by bringing along a pair of sandals.
Sandals are relatively inexpensive as far as footwear is concerned. Even plastic sandals that are not known for their durability are fine for a weekend at the beach. Fashionistas do not have to feel left out either since sandals come in many different colours and styles, included small kitten heels that are fine for walking on sand.
Item 5: Beach Towels
The best beach towels are soft and large enough in size to lay on comfortably. They are essential for the beach since they do double duty by drying vacationers after a dip in the ocean and also giving them a place to rest. Brightly coloured towels work best for busy beaches since, like bright tote bags, they tend to stand out from the rest.
However, while beach towels are important, air travellers should not bring one unless they have extra room. Towels are large and heavy and can end up earning a traveller an overweight bag fee. Opt to go travel towel-less and instead use the towels provided by the hotel.
Item 6: Waterproof Gadgets
Cell phones are constant companions in the modern world, but if a vacationer just bought a brand new smartphone, he or she might want to reconsider taking it unprotected to the beach. Sand has a tendency to work its way into even the smallest crevices, and this can cause a phone to break. Not to mention that a slip by the pool can end with a submerged smartphone. The best way to protect against disaster is by purchasing a waterproof case. Not only does this save the vacationer from a potentially expensive repair bill, its use lasts far beyond the actual vacation itself.
While many people use their smartphones to take pictures and videos, there are still some travellers who prefer using traditional film cameras. The bad news is that many older models tend to be big and heavy, which rules them out for airline travel. Furthermore, it is rare to find a waterproof camera that does not cost a small fortune. However, there are disposable waterproof cameras available for very reasonable prices. Not only are these cameras not damaged by water, they also work underwater. Small and compact, they are great for taking underwater photos that last a lifetime.
Item 7: Sunscreen
If there is one item that travellers cannot forget to pack, it is sunscreen. Even an hour out in the sun under normal conditions requires people to put sunscreen on their face in order to avoid burns. Furthermore, many people who go to the beach on vacation are not exposed to the sun on a frequent basis, therefore revealing sensitive skin that needs to be protected. Combine these two ingredients together, and going to the beach without sunblock is the perfect recipe for a severe sunburn.
Experts say that for sunblock to be truly effective, it needs to have an SPF value of 45 or greater. Different brands and types use various SPF values.
| | | | |
| --- | --- | --- | --- |
| Type | SPF | Waterproof | Use |
| | 8 and higher | No | Tanning |
| Sunscreen | 30 and higher | Depends | Prevents Sunburn |
| Sun Block | 45 and higher | Depends | Prevents Sunburn |
| After-Sun Lotion | None | No | Soothes Sunburn |
Waterproof sunblock is also a good choice since it does not come off every time the person goes for a swim. For air travellers who have to account for every spare inch of space they can get, purchase travel size sunblock.
How to Buy Seaside Items on eBay
If you do not have some of the items mentioned on this list, eBay is able to provide you with an online shopping area full of discounted merchandise. You can pick up everything you need for a beach vacation in one single spot.
The best way to find items is to search for each one individually using the search engine. For example, if you are looking for a tote bag, then type ' tote bag' into the search engine. If swimsuits are what you are after, then type 'swimsuit' to pull up results. Many times the result list is too large, so try to narrow your search terms. ' women ' s swimsuit ', for example, only pulls up swimsuits designed for women in many different styles. If you want a particular style, then narrow down the search even more by searching for 'women bikini swimsuit' or whatever style suits your fancy.
Conclusion
A trip to the beach is always an adventure. While the actual vacation is relaxing, preparing beforehand can get stressful. Use the above tips to help keep packing problems down to a minimum. Airline travellers should only take the bare necessities to avoid hefty baggage fees, while those who are going by car have greater options when it comes to packing.
Certain items like sunscreen, swimsuits, and sandals should always be brought along no matter how the traveller is getting to his or her destination. Other items like towels or a wet tote bag depend on how much room is available. Avoid buying expensive items at the beach by taking the time to pack early and wisely. A few well-planned items can help make the vacation go smoothly, giving travellers the time to enjoy their vacation without having to run from store to store in a desperate scramble to find items they forgot back home.