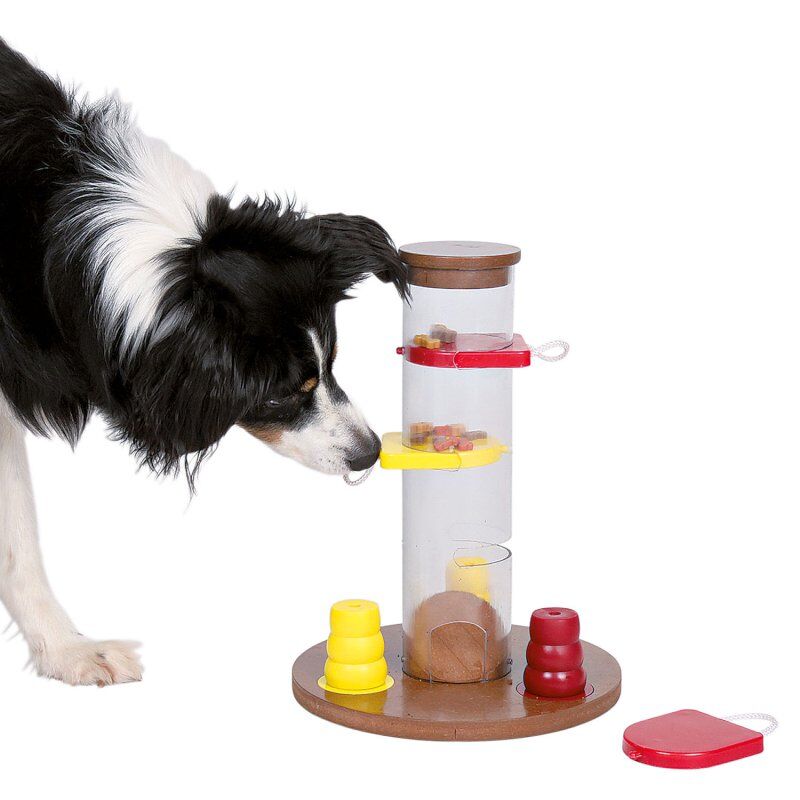 As many pet owners will know, a bored dog is a dog that whines, cries, barks and chews on everything from clothing to furniture – and it can be difficult to find the exact item that a dog will happily engage with, with many dogs having their own preferences in terms of play.
With this guide, buyers will be able to not only get an overview of the types of items that can be used to relieve boredom, but also understand the important factors to consider as well as how to buy items for the perfect price on eBay.
Items to Relieve Boredom in Dogs
There are many ways to relieve boredom in dogs, as not only are there different methods preferred by owners by also the preferences of the dog itself – some preferring different toys and treats over others.
Balls
There are many different kinds of dog ball available, from the second-hand tennis balls favoured by many buyers to the balls designed especially for dogs to play alone with. There are also balls that are weighted to roll in different directions, and have built in sounds and squeakers.
Advantages:
· Balls are the most typical way to play with dogs, with particularly active breeds such as collies and terriers able to get extremely engaged in play – whether playing alone or with their owner.
· Dog balls are by and large very inexpensive items given their simplicity – tennis balls are often available in bulk.
Disadvantages:
· The safety of some times of ball – in particular tennis balls – is under dispute, as though there are no longer harmful dyes used, some dogs with strong bites may be able to chew off and swallow parts of the ball.
· Some types of ball need the owner to engage with the dog, rather than leaving it to play by it.
Chew Toys
Chew toys are a type of dog item favoured by pet owners around the world, available in many shapes and textures to keep dogs entertained and engaged.
Advantages:
· With many chew toys dogs can be left to play by themselves.
· Chew toys can be particularly helpful for teething puppies, to give relief from teething pains and satisfy the desire to chew on things.
Disadvantages:
· Chew toys are built to last, and frequent use may end up very unpleasant for owners to handle.
Bone
There are many kinds of bones for dogs available, from animal rawhide bones through to nylon bones – Nylabone is a common maker of nylon bones – and rubber dental chew bones designed to be friendly on the gums of older dogs and puppies both.
Advantages
· Knotted rawhide bones are a very popular chewing item and used by many owners, as they are by far the least expensive item and are widely available.
· Dental and chewing bones are available, which are also good for teething puppies.
· Nylon and rubber bones don't go bad and carry no disease risks.
Disadvantages
· The safety of rawhide bones is disputed by many owners, as while they relieve boredom, dogs are not capable of digesting animal hide – which may sit in the stomach and cause medical problems if large chunks are eaten.
· Nylon and rubber bones may not appeal to dogs because of the lack of animal smell the rawhide bones have.
· Rawhide bones may contain salmonella, so human owners need to wash their hands thoroughly after handling one.
Treat Dispensing Toys
A very popular way to keep dogs occupied while the owner is away, treat dispensing toys can be loaded with various treats and food items. A popular maker of treat toys is Kong, with a variety of shapes including their most popular cone-shaped toy.
Advantages:
· Most of the treat dispensing toys can be left alone with dogs to keep them occupied throughout the day, as there are no small parts to chew off and swallow.
Disadvantages:
· These toys tend to be a little more costly than other items.
· Using the treat dispensing toy every day can be unhealthy for the dogs – as dog treats are often high in fats and dog are typically not interested in empty toys.
Training Items
A good way to combine fun with teaching, items such as clickers can be used to train dogs to perform certain actions. Agility equipment such as jumps and tunnels are also available for owners who want to train and exercise their dog.
Advantages:
· Training is a good way to relieve the boredom of the dog whilst still doing something constructive – dogs often enjoy well-rewarded training as much as playing.
· Agility training is a good way to not only entertain but also train and exercise the dog.
Disadvantages:
· Dog training requires a large time investment, and also requires the involvement of the owner.
· Depending on the training level of the dog, sound items such as clickers and whistles may be ignored by the dog.
· Agility equipment requires a large amount of space – usually outside – and so the owner will need enough room for items.
Dog Treats
Dog treats such as marrowbone,pig's ears and biscuits are used by many owners for training, games and to reward general good behaviour from dogs.
Advantages:
· Reward-based training has been proven by many studies to be the most effective way of training dogs, and dog treats often function as the reward and encouragement given.
· There are many treats, such as Pedigree's Dentastix, that not only provide entertainment and a treat for the dog but also help keep their teeth and gums healthy.
Disadvantages:
· Many dog treats like pig's ears and biscuits are high in fat and so are not healthy to use as a regular treat.
Dog Door
Not a toy or a treat, but dog doors built into regular doors are a great way to keep a dog entertained by allowing them some freedom.
Advantages:
· Dog doors allows dogs to go outdoors whenever they please, saving their owner the need to go and open the door for them whenever they want to go outside.
· Being allowed to run outside also helps keep the dog healthy.
Disadvantages:
· The only safe place to put a dog door is leading out onto a secure enclosed space, requiring the owner to have a space like a garden.
Important Factors
The following section will look at the important factors to consider when purchasing products to relive dogs of boredom:
Durable – this is of particular importance when buying chew toys and treat dispensing toys, as it is important that the items are able to handle the bite strengths of dogs. Many items are made from very hard-wearing rubber and artificial materials such as nylon that are very sturdy and hard-wearing.
Safe – this is the main factor for many dog owners, who want to be sure that the items they buy are safe for both them and their dogs. Of concern for buyers are items such as rawhide bones, with opinions between buyers varying depending on their own personal experience. If they have any doubts about the safety of items, buyers should make sure to consult dedicated forums as well as their vet.
Healthy – this is a sticking factor for owners, who know that while their dog loves fatty treats such as pig's ears they are not very healthy. Buyers should hunt around for healthy yet tasty alternatives to traditional treats, and also consider buying training equipment that will help cancel out the effects of any treats given.
Buying Items for Dogs on eBay
Now that the buyer understands the various ways they can relieve boredom in their dogs, they can begin to start searching for the appropriate items. When searching for items on eBay, buyers should keep in mind:
Price – the cost of items is often the main factor in any search, and items for dogs are available at a range of prices online. Buyers can use the search preferences to adjust the search results to match their budget, and with items available at both Auction and Buy It Now there is a huge amount of flexibility when purchasing.
Type – once buyers have decided on the type of item that would suit their dog, the can use the search bar to indicate their preference.
Size – the size of the dog is important in particular, as some treats and items such as agility courses are available in different sizes to suit different dog types, from Chihuahua-sized dogs through to a St. Bernard.
Local Seller – buying items from local sellers is an ideal way to keep prices down, especially when buying bulky items like agility equipment.
If the buyer requires any more help they should not hesitate to consult eBay's Search Tips page for more advice on how to get the perfect search result. And if they have any questions about any of the items they see listed they should make sure to Ask the Seller.
Conclusion
Boredom in dogs can be expressed in many ways – from whining to barking through to property destruction. It is important that the owner takes care to make sure their dogs are happy and entertained by toys as well as healthy and fit through training. With this guide buyers will be able to find the perfect items to spark their interest on eBay.
When searching for items on eBay, the buyer should be aware of the additional benefits of using PayPal, eBay's recommended way to purchase with additional eBay Buyer Protection.