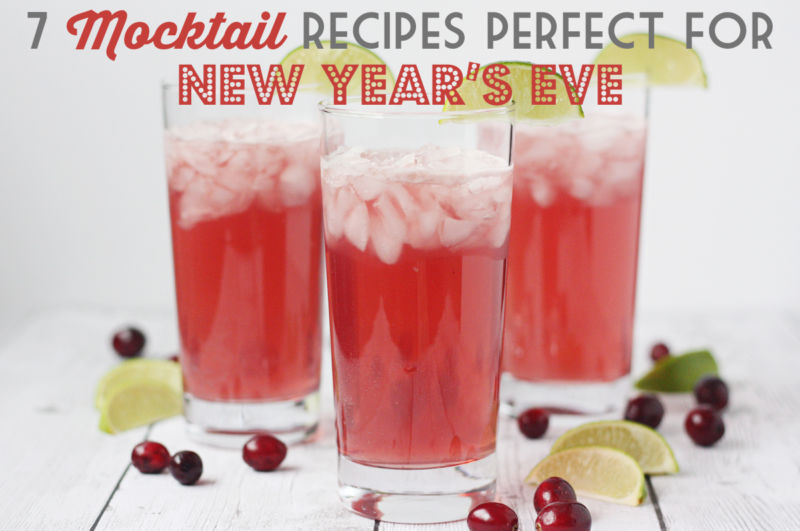 Our family doesn't drink alcohol so we're always on the lookout for delicious, festive mocktail recipes suited for special occasions like New Year's Eve. You'd think non-alcoholic would mean non-amazing but that's totally not the case. I've found 7 mocktail recipes perfect for New Year's Eve, including my own Very Berry Mocktail and they're both tasty and beautiful. Even better, kids can participate in the toast!


Sparkling Strawberry Lemonade
Ingredients for strawberry syrup:
373 grams chopped strawberries
2 tbsp sugar
1 tsp lemon juice
2 tbsp cold water
Pinch of salt
Ingredients for lemonade:
8 fl oz very hot water
10 fl oz sugar
10 fl oz freshly squeezed lemon juice
36 fl oz cold sparkling water
Directions for strawberry syrup:
Combine strawberries, sugar, lemon juice, water and salt in a food processor or blender; puree until smooth.
Pour mixture through a fine mesh strainer to remove seeds, pressing down to extract as much liquid as possible.
Directions for lemonade:
Combine hot water and sugar in a pitcher; stir until sugar is dissolved.
Mix in lemon juice and water.
Stir in the strawberry puree.
Directions for serving:
Rub a lemon wedge around the rim of a glass and dip in sugar.
Fill with ice and then lemonade.
Garnish with sliced lemon or strawberries and serve immediately.
Ombre Grapefruit Mocktail
Ingredients:
Directions:
Add 2 fl oz grapefruit juice to each glass followed by 2 tbsp simple syrup.
Top off each glass with sprite and a tsp of grenadine.
Add a stir stick or straw. Note: Don't stir until after it's served or the ombre will disappear!
Lemonade And Honey Simple Syrup Mocktail
Ingredients for honey simple syrup:
4 fl oz cup raw honey
4 fl oz cup water
1-2 stems of your favourite herb (basil, rosemary, lavender or mint) plus a few leaves for garnish
Ingredients for lemonade:
2 fl oz lemonade
2 fl oz cold sparkling water
Fresh lemon slices for garnish
Directions:
Bring water and honey to a boil in a small saucepan. Reduce heat and add a sprig of the herb of your choice. Simmer for 15 minutes or until reduced by half; let cool.
Fill a short glass with ice. Add lemonade, sparkling water and 1/2 to 1 tsp of honey simple syrup or to taste. Add reserved herb and lemon garnish; serve immediately.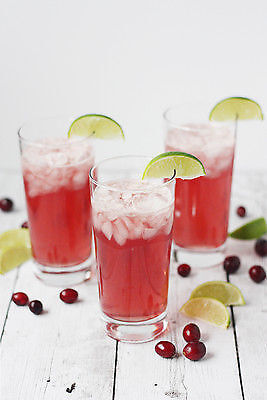 Very Berry Mocktail
Ingredients:
2 litres cranberry juice
1/2 of a 12 oz can pink lemonade concentrate, thawed
3 1/2 cans Dasani sparkling water in Berry
Crushed or pebble ice
Lime wedges (optional)
Directions:
Combine cranberry juice, pink lemonade and sparkling water in a large serving bowl or pitcher.
Serve over crushed or pebble ice and garnish with a lime wedge.
Frostbite Mocktail
Ingredients
:
Directions
:
Fill a cocktail shaker with ice, lime juice and pineapple juice. Mix well.
Add white grape juice, mint and blueberries. Using the back of a spoon, crush a couple blueberries.
Shake all ingredients well and strain into a large glass filled with ice.
Top with Sprite and garnish with a few fresh blueberries.
Ginger Lemon Mocktail
Ingredients:
3 inches of fresh ginger root, peeled and sliced into coins
225 grams sugar
12 fl oz water
4 fl oz freshly squeezed lemon juice
Sparkling water
Directions:
Slice the ginger root coins into slivers.
Heat the sugar, water, and ginger slivers over medium-high heat, stirring until the sugar melts. Let boil for about 20 minutes until the syrup begins to thicken. Remove from heat, strain out the ginger slivers and allow to cool.
Lay ginger slivers on a baking tray. After about 5 minutes, toss with a tbsp of sugar; let cool.
Wet the rim of each wine glass and dip it in sugar to coat.
Divide the cooled ginger syrup and the lemon juice among four glasses. Fill each glass with sparkling water.
Garnish with a piece of candied ginger. Stir before serving; serve immediately.
Cranberry, Tangerine And Rosemary Cream Soda Mocktail
Ingredients for rosemary simple syrup:
200 grams granulated sugar
7 fl oz water
3 rosemary sprigs, lightly bruised
Ingredients for mocktail:8 fl oz fresh squeezed tangerine juice
11 fl oz cranberry juice
16 fl oz cream soda
Rosemary sprigs for garnish
Directions for rosemary simple syrup:
Place sugar and water in a small pan. Simmer until sugar dissolves, stirring occasionally.
Stir in rosemary, remove from heat and cover, allowing mixture to steep for 1 to 2 hours.
Discard rosemary sprigs and chill simple syrup in the refrigerator, until ready to use.
Directions for mocktail:
Fill 4 glasses with ice. Pour 2 tbsp rosemary simple syrup into each glass and 2 fl oz tangerine juice.
Add 2.75 fl oz cranberry juice into each glass and stir. Finish with 4 fl oz cream soda per glass and garnish with a sprig of rosemary. Serve immediately.
Mocktail Accessories
While these mocktail recipes can stand on their own (figuratively), I suggest using cocktail or champagne glasses to add an extra New Year's Eve touch. Here are four of my favourite designs: