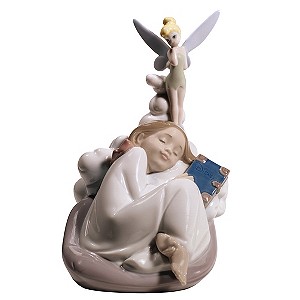 Based in Valencia, Spain, Nao creates stunning, and often very valuable, porcelain figurines. Originally created as the Rosal company in the 1960s, Nao offers a wide range of handmade decorative items, which are all crafted in its own workshops, located in the town of Chirivella, in the vicinity of Valencia city. Heirs to a long tradition dating back to Roman times, Nao's skilled artisans have created a few hundred signature items that are widely appreciated in the world today.
Nao's figurines generally depict people during special moments of life. The detail and expressiveness of Nao pieces are quite remarkable, and they have made them achieve the status of objects of art, rather than mere ornaments. There are currently four main theme categories for Nao figurines. These are: family and traditions, art and culture, nature, and dreaming and spirituality.
Extremely popular with art collectors, Nao pieces often fetch high prices in the international market. However, there is a wide range of items to choose from, and the uninformed collector can get a bit lost. Whether looking to buy Nao items for personal enjoyment or as an investment, it is important to consider a few important details, such as market availability, cultural significance, age, and others.
1. The Difference Between Nao and Lladró
Nao is a company started by the Lladró brothers as part of the Lladró Group. Lladró has been making porcelain figurines since 1953, when the Lladró company was officially founded. However, very rare pieces exist from as early as 1941, when José and Juan Lladró started producing their very first works, which consisted of painted tiles.
In 1967 the Lladró brothers bought a porcelain crafts workshop near Valencia city, thus giving birth to Rosal, which later became Nao. Rosal originally started working with Romantic themes, creating figures that evoked idyllic moments. These themes would continue and evolve into the future, always expanding, but maintaining the Nao signature.
Naturally, some Lladró pieces are older and rarer than Nao, but both lines have inspired miniature collectors all over the world. Lladró's quality standards have guaranteed the excellence of Nao products into the 21st Century, as the Lladró Group owns the company to this day. Whether one purchases or collects either Nao or Lladró is quite simply a matter of preference.
2. Current or Discontinued
In terms of pricing, retired figurines can naturally often fetch a higher price. Over the years, Nao has created many popular figurines that have become collectors' items. After its beginnings under the name Rosal, the company came to be called Zephyr, therefore, old pieces identified as belonging to either the Rosal or the Zephyr company belong to the Nao family as well.
Popular retired Nao figures include the Disney collection, some of its ethnic lines, especially the Japanese girls line, and the Gres figures. Gres figurines were expensive to make, and they were already expensive in their time, so, they have become very valuable in the secondary market.
3. Enjoyment or Investment
Expert Nao collectors are generally people who also find extreme pleasure in possessing and contemplating these miniature works of art. In fact, it can take many years for Nao figures to attain an interesting market value; according to Peggy Whiteneck, author of a book on Lladró identification and price guide, someone looking to make a quick profit should rather invest in the stock exchange. She also advises that the most convenient prices for this type of collectibles can always be found on eBay.
Nao collecting is for people who enjoy the pieces' outstanding details and the master porcelain makers' special appeal for delicate depictions of the feminine form. Of course, it can become a very lucrative occupation for those who succeed in becoming connoisseurs, as the online market for Nao figurines is very active, especially in the UK and the US.
4. Identifying Nao items
Historically, the Nao seal has changed over the years. In some cases it is a stamp, bearing the Nao logo with a picture of a small ship, sometimes, it is the name of the artist signed on the bottom of the piece or a stamp bearing one of Nao's old names, Zephyr or Rosal.
According to Lladró expert Peggy Whiteneck, there can be many reasons a piece may have a scraped off stamp, or lack one altogether. For example, the Lladró Group itself has often pointed out that some of its early items were unmarked. Thus, in some cases, the absence of a stamp or seal may not rule out authenticity, and a deeper scrutiny may be needed.
In the case of current items, which are still carried by the Nao company, the Nao symbol, featuring a sailing vessel with three red sails has to appear at the bottom of the piece. There is also an alphanumeric authenticity code on the side of the Nao logo. If the piece belongs to a limited edition, a serial number is also included.
5. Story and Significance
Nao items may be valuable for different reasons. One of the ways in which both Nao and Lladró items stand out is their ability to tell a little story. The expressions on the faces, the gestures and positions captured in each figure often portray a range and depth of emotion that is seldom found in any of the decorative arts.
Some Nao figurines are famous for their naivete and others for their boldness, but there is always something that makes them stand out. When shopping for Nao figurines on eBay, it can help to take a look at Nao's searchable, online historical catalogue, in order to learn when a piece was first marketed, who the designer was, and other distinguishing characteristics. Popular Nao figures that are always in high demand include ballerinas, loving portrayals of family life and children, figures depicting people from different cultures, and scenes from holidays with a religious significance, such as Christmas.
6. Caring for Nao Figures
Porcelain figures can be as fragile as they are valuable. In order to have a long life, they require proper care. The best way to clean them is washing them with a soft cloth and warm water with gentle soap; never bleach or any other harsh chemicals. It is not advised to soak the figurines in water, and they should be rinsed with lukewarm water and left to air dry, rather than rubbed with a cloth. If the figurines become damaged, it is best to have an experienced porcelain restorer fix them.
7. Buying a Whole Collection
Even when single pieces may cost only a few pounds, whole collections can become extremely valuable. All it takes is someone looking for the right items at the right time. Building sets of Nao figurines with a common theme is one of the best ways to make a profit with them. This can take time and patience, but the rewards are often well worth the trouble. Over the years, Nao has been putting out many figurines with common themes, which can make a fabulous sight when put together. eBay alerts can be a great way to look for rare items to complete a collection of Lladró/Nao animals , dancers, mothers with children, or whatever one may prefer.
How to Buy Nao Figures on eBay
Some rare and discontinued Nao items can be worth a small fortune today. eBay is the prime market for buying and selling all kinds of Nao and Lladró figurines. The first step to find some great listings of Nao items is to input some relevant keywords, such as " Nao porcelain". If you know what types of figures interest you, you can add more keywords to refine your search, for example, ballerina, japanese girl, or puppy, among others.
Once you have found a range of items that fit your basic interests, you can look for low or high price items by sorting results by price and scrolling down the list. In order to get a feel for how much certain items are going for, you can also select completed listings on the side bar. This yields a complete list of recently sold items and their final prices. Using eBay alerts is a great idea if you still cannot find the item or price you are looking for. By signing up for these alerts, you can receive an email every time a specific type of item is listed on the site.
Nao figurines are very delicate objects, therefore, it is important to make sure they are in good condition. Some valuable items may be cheaper if they present small signs of damage, but it is important to select reliable sellers to be sure about the extent of the damage. eBay offers a very functional ratings and feedbacks system, which displays each seller's ratings, to help you decide whether they are reliable. Before finalising a purchase, it is also very important to check postage fees and return policies.
Conclusion
Nao figurines are extremely popular today, especially in North America and the UK. Stemming from a long tradition of Spanish porcelain makers, Nao's art is closely connected to the Lladró family, and the Lladró Group does, in fact, still own the Nao company today.
Over the years, Nao has created many popular pieces, some of which can be worth a small fortune. According to experts, eBay is the best place to find great Nao figurine listings at convenient prices. Specialising in portraying emotional and spiritual moments of life, Nao has created a wide range of collections, including family life scenes, dancers, ethnic figures, and religious scenes.
One way to make a profit with Nao figurines is trying to assemble whole collections of discontinued items. Once purchased, these porcelain figures require very careful handling and basic maintenance, in order to stay in good shape. They should never be soaked in water or washed using harsh chemicals, and they must be left to air dry.
Finally, it is important to know that this type of item is not a quick way to make money, but a way for people who enjoy them to spend their money on something that can both give them pleasure and yield some profits in the future. Nao figurine collectors tend to be connoisseurs who greatly enjoy them. Therefore, trying to become a connoisseur and learning as much as possible about Nao's history and techniques is the best way to become a successful collector.