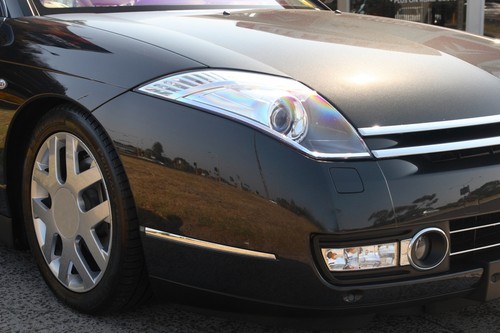 The Citroen C4 has been through two generations and can be found in many forms including a three-door coupé, a four-door sedan, and a five-door hatchback. There is also a five-door MPV in the C4 line called the Picasso and a five-door crossover from the second generation called the Aircross. Citroens are well known for their uniqueness and the C4 is no exception. These vehicles can come with a number of innovative gadgets and features, like the integrated air freshener scents in the air conditioning system.
A big part of shopping for a used Citroen C4 is learning about the unique features that come with these vehicles. Many features like parking assistance and the Lane Departure Warning are not found on other cars of the same class, and definitely not at the C4's price. Another big other part of shopping for a used car is knowing the problems this model is prone to have. By keeping a few tips in mind, buyers can avoid the lemons on the market and find the perfect Citroen C4.
Tip 1: Look for Low Emission Diesels
Those looking for a excellent fuel economy and low emissions (which in turn mean low road taxes) should look for vehicles made from 2008 onwards with the Airdream signature. These have either 1.6- or 2.0-litre diesel engines which give 3.8 L/100 km on highways and 5.8L/100 km in the city. They also produce less than 120 g/km in CO2 emissions. This means the road tax or Vehicle Excise Duty (VED) is lower.
The C4 was also given a facelift in 2008, so these models may cost a little more than models from previous years. Even without the Airdream signature which is specifically for environmentally friendly cars meeting a number of criteria set by Citroen, the redesigned 1.6-litre, 92 horsepower diesel engine is remarkably efficient, even if it is not the most powerful one available.
Tip 2: Avoid the 1.4L engine
Speaking of engines, the majority of C4s were made with either 1.6- or 2.0-litre engines. Avoid the 1.4-litre petrol engine. This engine was used in the LX five-door hatchback , the VTR hatchback, and the VTR coupe. Not only do these cars have an underpowered feel, but they are also missing features that are standard on other C4 models, like alloy wheels. The LX may not even have air conditioning, so be sure to check. However, with two other petrol engines in use with C4 models, it should not be hard to avoid the 1.4-litre option.
Tip 3: Check Cabin Trim on High-Mileage Cars
Cabin trim has been found to be somewhat fragile on some cars. Check the quality of the trim carefully to see if any parts are coming loose or ripping. Also check the buttons on the steering wheel and the dash. While this is not a major drawback of the C4, some owners have more problems than others when it comes to the quality of the interior. In particular, 2007 cars with the panoramic roof were recalled in 2008 because some of the roofs were incorrectly bonded. This is usually visible from the driver's seat and can be fixed free of charge.
Tip 4: Check Possible Recalls
The C4 has had many recalls for electrical failures and brake problems. Some models made between 2004 and 2006 may need to have the front airbags reprogrammed so that they deploy properly in case of an accident. Before buying a used Citroen C4, make sure all necessary work has been done. The dealership where the car was bought should have all the necessary information about any arts that were recalled. If the dealership is not in the area, it is also possible to look up the car by its VIN number. In fact, Citroen has a system to notify owners in case of a recall and it is a good idea to register the car with the company if it has not already been done. The table below shows some of the recalls issued by Citroen for the C4.
| | | |
| --- | --- | --- |
| Problem | Model Years | Work Needed |
| Seatbelt Failure | C4 Picasso 2006-2007 | Replace front seatbelt buckles |
| Stiff Brake Pedal | 2006-2007 | Replace valve in vacuum pump |
| Front Brake Calliper Loose | C4 Picasso 2006 | Replace fixing screws |
| Reduced Braking Performance | C4 2009 | Replace Brake Master Cylinder |
This table only shows a few of the recalls made for C4 vehicles. Be sure to get a complete list of recalls and check the VIN number of any C4 for sale before making a purchase.
Tip 5: Listen for Rattles
Rattling is one common Citroen issue that annoys everyone but the staunchest Citroen fans. Fortunately, this is an issue that plagues only certain vehicles. If this is likely to be an issue that drives the driver crazy, it is best to take the car for an extended test drive to check if there are rattling noises. Parts that can rattle include the doors, the transmission, and the spare tyre in the back.
Tip 6: Rent a Citroen with EGS Before Buying One
The EGS semi-automatic transmission has enough die-hard enemies that anyone considering a car with the EGS gearbox might actually want to try out a car with this feature before buying one. Renting a Citroen C4 with EGS for a week or so would be a great way to find out if this feature is going to be helpful or a nuisance. Some people say it works fine and others swear it makes them miserable. At the worst, it causes pitching and diving when accelerating. It negatively affects fuel economy, and can be a danger if it does not switch gears properly. One the other hand, some have had no problems with the gearbox at all, and many consider it an improvement over the Sensodrive, Citroen's previous semi-automatic gearbox.
Tip 7: Look for Citroen's Unique Features
If it sounds like the C4 has so many flaws that it might be better to look for entirely another vehicle, think again. Any Citroen has those features that make its owner stand out from the crowd. The C4 is packed with features not normally found in cars of its class. Some examples include the Lane Departure Warning System. This system warns the driver with a vibration if the vehicle crosses a lane marking at a speed over 80 km/h.
Another feature is the Xenon directional headlamps. These provide exceptional lighting, especially when cornering. Dual zone air conditioning is available in some C4 Cool models. Finally, many C4s come with front and rear parking assistance with a multifunctional display. All of these are features to take advantage of, since they come at a much more affordable price in the C4 than they would in another make and model.
How to Buy a Used Citroen C4 on eBay
Buying a second-hand Citroen C4 is an excellent decision since the resale value of these cars tends to drop rapidly. By looking for a used C4 online, you can take advantage of this and get amazing value on a car that really should be more expensive. To find a C4 on eBay, enter the search term " Citroen C4 " in the search box on any eBay page.
If you know which particular C4 model interests you, you can refine the search in two ways. One way is to include more details in the keyword search box. The other way is to narrow down the search by selecting one of the search filters, to limit the number of results. This lets you refine the search by a number of parameters. For example, choose "Used" under the search criteria Condition to eliminate all new vehicles from the search results. Then set a maximum price to see only vehicles that fit your budget. It is possible to choose one or more models, transmission types, and years to be able to compare them easily and get a feel for the used car market.
Once you find a vehicle that interests you, checking on the seller's reputation is as easily as clicking on his or her feedback score. This eBay feature allows you to access the seller's transaction history on eBay and makes it easy to find a reputable and professional dealer.
Conclusion
The Citroen C4 is not necessarily the fastest or flashiest car in its class but it is one that makes a statement. Like all Citroens, the C4 calls out to those who like unusual and innovative features. With many options for nature lovers who are interested in great fuel economy and low CO2 emissions, the C4 is great for keeping fuel and tax costs down. Features like dual zone air conditioning, lane departure warnings, front and rear parking assistance, and blind spot monitoring give secondhand C4s excellent value for the money.
On the other hand, every car model has its quirks and the C4 is no exception. The underpowered 1.4-litre engine is best avoided and the EGS gearbox has gotten more than its fair share of criticism. Many have commented on the low quality of the trim, and buyers need to make sure that the vehicle does not have parts that have been recalled. Buyers who know enough to check for rattles, electrical problems, and other recall issues are well on their way to making a smart Citroen C4 purchase that they can truly enjoy.