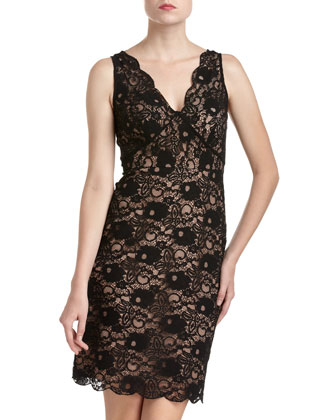 New Year's Eve can be one of the most exciting holidays of the year. Women everywhere are presented with a perfect reason to get a cocktail dress or party dress in which one can stay up all night dancing, chatting, and enjoying time with friends. Of course, selecting the ideal evening attire for New Year's can be a complicated decision for many women. Considerations such as colour, form, and even the formality of the function must be taken into account, as well as a woman's individual taste and needs.
Fortunately, with a few key guidelines, a woman can find the perfect New Year's dress without skipping a beat. A good understanding of the do's and do nots of finding a dress for New Year's can help a woman as she looks for that dress. Women can look at the many retail options for dresses, including online retailers such as the online auction site eBay..
1. Look for a Flattering Silhouette and Shape
Women in search of a perfect party dress for New Year should not stick to trend if it does not flatter the body type. A wide array of party dresses are available that accommodate different types of frames and still manage to look au courant and chic. If micro minis are on point one season, it is not an order to which all women must adhere. Women should instead look for silhouettes that make them feel the most comfortable and attractive. In this way, they can exude the real glamour of their own positive sense of self and confidence. The following chart elucidates some of the ideal silhouettes for each body type:
| Body Type | Do | Do not |
| --- | --- | --- |
| Full-figured | Structured dress; flare at the bottom of a long dress to accentuate curves and slim the leg | Do not do a shift with a straight silhouette |
| Expecting | Wear a drape dress with a curved structure; do not be afraid of hugging the curves | Do not hide the belly; it creates an overall bulky look |
| Athletic or Slender | Create curves with gathers, belts | Do not wear a high or square neckline |
| Smaller Bust | Leverage a strapless dress with a shaped bodice; a shift or tunic mini | Do not wear a halter dress that emphasises the bust |
| Larger Bust | Wear a halter dress, a shirt dress, or a square bodice; anything that gives structure to the bust | Do not wear a strapless dress, unless there is sufficient boning and support |
| Fuller Bottom | Find a dress with a flared skirt or bias cut; Empire dress | Sidestep a tight dress or mini dress |
| Fuller Waist | Belted Shirt Dress | Shift dress or any dress with a straight line |
A woman in search of the ideal party dress for her body type has many options available to her. Given the flexibility and diversity of modern fashion, she can easily find a dress that flatters her build and still looks the part for an evening out on New Year's.
2. Only Do Strapless If the Dress Can Stay in Place
Nothing can be more uncomfortable for a woman than pulling up a strapless dress all night that keeps slipping from the lack of straps. If a woman is considering a strapless dress, she should make sure that it fits well enough to stay in place by itself all night long. Women with larger busts may want to avoid the choice altogether, or else look for options that have a fitted and structured waist so that the dress stays in place. Other viable options might include dresses that have boning in the waist or actual cups built into the bodice of the garment. A support garment such as a strapless bra should still be levied to help ensure that everything stays in place and a woman is comfortable and looking good for the duration of a New Year's celebration.
3. Do not Overdo Sparkle, Tinsel, and Other Holiday Accents
When dressing for New Years, many women seek to match the festivity and bright lights of the occasion with their own dress version of the holiday. A touch of sparkle and tinsel here or there can be a charming addition, but by and large, women should be looking for dresses that complement the holiday rather than redefine it. A hint of sheen in a dress, perhaps, or a trim of something with sparkle are good options. Dresses in solid colours that reflect the season can also work, with a red dress being a great dynamic choice. Women should not, however, indulge in New Year's dresses that outdo the decorations at a New Year's celebration.
4. Find A New Year's Dress That Can Be Worn Comfortably All Night
Women shopping for a New Year's dress should remember that a New Year's party is a long affair, and that a woman is expected to be on her feet, talking, dancing, and socialising for several hours. As such, a party dress should be easy to wear and comfortable to move in. This does not mean a woman has to eschew glamour; instead, she can consider a silhouette that is highly wearable, yet still chic and appropriate for even the fanciest party, such as a shift-style mini dress. Other comfort-oriented options that still deliver a level of style include tunic dresses, empire waist dresses, and A-lines.
5. Check the Dress Code for the Event
New Year's Eve celebrations can vary from intimate drinks and dance affairs to full-blown, black tie galas. Before setting out to purchase a dress, a woman should check in with her host or hostess or with the manager of the facility holding an event to verify the dress code for the evening. This can help verify whether she is looking for a cocktail dress or an evening gown. The formality of the evening can also define the length of a dress and whether above the knee is appropriate or not for the occasion. Plus, knowing the theme of a party or celebration can help give creative focus to a dress search, if a theme is involved.
6. Consider Basing the New Year's Dress on the Shoes
Given the fact that a woman can find herself on her feet for several hours at a New Year's party, it might behoove her to reverse the order of the purchases most women rely on. Women getting prepared for New Year's might consider deciding on the ideal pair of dress shoes first, and find a pair that are not only attractive but also have the comfort level needed for hours of socialising and dancing. Once the shoes are settled on, a woman can then begin a dress search for a garment that complements the perfect pair of all-night shoes.
7. Do not Pick a New Year's Dress in an Unflattering On-Trend Colour
Just because yellow may be in one season does not mean that all women are obligated to wear a yellow cocktail dress. A woman should look for colours that best compliment her complexion and should not feel obligated to slavishly follow a trend that may leave her looking sallow and washed out. With holiday and seasonal colors, a women can put her own spin on the theme; for example the reds and greens of Christmas and New Year's can be tweaked ever so slightly to rose or teal if that is what suits a woman's skin tone best.
Buying a New Year's Dress on eBay
While offline retailers and local shops offer a number of dress selections, online sources such as eBay are by far among the larger resources for purchasing a dress of any kind. On eBay, a woman can find hundreds and even thousands of listings, giving her the ideal resource for finding a New Year's dress no matter how specific her requirements are.
Searching for a New Year's Dress on eBay
When beginning your search for a dress on eBay, you can start by running a general search for the term "dress" to get an idea of the array of options available to you. When you run this search, eBay automatically suggests a number of related searches that can help narrow your listings down, such as "party dress" or "clubwear." You can also run a search with a specific dress style in mind, such as "formal dress".
When searching through listings on eBay, it is a good idea to review the quality of the sellers to further refine your options. You can do this by reviewing the sellers' past auctions and looking at the feedback they have received from other customers.
Conclusion
Finding the perfect New Year's dress for a night out at a club or on the town can be a simple matter of adhering to a few helpful hints. By taking her own build, colouring, and comfort level into consideration and also keeping the formality of the occasion in mind, a woman can easily find a party dress for this holiday that can make her evening a success. When searching for a specific dress to purchase, a woman can benefit greatly from the comprehensive and diverse listings on online auction sites such as eBay. On eBay, a woman can access everything from formal evening wear for black-tie affairs to a sassy club dress for a night of dancing. With the advantage of eBay's extensive fashion listings, as well as the pointers in this guide, any woman can be well on her way to a stylish and enjoyable New Year's eve party.