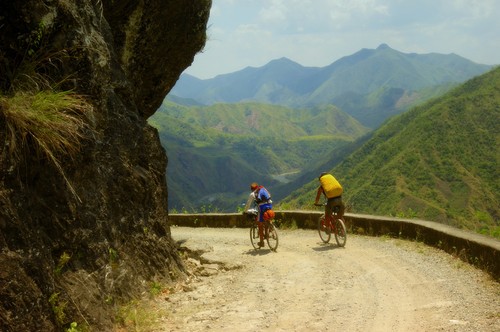 Adventure weekends are designed for fun, for entertainment on the edge, and to bond groups of people. They are often selected as corporate team building activities and for youth organisations. Many activities are designed to help participants improve their cooperation, strategic thinking, trust, motivation, and moral judgement. They also are excellent ways for families to enjoy a weekend growing closer.
Adventure weekends are also often chosen for stag and hen parties. Nothing is more entertaining than getting the bride-to-be completely covered in mud on an assault course or ganging up against the groom in a woodlands game of laser tag. Accommodations range from luxurious hotels, to rustic cabin dorms, to camps built under the stars by participants.
Depending on the activities selected, an adventure centre with licensed instructors may be desirable. The Adventure Activities Licensing Authority, or AALA, licenses instructors for these kinds of programmes. So many adventure weekend options are offered that it is easy to find an activity suitable for a particular group or team. One place to check is eBay, where adventure weekend holiday packages may be found for short breaks at various locations throughout the U.K.
Adventure Weekends for Everyone
Adventure weekend activities are offered for every kind of person, from the most fit to the most confirmed sluggard. When booking an adventure centre weekend, it is usually possible to plan for two or more different activities. Listed below are some popular activities, then review the kinds of groups each may be best suited to.
Activity 1: Sheep Chasing
It becomes clear that Great Britain has urbanised and suburbanised quite seriously when chasing about the countryside with the goal of touching a sheep can become an adventure. In this form of adventure outing, those teams photographed touching a sheep win a prize. Reportedly, carrying a doughnut or two is helpful in attracting these otherwise shy critters.
Activity 2: Climbing, Rock Climbing, and Abseiling
Climbing, rock climbing, and abseiling are themselves at different levels of difficulty. Nonetheless, an outing may be arranged for any of these at a level best suited to the members of an outing group. Family climbing trips, and even abseiling together, can be strong bonding experiences just as these experiences are used for bonding corporate teams.
Activity 3: Paintball or Airsoft Pellet Games
'Airsoft' is somewhat misleading: these pellets sting. But for the men who like to play these war games, that is part of the point. Show up in full camo for woodlands shootouts; black urban combat gear for city gaming. Either way, the idea is to be the last man standing. Women play too, although these are not often the stuff of hen parties.
Activity 4: Pseudo Sumo
These contests on inflatable rings wearing inflatable costumes have to be seen to be believed. The blown-up costume allows a person of ordinary size to take on the proportions, if not the weight, of a sumo wrestler. What the contenders lack in mass they gain in bounce.
Activity 5: Whitewater Rafting or Tubing
Whitewater rafting and tubing have the great advantage of making challenging rivers accessible to anyone. Unlike whitewater canoeing, these let anyone enjoy whitewater who can hang onto a rope. Tubes are often solo or duo enterprises; whitewater rafts carry six or eight in total including the guide who manages the steering of the vessel. Holding onto the ropes is key. It is still possible to be tossed into the churning waters.
Activity 6: Quad Biking, 4x4 Off Road, and Snowmobiling
Anyone who has been off road on these vehicles knows that they are noisy and travel over rough terrain. Parents should be certain that children allowed to participate are actually old enough to manage these large vehicles. Those who prefer fewer decibels may wear earplugs. Stag parties and other men's groups tend to get a great buzz from the noisy assault on the great outdoors.
Activity 5: Mud Assault Course
The question about a mud assault course is always whether the parties involved are being assaulted, the mud is being assaulted, or the mud is assaulting the involved parties. By the end of the event, everyone is very dirty, very silly, and very ready for a pint. Some centres offer a post-assault spa experience when this is part of a hen party. Then again, some hens just run right on into another attack game.
Activity 6: Snowdonia Rescue
Centres in north Wales may offer this staged disaster as a team-building project. One member of each team is designated as 'lost' and 'injured' on the mountain and others must rescue him or her. It requires excellent communication among team members as they execute the winter search and rescue operation in a limited time frame.
Activity 7: Bushcraft, Orienteering, and Survival
These three activities are elements of basic wilderness training, similar to what might be gained in the Scouts, Guides, or the military. At a quality centre, staff maintains careful oversight of guests whether present or from a distance to ensure their safety. For those interested in building skills against the Apocalypse, or simply in preparing for a long walking trip, bushcraft, orienteering , and survival training provide excellent experiences.
Activity 8: Highland Games
Centres that offer Highland Games events provide participants, generally men, a chance to toss a caber or sheaf without being humiliated in front of the giants at a real Games. Check with the centre to find out how completely they emulate the Games atmosphere: this may be a chance to break out the kilt and sporran. Perhaps, with a wee bit of luck, a piper and a haggis are planned for dinner.
Adventure Weekends for the Skilled to Sluggards
Adventure centres offer activities that challenge the skilful and others that require no skill more than arriving at the site. Staff assist in selecting activities appropriate to the group. Some popular activities are summarised below according to the groups suited.
| | | |
| --- | --- | --- |
| Adventure | Groups Suited For | Skills Required |
| Sheep Chasing | Families, youth | Stealth |
| Climbing , Rock Climbing, Abseiling | Families, corporate | Skill levels vary |
| Paintball or Airsoft Pellet Games | Corporate, stag, youth | None required but experienced competitors have an edge |
| Pseudo Sumo | Stag, hen | Balance, persistence |
| Whitewater Rafting or Tubing | Corporate, families, youth, stag, hen | Staying in the raft or tube |
| Quad Biking, 4x4 Off Road, and Snowmobiling | Corporate, families, stag, hen | Managing a motorised vehicle on rough terrain |
| Mud Assault Course | Stag, hen | Sense of humour |
| Snowdonia Rescue | Corporate, youth | Hiking experience is advantageous |
| Bushcraft, Orienteering, Survival | Corporate, families, youth | Steadiness |
| Highland Games | Corporate, family reunion, stag, | Physical strength |
Other activities often available at adventure centres include many typical of any summer sleepaway camp. They allow children of all ages to relive those pleasant days or perhaps to enjoy them for the first time.
* Archery
* Golf driving
* Shooting clays
* Waterskiing
* Canoeing
* Mountain biking
* Horse riding
* Kart Grand Prix
Activities that demand more skill and daring are best suited to adults and children who are very fit. Some, like the stand-up paddle board, may be challenging to master. Others, like bridge swinging, are not for the faint of heart. Gorge scrambling requires a good sense of balance and the willingness to take the occasional tumble onto rocks or into the drink. But the point is to pump the adrenaline and make memories that would never happen hanging out at the pub at home.
* Stand-up paddle board
* Hovercrafting
* Land yachting
* Ropes course
* Gorge scrambling
* Bridge swinging
Planning an Adventure Weekend with eBay
Planning an adventure weekend may involve the selection of a package or organisation of activities, locations, and the necessary materials. Either way, the large eBay marketplace can be of assistance. Sellers on eBay offer weekend accommodations, materials, and equipment for a wide range of adventure sports, as well as many short break packages for adventure weekends.
To find package holidays, key "adventure weekend" into the Search window on any page, then use a Category selection to limit the options to Holidays & Travel. If seeking materials or opportunities for a particular adventure, key the name of the sport into the Search window, such as " whitewater rafting ". Again, the various categories that appear provide the opportunity to limit the search as desired, so books about the sport may be eliminated in favour of only Sporting Goods or Event Tickets, for example. Those who know they wish to set their adventure in a particular region may search for accommodation in that region: for instance, "Snowdonia", using the category of 'Short Breaks' to limit selections.
Conclusion
When thinking about a short break for adventure, the first thing that may come to mind is a favourite haunt where some specific activity is available. Various package weekends make it possible to enjoy several kinds of activity in a single weekend. These are particularly satisfactory when a group outing is being planned, whether for a corporate retreat, a youth group, or a family trip. Package weekends also work well for hen and stag parties. During these weekends, activities are planned and well organised without any member of the wedding party needing to sacrifice participation to supervision of the events.
Many kinds of activities are available, from the challenging to the simply silly. But the outcome is the same. Friends become closer. Teams become better at working together. Young people learn skills in solving challenging problems. By the end of the weekend, everyone is probably bruised and exhausted, may have a scrape or two to show, and is carrying some very happy memories back to the daily routine.