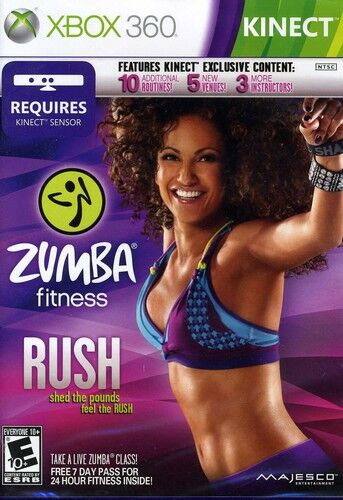 There are dozens of self-professed fitness gurus who produce exercise videos for people to workout in the comfort of their own homes. However, the fitness craze has also pervaded the video game industry, an industry that has historically made money creating action , sports, fighting, and horror genre games to attract the interest of the valuable 18 to 34 age demographic. Fitness video games have radically changed the video game market, as a new generation of older gamers dance, jump, walk, and exercise their way to fitness.
Gamers of all ages can find body shaping and mind clearing fitness video games at electronics shops and smaller specialty shops that exclusively sell video game systems and accessories. A better venue for finding fitness video games is online at eBay, the leading auction site. eBay brings together the most diverse group of video game sellers, which means buyers can find a nice selection of fitness video games from sellers offering quality and longevity. First, any aspiring fitness gamer, or exergamer, should learn about the studies that prove the fitness efficacy of fitness video games, the eight attributes that make good fitness video games, and a short list of the highest selling fitness video games on the market.
Effectiveness of Exergaming
Many exergaming sceptics have seared into their brains the images of sedentary teenagers languishing on the end of a sofa for hours on end. The sceptics want proof that fitness games provide at least the same health benefits provided by fitness machines and free weights. A British Medical Journal article claimed that children who use Wii consoles exert more energy than the energy expended playing desktop computer games. The combination of cardiovascular exercise and balance improvements derived from playing fitness video games has increased academic scores amongst students in primary school systems. Electronic Arts (EA) sanctioned a 2010 University of Wisconsin study that found the fitness video game called EA Sports Active passed the fitness guidelines promulgated by the American College of Sports Medicine. The myriad health benefits associated with participation in a fitness video game should only increase as system developers create more elaborate fitness video games.
Attributes of Good Fitness Video Games
The attributes of a good fitness game mostly centre on the physical benefits of performing the exercises. Most of the prominent fitness video game companies produce high-quality visuals and engaging background music to induce exercise participation. When shopping for fitness video games, consult with a medical expert to ensure any games under consideration not only appeal to current conditioning, but that they also deliver the desired results.
1. Multiple Health Benefits
The first few fitness video games focused on a few exercises that worked only one area of the body. Gamers who buy fitness games should consider games that provide multiple health benefits. A good example comes from the dance genre, which works the cardiovascular system and numerous muscle groups. Another fitness video sub-genre to consider involves performing mixed martial art moves that enhance the circulatory system and strengthen bone density.
2. Clear Instructions
Even though audio video game quality has dramatically improved since the original release of Pacman, some fitness video games include loud background music that makes it difficult to hear the instructions. Fitness gamers should avoid games that are difficult to hear, unless the video game company includes written instructions for quick reference. Moreover, gamers should buy fitness games that match their fitness acumen. There is no reason to purchase a fitness video game that a gamer cannot understand because of the complex exercise instructions.
3. Calorie Burner
One of the primary objectives when exergaming is to expend energy, and thus, burn calories. Most exergames mimic traditional light to moderate workouts, such as a fairly brisk 5 km walk. After exergamers build up physical tolerance to moderate calorie reducing exercises, they should perform more vigorous exercises that burn more calories. Exercise video games that promote entire body movement are the perfect games for fitness buffs who want to burn fat. Most of the exergames that promote the calorie reduction attribute follow the same game plan as the exercise videos promoted by the likes of Richard Simmons. Wii has created boxing and aerobics exergames that also feature the caloric reduction attribute.
4. Heart Rate Increase
Many fitness video games have feature characters that perform slower than average exercise speeds. While the slower pace still burns calories, it does not increase the heart rate to a pace that builds strength and stamina. The games that promote exercise that require whole body movement at rapid paces produce greater heart rate increases, and hence, enhance blood circulation. Games played on dance mats increase heart rates to compare with in-person workouts that fitness instructors consider vigourous.
5. Body Mass Index (BMI)
Many fitness video games help convert fatty tissue into muscle mass. The conversion lowers the body mass index, while providing gamers with increased strength. Games that possess the BMI attribute include exercises that involve push ups, sit ups, and free weights. According to the British Medical Journal, the average BMI fitness video game provides children with the potential to lose up to 6 kg of body mass over the course of a year by simply participating between 15 and 30 minutes of game play every day.
6. Mental Health
The higher the exercise intensity, the greater the psychological benefits. Look for highly active fitness video games that require rapid arm and leg movements, as well as bending, stretching, and lifting. Nintendo produces a fitness game for its Wii system that simulates walking on a treadmill. The result of a 30 to 45 minute treadmill workout game is lower stress and increased mental acuity.
7. Improved Balance
The fitness video game genre has attracted a new video game age demographic. Pensioners have hopped on board the video game express because most fitness games promote improved balance, an attribute that prevents older people from incurring crippling falls. Most of the balance improvement games first work on conditioning, and before the games, they begin teaching balancing exercises. Another benefit of the mental health attribute is that a clearer mind helps people to obtain a better sense of balance.
8. Dedicated Gaming Software
Manufacturers must decide if a fitness game runs as an off-the-shelf game of if they must design customised software. Since it takes most fitness gamers longer to move their bodies to simulated exercises, the manufacturer must write dedicated software to make the game playable for the slower players. This attribute is especially important for people who try to recuperate from injuries or have recently undergone surgery for a major medical problem. Konami's Dance Dance Revolution is an excellent example of how dedicated software can help slower players enjoy fitness video games.
Recommended Good Fitness Video Games
Since the fitness video game phenomenon has barely scratched the surface of its potential, many gamers and exercise buffs are unaware of the fledgling genre. Once a gamer who wants to exercise finds out about the fitness game genre, he or she typically does not know which games to buy for starting a fitness regimen. The following chart lists some of the more popular and prevalent fitness video games.
Game

Publisher

System

Description

Ubisoft

Xbox 360 with Kinect

Takes exercisers through a variety of routines tailored to individual fitness levels

EA Sports Active 2

EA Sports

Xbox 360

PlayStation 3

Nintendo Wii

Users customise to match specific criteria for cardiovascular and upper body strength exercises

Wii Fit Plus

Nintendo

Wii

40 different types of exercise designed to appeal to both casual and hardcore fitness buffs

The Biggest Loser: Ultimate Workout

THQ

Xbox 360

Wii

125 different exercises that focus on weight loss

Active NFL Training Camp

EA Sports

Wii

Over 70 NFL drills that improve power, strength, and conditioning

Zumba Fitness

Majesco

Xbox 360

Wii

Nine dance styles that use motion sensors for a more interactive dance experience
The ever increasing hustle and bustle of contemporary lifestyles often makes it difficult to devote blocks of time to a fitness regimen. The recommended fitness games help people on the go exercise at home and on the road during holidays and work-related travel. All three of the primary video game systems offer sensor and motion control options that provide for a more realistic and interactive exercise experience. The best feature of the recommended fitness games is how each game produces multiple fitness benefits during one workout.
How to Buy Good Fitness Video Games on eBay
How do you search for information online? You most likely access one of the primary search engines and type a few keywords to target websites that contain the information you seek. eBay implements the same principle, except that instead of searching for information, you search for the seller who offers the best deal on fitness video games. The key to finding the right seller does not depend on using search engine optimisation principles, but typing the specific keywords that reduce the number of seller prospects.
You can use several strategies for finding the right eBay fitness game seller on eBay. For example, you can search for sellers by typing in the gaming platform that you prefer, such as " Nintendo DS " or " Sony PlayStation 3 ". Another eBay search engine strategy for finding the right fitness video game seller is to type " fitness video game online playability " or " fitness video game multiplayer ". Whichever search engine strategy you employ, remember that your primary objective is to reduce the number of search results and shorten the time it takes to find the right seller. Once you target a few eBay seller prospects, review each seller's product page for accepted payment methods and delivery terms. You may think you have found the best eBay fitness video game seller, but that seller may not accept a credit card that you want to use for payment.
Conclusion
Very few people would argue that there is a fitness crisis unfolding throughout Great Britain. A vast majority of citizens live a sedentary lifestyle. They sit throughout most of their working days, and then come home at night and park themselves in front of the television. The sedentary lifestyle also includes sitting in front of a television screen and playing video games until the sun rises the next day. Therefore, the last place anyone expects to lose weight and gain stamina is in front of a television screen or computer monitor and watching video games.
The fitness video game genre has only been around for a few years, but for the people who have bought fitness video games, the health benefits have vastly improved their lives. Fitness video games involve active participation by the gamer. The gamut of exercises include a stimulating aerobic routine that increases heart rates and trims waistlines, as well as anaerobic routine that builds strength and enhances stamina. While most video games have the stigma of reducing mental acuity, fitness video games do a great job of mitigating stress and clearing the mind of troubled thoughts. Expect fitness game manufacturers to incorporate additional interactive features into their games that provide more physical and mental health benefits.