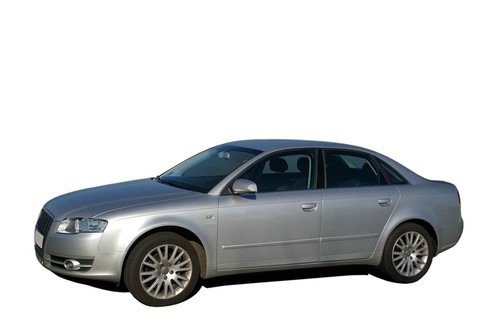 For many teenagers, learning to drive is an important rite of passage. For many parents, purchasing a teen's first car so that they can drive on their own can be both stressful and overwhelming. Luckily, there are many parents who have gone through this process successfully. In order to join their ranks, it is important to pay attention to some specific considerations when purchasing this car. Although the considerations could apply to many different types of cars, they are particularly worth looking at when purchasing an Audi for your teen. Whether that Audi ultimately comes from a dealership, a private owner, or from eBay, it is essential that safety features, engine capability, and even exterior style are considered. Each of these can have an impact on the life of the car and the safety of its driver. Keep these elements in mind during the Audi shopping experience and both you and your teen should be happy with the outcome.
1. Safety Ratings
When most parents shop for a car for their teen, safety is their first priority and for good reason. It is definitely important to investigate the safety rating of any car before purchasing it for your teen. Due to their driving inexperience, teenagers are more likely to be involved in a traffic accident when they are driving. Any new car, as well as most used cars on the market, have easily available safety ratings from agencies like Euro NCAP that let potential buyers know how the car performs in crash tests. Choosing an Audi that not only meets government requirements, but actually exceeds them, is the best way to make sure that your teen is protected in the event of an accident.
2. Airbags
The majority of modern cars, including most Audi models, are equipped with airbags that are designed to deploy in the event of a major collision. When used in conjunction with safety belts, airbags can decrease the risk of injury or fatalities in car accidents. Some Audis are equipped with front airbags only, while others also have airbags that deploy from inside of the door in the event of a side impact. Properly functioning airbags should certainly be a consideration when shopping for a car for a teen.
3. Braking Capability
The braking system on any car is a key component of its safety features. Anti-lock braking technology makes it easier for the driver of a car to avoid obstacles and steer while braking at the same time, and therefore, can prevent some accidents. It is important to note that currently all Audi models come standard with anti-lock brakes, which can be a good reason to consider an Audi for your teen.
4. Electronic Stability Control
One of the newer safety features that is offered on some Audis is electronic stability control, or ESC. Along with anti-lock brakes, this feature can help prevent swerving when in a dangerous situation that is difficult to control. The ESC system accounts for drivers that correct their steering too much, and thereby helps them to avoid obstacles and hopefully avoid a collision. A car with ESC can definitely be a good choice for a teen driver.
5. Engine Power
It may not seem like engine power should be a main consideration when shopping for an Audi for your teen, but it can actually be a very important factor. Some Audi models, in particular, are designed as performance cars with high powered engines. Examples of these models are theAudi TT or the Audi Quattro. It can be dangerous to buy a car with this type of performance engine for a teen because they can be tempted to test its limits by driving at unsafe speeds. While reliability and stability are important, a powerful engine is better avoided for teen drivers.
6. Exterior Styling
While the appearance of the car may be more important to your teen, it is still important to consider the exterior styling of a car before purchasing it. This does not just mean choosing the right colour, but also the right body for maximum safety and reliability. The size and shape of the Audi model chosen can make a big difference in the car's performance, as well as how it holds up in an accident. Furthermore, if a teen is happy with the look of a car, he or she may be more likely to take good care of it and drive it safely, as opposed to the reckless tendencies of those who may be embarrassed by the styling of their car.
7. Size and Weight
The size and weight of the Audi are both good elements to consider. It may seem instinctual that a bigger and heavier car is a safer choice for a teen driver. However, larger vehicles, such as MPVs, can actually be more dangerous for teen drivers for a couple of reasons. First of all, teens, as many drivers, feel safer in a larger car, and therefore, may take more risks when driving them. Additionally, large, higher profile vehicles are more prone to roll over, particularly when driven erratically. Because of this, it is commonly recommended that a teen's car be lower to the ground and smaller. Small family cars, like the Audi A3, can be a good category that meets these specifications and keeps teens both safe and comfortable.
Audi Models
While Audi has made many models over the years, since they first began manufacturing cars in 1885, there are a few modern models that are among the most popular. The following table outlines the Audi models that are likely to be seen for sale as well as their size for consideration.
| | | |
| --- | --- | --- |
| Model | Category | Seats |
| | Supermini | 4 |
| | Compact executive car | 5 |
| | Compact sports car | 2 |
| | Full-size crossover SUV | 8 |
Clearly, there is a wide range of Audi models available, each of which are a different size and style. Find the one that best suits the needs of your teen as well as your own expectations.
8. Budget
Buying a car for any purpose can be a major investment, and Audis are generally not the lowest priced option. This is why it is important to establish a budget for the purchase before doing any serious browsing or shopping. It may be a good time to teach a lesson to your teen about value and budgeting as well, since many teens want the best possible car with no consideration of cost. Decide upon a budget, and then choose the most important features for yourself and for your teen. This process makes it possible to search for a car that fits into all necessary parameters and meets everyone's needs.
New Audi vs. Used Audi
One choice that may make it easier to stay within an established budget is to choose aused Audi, rather than anew Audi. In general, used cars of any type are a better value than their new counterparts. This is because new cars can depreciate in value very quickly. However, it is not necessarily a good idea to purchase a very old car since that can have an impact on its reliability. Instead, a car that is a few years old is usually the best choice for both safety and budgetary concerns.
How to Buy an Audi for Your Teen on eBay
When you have chosen the style of Audi that you most prefer for your teen, you can look for that desired vehicle on eBay. In order to find any type of Audi that is available, simply use the search box that is embedded on every page of the site. You can search for "Audi" by itself, or for something more specific like " Audi A4" depending on how many results you want to see. Also, do not forget that the eBay filters can narrow results down even further when necessary.
Geographical Filtering
Having a car shipped from a location that is very far away can come at a high cost. Because of this, it is a good idea to use the eBay geography filter on your results. This way, you can make sure you only see listings that are located near you. When considering a purchase, contact the seller using the eBay interface and see if he or she is amenable to arranging a pick up. This can save a great deal on shipping charges and be much more convenient when purchasing an Audi on eBay.
Conclusion
Choosing which car your teen drives as his or her first vehicle is an important choice for any parent. While narrowing the choices down to an Audi is certainly a big step, there are still many issues to consider in order to select the right Audi down to year, model, and even colour. By addressing some of the most important considerations before shopping for a car, the entire process should go much more smoothly. This means investigating safety records, comparing styling options, and determining a workable budget for this major purchase. Incorporating your teen into the car shopping experience is also a good idea because it offers an opportunity to teach lessons about safe driving as well as spending habits. By putting in the time to outline the most important features for the Audi to have, finally purchasing the vehicle should be both easy and rewarding for parent and teen alike.