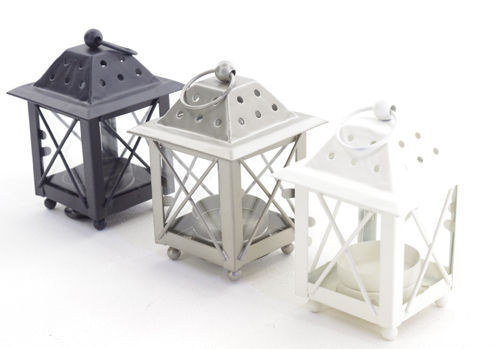 Lighting whilst on a camping expedition is something that has always been an extremely important part of the whole experience. Whether it be an open fire or a humble torch, a bit of light goes a long way to making any trip complete.
Lanterns are the preferred choice of many campers and there are different varieties available depending on whether it's being used inside the tent or as an alternative to a fire. Whichever one it is, eBay has thousands for sale with sellers there to help buyers at every step of the way.
The following guide details the do's and don'ts of lantern purchasing and how to buy one safely and securely using eBay.
Types of Lantern
When it comes to buying a camping lantern, there are four different types of lantern to choose from. Each one performs a very different function when camping and the following table explains them in more detail:
Lantern Type

Details

* Lantern uses gas to power the lighting element inside the device.

* Light given off is supposed to be brighter than all other lanterns.

* Expensive to run as gas must be purchased regularly.

* Caution should be taken when refuelling and using them indoors can be hazardous.

Candle

* Like a normal candle that can be found in the home.

* Has a protective cover so that the elements don't affect it so much.

* Very affordable way to create light on a camping expedition.

* Light output is poor and if there are high winds there is the risk the candle will blow out.

Butane

* Similar to gas lanterns in that they run off fuel that has to be refilled.

* Butane is the same fuel used to fill lighters and comes in much smaller quantities than gas.

* Some use reflectors to make the light more widespread.

* Again, the refuelling can be troublesome and operating them inside a tent can be unsafe.

Electric

* Popular type of lantern that is completely operated by battery or batteries.

* Light can be dimmed to save batteries if it's only slightly dark.

* Safe as there is no gas, accelerant or flame involved.

* One drawback is the spare batteries that have to be carried can be heavy.

* May need regular charging if it's a rechargeable model.
Do's and Don'ts of Buying a Lantern
The following section outlines the 8 Do's and Don'ts of buying lanterns from eBay:
1. Do have an idea of the expedition it's meant for.
When setting out on a search for a lantern, make sure the expedition it's meant for is known beforehand. Certain lanterns will work better when the weather conditions are very poor whereas others are sufficient during the summer months.
Also be mindful of the person doing the trip because lanterns that use gas or fuel will be unsuitable for children to take on a school camping trip and an electric model will be far more appropriate.
2. Do buy the most appropriate lantern for your circumstances
This links to the point above in that it's crucial to buy a lantern that will last for a long time and is appropriate for every person using it. Consider the people using it and what will work best for them before choosing between the different types available.
Think about who will be using it most, the time of year when it will get most of its use, and the kind of terrain where trips usually take place. All of these should help the buyer to start forming a decision.
3. Do make sure fuel can be bought for the product
When it comes to fuel powered models, it's important to clarify that fuel can be sourced easily for an affordable price. The fuel that a lantern uses should be listed on the product page and if it isn't, simply submit an Ask the Seller submission to find out the type of fuel used. Never use fuel that isn't approved for the individual lamp as it could cause harm.
4. Do check the batteries the lantern takes
If the item is an electronically powered one, check the batteries it takes are easy to get hold of. This can be especially crucial if items being bought have been imported and batteries or recharging wires can't be used in the UK. It's again as simple as just asking the seller or reading the product description to work it out.
5. Don't buy from a seller that has a large amount of negative feedback
Sellers of any item on eBay should be examined before any purchase has been made to make sure there isn't too much negative feedback on their account. Lantern sellers are no different and buyers can check the extensive transaction history eBay provides for every seller to work out whether or not to buy a product from the particular seller.
6. Don't choose a lantern that is heavy and hard to carry for long periods
Remember when buying a lantern that the main reason is to take it on a camping trip that will involve large periods of walking. Look at the product description page to find out how big the item is before buying and consider how much the fuel will weigh as well.
Any of the fuel types and batteries mentioned above will be heavy, and having to carry extra fuel will only put more weight on, meaning it's useful to buy a lightweight lantern.
7. Don't buy an item that is unsuitable for indoor use if it's being bought for that purpose
Many campers will buy lanterns for the sole reason that they want some light in their tents before going to sleep. Some of the lantern types mentioned in the table earlier in the guide are unsuitable for that purpose and buyers must think carefully when buying certain types.
Lanterns will come with warnings about using them indoors and these must be heeded before completing a purchase.
8. Don't buy a used item that looks faulty
As eBay has such an extensive collection of lanterns for sale, there are both new and used items available. When buying used items, check thoroughly what condition the item is actually in.
Pictures of the item should tell much of the story and if an item looks old and dilapidated, it's worth seeking a different item instead. Buyers can also Ask the Seller questions pertaining to the age of the item as well as how many owners it has had in the past.
How to Buy a Lantern on eBay
Going camping involves packing many different things to enable the trip to go off without a hitch. Alongside the sleeping bag, tent, utensils and other camping equipment is the lantern, without which, doing anything after the sun goes down is tricky.
Lanterns come in all different types with fuel and the brightness of the light inside them usually defining which one is bought. eBay is home to thousands of lanterns all at affordable prices and offered by a large number of very knowledgeable sellers that are only too happy to help buyers with every part of the buying process.
To find lanterns on eBay first go to the Sporting Goods category on the site's main page, which will be under the list of all categories. From the list of categories that follows, scroll down until Camping comes up and click on it.
On the page that follows a list of options will be on the left hand side, and from that select Lights, Lanterns & Torches. Here will be an extensive listing of all the camping lighting products on eBay, and to narrow it down further simply click Lanterns from the options on the left side.
If you want to narrow the options down further, use any of the parameters on the left hand side, including Features, Brand, Battery Type, Number of Batteries, Material, Number of LEDs, Main Colour and Condition.
When the buyer has a good idea of the exact product that is needed, the site's search feature can be the easiest way to find the lantern. To use it, simply type search terms into the box at the top of any eBay page and utilise the drop-down menu to its side to narrow the results down.
Once happy with an item either place a Bid, make your Best Offer, or choose to Buy It Now if the auction allows it.
Conclusion
When planning a camping trip there are a number of things to take into consideration before leaving. Along with all the other essentials, comes some form of lighting and a lantern is among the most popular in the camping fraternity.
eBay offers a large amount of lanterns for sale and buyers can use the buying guide above, and the site's sellers, in order to make sure they acquire the best lantern possible with the budget they have.
The do's and don'ts above are there to help buyers make sure no mistakes are made and they will help inform a decision on an item, with the final choice always resting with you, the buyer.
Remember to use PayPal when paying for any item to make sure it goes through as safely and securely as possible.