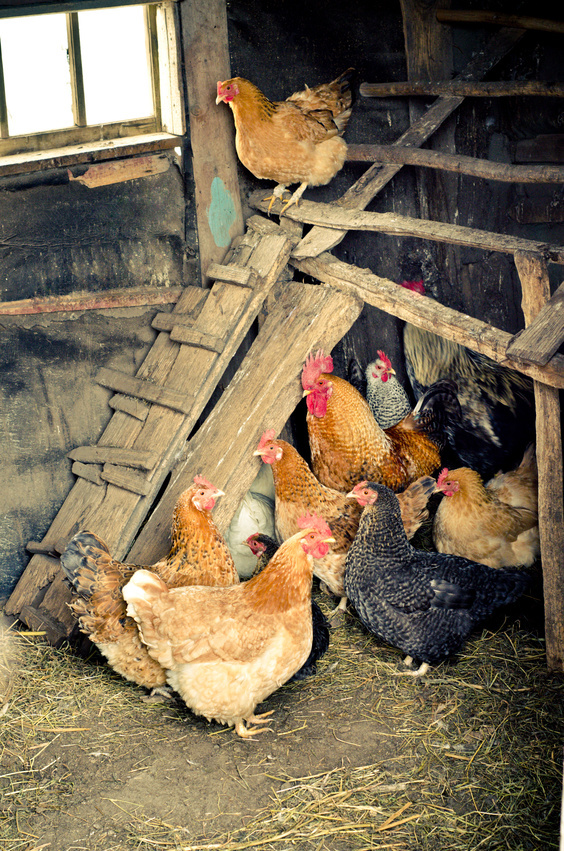 A chicken coop, whether new, used or self-build, is an important investment which will help you maintain your birds in good condition, providing an environment which stimulates healthy laying conditions. The kind of used chicken coop you intend to buy will depend on a number of things including:
* The amount of land you have available
* The number of chickens you need to house
* The amount of time you have at your disposal
* Your available budget
This eBay guide considers these first before discussing the pros and cons of the various types of used chicken coop available. It then advises you on what to look for when assessing the condition of a second-hand coop including:-
* Chicken run
* Flooring
The Amount of Land You Have Available
If you live in an urban environment you're likely to have less room to house your chickens. For this reason, it would make sense to choose a used coop of a more compact design. Smaller coops, whether made of wood or plastic, will rarely include an integral chicken run. These are usually supplied as separate moveable units so that the feeding area can be rotated. With urban sites, protective fencing around the coop is not such a priority provided there is no risk from neighbourhood foxes.
If you live in a rural environment and have access to more extensive grounds, there are more choices. If you're prepared to dedicate a large outdoor area to your chickens, you may decide to create a permanent run. If you do, you'll need to build an enclosure with good, strong fence posts and mesh fencing, dug-in to prevent burrowing by foxes. Another option is electric fencing. Although more expensive, this kind of fencing is highly efficient and fairly easy to install. If you decide on a smaller area, you have the option of buying an integrated coop with indoor and outdoor areas combined in the same structure.
The Number of Chickens You Need to House
The size of the coop is usually determined by the number of chickens you intend to keep and there is a formula for working this out. For medium sized birds you should allow a minimum floor area of one square foot per bird. For larger breeds, for example Orpingtons & Wyandottes, allow half as much space again.
The Amount of Time You Have at Your Disposal
You need to be realistic about your commitment to looking after the chickens once you've bought them. Some coops are more time consuming to look after than others. Those that need more looking after tend to be better for the chickens. For example, wood coops take longer to clean and keep free from infestation, but most observers believe they provide a better environment for the chickens. And although plastic coops are easier to keep clean, they don't share the natural qualities of wood.
Your Available Budget
You need to balance the practical requirements of looking after chickens with the need for a structure that looks good in your garden. If you're prepared for a bit of DIY, the cost of building a basic shelter and wire mesh enclosure is not that dear. As soon as you decide on a higher level of specification:
* Thicker wood
* Sturdier plastic
* Electric mesh fences
These costs begin to escalate. Although you're spending money now, remember that the investment is capable of providing you with an absorbing and productive hobby for many years to come.
Types of Chicken Coop Available to Buy
There are a number of variations in design and materials. Coops are either self-contained (including a run area as part of the structure) or are formed from two units:
* Chicken house
* Moveable run
Your decision will largely depend on the ground area you have available, as discussed in the section above. The two most common construction materials are plastic and wood, with elements of wire mesh common to both types.
Used Coops Made Out of Plastic
These are becoming increasingly popular and can be bought as moulded units or packed flat for self assembly. There are quite a few different models and accessories but most have comparatively small run sizes.
Some incorporate a mesh skirt around the base to keep predators away. It's essential to make sure these units are positioned on flat ground to avoid creating gaps, which might be exploited by vermin.
Plastic coops:
* are easy to clean out
* present less of a risk of red mite infestation
Accessories include perches and nesting boxes, but also some intriguing new products such as extreme temperature jackets which fit round the outside of the hen house. It's also possible to buy waterproof covers for chicken runs which offer protection from wind, rain and even snow. Chicken coops are also available made out of recycled plastic. These are robust and well designed, and it's not difficult to assemble them from the flat packed panels supplied.
Used Coops Made of Wood
Traditional wooden coops have many advantages but their value depends on the quality of materials they're made of.
The real benefit of wood is that it breathes and moves with the seasons. Compared to plastic, wood fares better in extreme temperatures in that the natural ventilation it provides avoids the risk of suffocation in the summer or frost damage in the winter. A wooden coop is not susceptible to condensation as a plastic one might be.
To be fit for purpose, the best wooden coops are built from timber which has a minimum thickness of 19mm and made into solid, pressure treated tongued & grooved interlocking boards. Thinner boards may weaken the structure of the coop and could affect the way doors open and close. Roof material should be made of:
* wood
* corrugated steel
* Onduline
You should not use felt, which can lead to red mite infestations. However, well fitting interlocking board will lessen the risk of infestation particularly with an effective cleaning regime using a proprietary red mite eliminator.
Ventilation is something else you need to be satisfied with.
* Chicken droppings release ammonia which should be cleared by airflow though the coop.
* This result can be achieved with a combination of low-level inlets and high level vents.
* The inlets need to have slats or mesh facings to keep predators out.
The Condition of the Used Coop Including Hen House, Chicken Run and Flooring
If you've decided on a plastic coop, visually inspect both the interior and exterior to check for undue surface damage. On the interior, there's bound to be pecking or scratching damage to the lower areas of the walls. Make sure this is not critical otherwise it could weaken the structure of the coop.
On the exterior, look out for any significant wear and tear. Check for fading and chipping. If the house is of panel construction, make sure that any joints or fixing bolts are secure and rust-free.
* Check that any mechanical parts, principally the door fastenings, are in good working order and without significant play.
* Check that the internal flooring of the hen house is in good order and that there are no holes large enough to attract vermin. If a chicken run , whether integral or stand-alone, is included in the purchase price, look out for gaps in the wire mesh, particularly any that are close to the ground. Make sure that any wooden fence posts are rot-free.
* If there is damage but all other aspects of the coop are acceptable, use the cost of replacement as a bargaining tool.
* If you've decided on a wooden coop, carry out the same visual checks but pay particular attention to all joints including tongue-and-groove overlaps, and look for any evidence of past or present red mite infestation.
As well as assessing the overall condition of the coop, try to establish with the buyer a credible reason for selling. This isn't essential, but may give you additional peace of mind and help you to negotiate a better price.
How to Buy Used Chicken Coops on eBay
Now that you know which chicken coop you want you can find them quickly and easily on eBay. To start shopping, go to the Pet Supplies category then the Poultry/ Hatching/ Incubation portal. Click on the Chicken Houses sub-category portal.