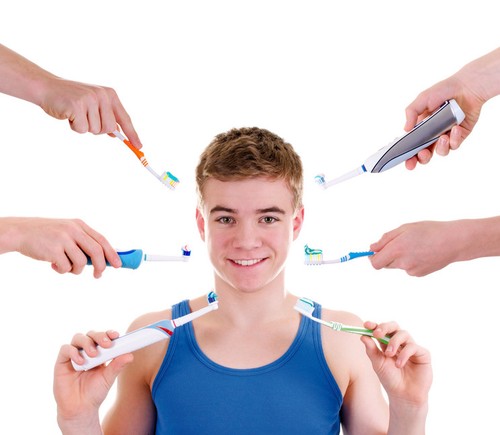 Every person should include oral hygiene as part of his or her regular routine. Dentists recommend brushing two or three times a day, or at least in the morning and evening. They also suggest a yearly cleaning by a licensed hygienist, X-rays of the teeth and gums, and regular flossing. So much attention to dental care may seem extreme to an average consumer, but the lack of it can result in serious issues such as gum disease, cavities, tartar buildup, and enamel loss.
The consumer who wants to step up oral hygiene should consider buying an electric toothbrush. Electric toothbrushes have many advantages, including their ability to clean faster and more thoroughly than a regular toothbrush. Before users go shopping for electric toothbrushes, they need to have an idea about the features to look for in these products. Factors such as speed, power source, cleaning method, timers, extra modes, and accessories play a role in the choice of an electric toothbrush. Although electric toothbrushes are available in local stores, one can find an extensive selection online at eBay.
Feature 1: The Speed of the Electric Toothbrush
Any electric toothbrush provides motions that are hundreds of times faster than those made by the average human hand wielding a manual toothbrush. The faster movements make for more effective cleaning in less time. Electric toothbrushes rotate, vibrate, or oscillate at different speeds.
The faster electric toothbrushes are called sonic or ultrasonic toothbrushes. When properly used at recommended intervals, these brushes are extremely effective at eliminating bacteria and plaque, as well as helping to prevent gum and periodontal disease. However, they are more expensive than regular electric toothbrushes.
Feature 2: The Power Source of the Electric Toothbrush
Electric toothbrushes must have a power source. Since a power cord plugged into the wall might get in the user's way, the preferred power source for these devices is some type of battery. In earlier electric toothbrushes, the batteries had to be replaced as they ran out. However, this kind of power source has been almost entirely replaced by the rechargeable battery.
Rechargeable batteries vary widely amongst electric toothbrushes. The battery life depends on the size, cost, and brand of the toothbrush. A high-end electric toothbrush can last through six weeks of twice-daily brushings before its power noticeably diminishes and it needs to be recharged. However, the low-end electric toothbrushes require more frequent charges, sometimes after just two or three weeks of recommended use.
Feature 3: The Cleaning Method of the Electric Toothbrush
The number of electric toothbrushes available in the market can be overwhelming to buyers. In addition to differences in battery life and design, these toothbrushes also differ in the way they clean teeth.
Rotating Electric Toothbrushes
The bristles on a rotating electric toothbrush turn around and around. The circular motion mimics the traditional circular pattern with which most users manually brush their teeth. Rotating electric toothbrushes might have separate bristles that rotate or an entire circle of bristles rotating together. Oral B is one popular brand that sells rotating electric toothbrushes.
Rotating-Oscillating Electric Toothbrushes
In the case of a rotating-oscillating electric toothbrush, the entire head of the toothbrush oscillates during use. The oscillation is a back-and-forth rotation that focuses on a single tooth before moving on to the next one. This electric toothbrush is designed to focus on combatting plaque. The rotating and rotating-oscillating types of electric toothbrushes may also include a pulsing motion that, when combined with the other movements, removes even more plaque for highly effective cleaning.
Counter-Oscillating Electric Toothbrushes
Some electric toothbrushes counter-oscillate. They are very similar in design to the rotating-oscillating type of electric toothbrushes. However, on a counter-oscillating toothbrush, each tuft of bristles rotates the opposite way from its neighbours. For example, one tuft may be rotating counterclockwise, while the two on each side of it are going clockwise. This method ensures a thorough sweep of every bit of the tooth's surface.
Dual-Head Electric Toothbrushes
Dual-head electric toothbrushes have a rotating section as well as a section that moves from side to side. This design is intended to promote more thorough cleaning. However, some users complain about the extra size required by the dual-head design, claiming that the toothbrush is difficult to manoeuvre comfortably during brushing.
Vibrating Electric Toothbrushes
Instead of rotating or oscillating, vibrating electric toothbrushes buzz rapidly against the teeth. Their movements are designed to break up plaque, sweep off food particles, and polish the surface of the teeth. The Philips Sonicare line of electric toothbrushes has incorporated vibrating technology.
Feature 4: Additional Modes for the Electric Toothbrush
As buyers shop, they should look for electric toothbrushes that have different modes. These modes allow users to adjust the toothbrush depending on their current needs. Some of these modes include whitening mode, deep cleaning mode, massage mode, and sensitive mode. Sensitive mode is appropriate for users with sensitive gums. Some electric toothbrushes also allow users to switch between rotating, pulsing, vibrating, and oscillating motions, depending on the area of the mouth being cleaned. However, these extra modes usually accompany a corresponding rise in price. Research does not currently show a significant difference in cleanliness between the electric toothbrushes with regular modes and those with more complex modes.
Feature 5: A Brushing Timer for the Electric Toothbrush
Users typically rush through their oral hygiene routine more quickly than dentists recommend. An electric toothbrush with a timer enables users to know exactly how long they should brush. Buyers looking for an electric toothbrush should ensure that the one they choose includes a timer that runs for the required two minutes.
Feature 6: An Interval Timer for the Electric Toothbrush
Some electric toothbrushes have more complex timers. These devices operate within the regular two-minute span, but they buzz, vibrate, or pulse every 30 seconds to inform users that it is time to proceed to the next section of the mouth. Users should think of the mouth as being divided into quarters, such as the top right, bottom right, top left, and bottom left. An interval timer ensures that no portion of the mouth receives less cleaning than another.
Feature 7: A Pressure Sensor for the Electric Toothbrush
Brushing teeth too hard or too vigorously can irritate the gums, causing soreness and bleeding. Over a long period of time, this kind of heavy brushing could exacerbate conditions such as gum recession. To prevent over-brushing, some manufacturers include a pressure sensor with the electric toothbrush. The sensor sounds a warning if the user is employing excessive pressure during a brushing session. Typically, the warning takes the form of a flash, a beep, or a buzz.
Feature 8: Accessories for the Electric Toothbrush
If a buyer is purchasing a used electric toothbrush handle to which a new head is to be attached, then he or she should ensure that the toothbrush includes the necessary accessories. One basic accessory is a power cable or a charging station. Another handy accessory is a travel case or carrier for the electric toothbrush and its charger. Some users may have multiple electric toothbrush heads in their oral hygiene arsenal, allowing them to change their cleaning routines now and then.
Buying an Electric Toothbrush on eBay
You may begin your search for electric toothbrushes on eBay by typing "electric toothbrushes" into the search bar. You can narrow down the results by choosing the type, brand, price, shipping, location, seller, and other options that you want. If you do not see the type of toothbrush you want, save your search. eBay then emails you each time a seller posts a new electric toothbrush for sale.
Since electric toothbrushes are light and easy to ship, you may find that a number of sellers include free shipping as an incentive. Others may add accessories or other items as part of a package deal. Remember to check eBay Shops, since you may find additional listings there. eBay Shops features a retail atmosphere with listings sorted by shop rather than by product.
While you shop, watch for the top-rated seller seal that appears on certain listings. This seal is awarded to sellers with high feedback scores from customers. Top-rated sellers are more likely to supply you with quality products, professional service, and quick responses to your questions.
Conclusion
Using an electric toothbrush can greatly improve a consumer's oral hygiene. The toothbrush does most of the work, eliminating the need for constant movement on the part of the user. The bristles in an electric toothbrush rotate or vibrate quickly, scrubbing the tooth's surface gently to get rid of bacteria and food particles. Many electric toothbrushes have special features, including timers and pressure sensors, that help users control their oral hygiene routine and ensure optimal results.
When selecting an electric toothbrush, buyers face a multitude of options and price ranges. Buyers should think about their overall oral health, lifestyle, and their budgets when choosing electric toothbrushes. If they are not sure about the type of toothbrush to choose, they could consult with a dentist or oral hygienist to get recommendations.
With its many options in electric toothbrushes, eBay can help a consumer find the right toothbrush that meets the needs. The many user-friendly features available on this website make is easy to find the toothbrush that can transform an old oral hygiene routine to a healthier one.