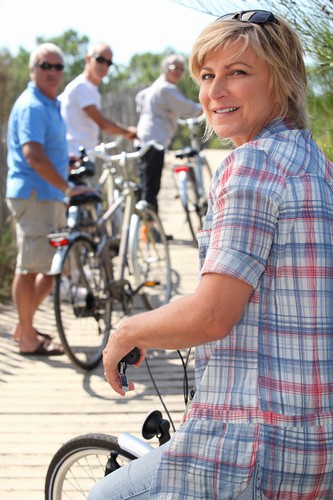 Retirement is the perfect opportunity for people to either try things they have always wanted to or spend more time on the activities they enjoy. Travelling may be one of these activities, or a vehicle for participating in other activities such as golf and skiing. Travelling for the sake of travelling and travelling based on a theme or activity are both valuable experiences, and retirement affords plenty of time to travel.
Although retirees have time for longer journeys, short breaks provide opportunities to see and do as much as possible. It is entirely up to the retiree to choose what kind of short breaks to take, but a few suggestions may help recent retirees who are overwhelmed by the sudden availability of a massive amount of options. Ideas for leisure breaks, city breaks, and active breaks may appeal to recent retirees or inspire them to think of short breaks of their own. Either way, eBay is a good source for making short break arrangements. Having a good idea of where to travel and what to do on a short break, combined with knowing how to search for a short break on eBay helps recent retirees take the holidays they want to.
Leisure Breaks for Recent Retirees
Many retirees choose holidays that help keep their stress levels down when they want to travel somewhere. Leisure breaks are great holiday choices for those who prefer to relax and enjoy the environment in which they are travelling. Beach breaks, camping breaks, and castle breaks are all popular short breaks well suited to recent retirees who prefer to unwind on holiday.
1. Beach Breaks
One of the luxuries of retirement is being able to sit on the beach on the summer days that are least crowded. It is possible to avoid weekend crowds by taking a midweek short break, although August crowds are difficult to avoid even on Tuesdays. Retirees can choose between beach breaks at United Kingdom's destinations such as South Devon or European spots such as Majorca, Spain, or Cyprus. Low-budget airlines and lower midweek occupancy rates make beach breaks at a wide variety of places across the UK and Europe easy and affordable.
2. Camping Breaks
Like beaches, campsites can also get quite crowded on summer weekends. Retirees do not have to worry as much as working folks about making arrangements for camping breaks. Caravans and other camping facilities have midweek vacancy more frequently than weekend vacancy during the season. August is an exception because many people take their holidays from work at this time.
Many camping breaks for retirees feature more comfortable accommodations than tents. Retirees can enjoy all of the pleasures of the outdoors during the day and retreat to the comforts of a caravan or cabin at night.
3. Castle Breaks
Retirement is a great opportunity to do the kind of travelling that there was little time for during one's career. Many British travellers skip visiting the UK's beautiful castles because they believe they can still enjoy seeing them later in life. Recent retirement is the perfect opportunity for a castle break. Retirees can choose from impressive castles in England, Scotland, and Wales for their holidays. Many castles are set within beautiful scenery, making a short break to see them a relaxing holiday.
City Breaks for Recent Retirees
Cities are not only for young urban professionals. Many retirees also enjoy the theatre performances, museums, and restaurants that cities offer. Retirement affords the ability to take city breaks in the UK and Ireland as well as in continental Europe.
4. British and Irish City Breaks
Many cities in the UK and Ireland have great cultural life that appeals to retirees. London is one of the world's great cities, and retirees can plan short breaks there around a number of themes. Theatre and shopping are two popular reasons to visit, but the city also has a number of notable landmarks that retirees may not have had the opportunity to see. Across the Irish Sea, Dublin is one of British Isles' livelier cities. A mix of castles, cathedrals, breweries, and distilleries ensure that a visit here is interesting and fun. Edinburgh is another handsome city, full of excellent restaurants. The city is known as the world's festival capital for the large number of happenings going on there throughout the year.
5. European City Breaks
International travel is a lifelong wish for some and a favourite pastime for others. Either way, retirement presents the perfect opportunity to explore cities abroad. Low-cost airlines make it easy and inexpensive to reach Europe's cultural capitals, and there are many destinations to choose from. Venice is the classic romantic city, and cruising its canals in a gondola is the quintessential travel experience for a couple. Lisbon is a great escape if spring does not come fast enough to the UK, and the city sees little rain in summer. In addition to a warmer climate, Lisbon features enchanting architecture, excellent seafood, and absorbing museums and galleries.
Many retirees remember the period when half of Europe sat behind the Iron Curtain. That curtain has been raised for some time, and many of the countries have "returned to Europe", socially and culturally speaking.Prague and Budapest remain two of the premier destinations for short breaks in the region. Both are architectural gems, and they are capitals of culturally distinct countries. Retirees can learn about Prague's and Budapest's fascinating histories or simply admire the views of the stunning buildings.
Active Breaks for Recent Retirees
Many retirees see retirement as an opportunity to spend as much time on their favourite sporting activities as they would like. Some recent retirees may therefore prefer to take active holidays, such as golf breaks, walking breaks, and skiing breaks.
6. Golf Breaks
Golf was born in the UK, and the country has some of the game's original courses. Retirees thus do not have to venture far for a golf break. British courses are challenging by design, and many are placed in scenic locations that make walking them a joy. However, the golfing season in the UK is not terribly long. When the temperatures on the British Isles drop and the rain moves in, retirees can find sunny golf breaks in Mediterranean areas in Portugal and Spain.
7. Walking Breaks
Retirees who enjoy hiking can find walking breaks across the UK and continental Europe. Britain's mountains may be lower than the Alps, but there are still plenty of challenging and striking beautiful walks across the Isles. The Lake District and the Peak District are popular choices in England, and the Scottish Highlands appeals to those looking for rugged walks. Across the English Channel, the European Alps tower above the continent. Walks here are particularly spectacular, and retirees can also experience local culture in the destinations they choose. Further east, the Tatra and Carpathian Mountains offer breathtaking walking, rich culture, and low prices on accommodations.
8. Skiing Breaks
Skiing is a lifelong activity, and retirement is a good opportunity to squeeze as many days on the slopes into a winter as possible. Skiing breaks can be an affordable way to stay slopeside. While Great Britain has ski resorts of its own, skiing breaks present the opportunity to explore higher European Alps. France, Italy, Switzerland, and Austria have always been popular destinations, and newer arrivals to the scene such as Slovakia and Bulgaria offer thrilling slopes at bargain prices.
How Recent Retirees Can Use eBay to Plan a Short Break
Recent retirees can plan their short breaks through local and online travel agencies. You can also make arrangements for a short break on eBay. It is easy to search for the type of short break you are looking for and evaluate those selling arrangements.
Searching for Short Breaks
You can search for short breaks from any eBay page that has the search bar. Use a term such as " golf short break", and choose the appropriate category when you receive the results. Offerings may vary by season, so you can check back to see if there are new short breaks listed if you do not see an appealing one on your initial search.
Evaluating Sellers
It is important to evaluate those selling short break arrangements to ensure that everything is arranged as offered in listings. You can review a seller's feedback by clicking on his or her username on the listing. This is a collection of comments and other ratings that other customers have left for a seller, and you can use this information to determine whether or not you are likely to be satisfied with the arrangements you make through that seller.
Conclusion
Travelling is a favourite pastime of many retirees. Many people would travel more if they only had the time, and legions of retirees take advantage of their freedom by seeing the places they want to see and doing the things they want to do. Short breaks are a great way for recent retirees to travel because they can see different places. These types of holidays can help the newly retired discover the places they enjoy so that they can return for longer stays in the future.
Recent retirees can visit places just to see them, or they can structure short breaks around activities they enjoy, such as golf, walking, or skiing. However they prefer to travel, recent retirees can make their short break arrangements on eBay. If they know where they want to go, what they want to do, and how to use eBay, recent retirees can plan the kind of short breaks that make retirement more enjoyable.